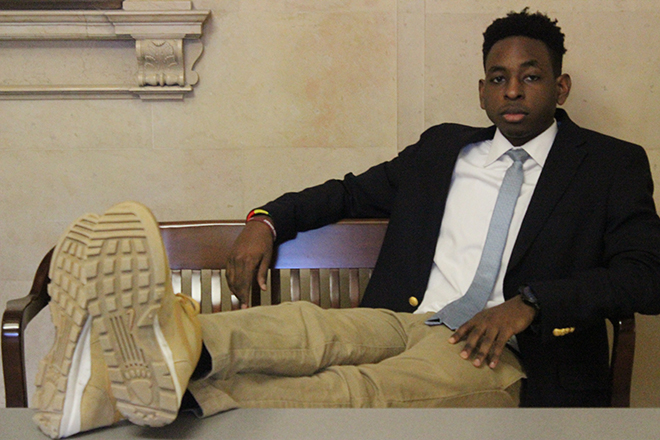 Randall Harris is not your typical president.
His Oval Office is a Foster-Walker dorm room and he doesn't have a First Lady, but all Harris needed was his closet-turned recording studio and a free trial of Logic to drop his debut State of the Union mixtape on Soundcloud on Jan. 30.
"I needed a place where wouldn't be echoes, so I laid towels over parts of the closet," Harris explained with a breezy smile, gesturing to the piece of furniture where he recorded most of his 41-minute album. "It was stressful; I also had a midterm that day".
The McCormick sophomore released his mixtape under his rap moniker Prez Harris, which originated from being the president of his class in high school. He features a slew of collaborators, other Northwestern music-makers listed by their stage names: Aria Charles, AleXander, MonoType, Noah Fromson, Thaddeus Tukes, Sage Ross, Adhana Reid and Hillary Dawson.
Being a full-time computer-engineering student presented its hurdles, as Harris often found himself in a time crunch. Harris originally geared to release his first single, "Economics" before Thanksgiving and the mixtape on the actual State of the Union, Jan. 20. Instead, the self-titled music perfectionist found himself recording at 2 in the morning during winter break and delayed the release date.
From what began as a free-style session in the Willard Hall laundry room last year with a couple of friends inspired Harris to ascend to the soapbox with his salacious rap rhythms. Harris became one of four co-founders of hip-hop music community DOJO and a hard advocate for what the letters stand for: "Don't Only Just Observe," his version of Nike's "Just Do It". It's appropriate, then, that Obama is the Prez's role model, in that he "knew people would hate him being the first black president, but [took] a stand that nobody has ever done before. He just did it."
If there's one thing you won't ever catch Harris doing, it's uttering a dirty four-letter word in his raps.
"I don't swear," Harris said. "I wanted to be different in my raps. I also don't think that rap needs to have that; it can be eloquent…plus my parents listen to everything."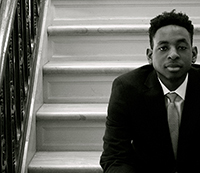 Harris was recently verified on Rap Genius, which is somewhat a rite of passage in confirming an artist in the hip-hop world. He's tried twice before, with measly, noncompliant results from the rap lyric site. And as Harris adjusts his color-blocked 90s jacket, he muses that this small success is residue that's left over from that of his mixtape: as of now, his single "Economics" featuring Aria Charles has well over a thousand plays on Soundcloud.
"I can't stop looking at this," Harris joked as he gazed up at the "State of the Union" album art on his wall, which showcases a montage of other DOJO articles. Created by Communication sophomore Xiomara Contreras, the art features Harris' face in the place of Obama's making his annual speech. "On second thought, does it really look like me?"
Harris has performed in the Sargent dining hall, various open mics, Ryan auditorium and even at the rock in solidarity with other students to express anger during the Ferguson protests. He will make future appearances at the African Students Association B.A.E. Awards, Kaibigan's philanthropy and Love the Skin You're In hosted by Delta Sigma Theta.
"I'm chillin' for right now," Harris said. "I want to do a State of the Union tour. Performing for Battle of the Bands–that would be so dope."
Harris serenades an unknown girl in love ballad "First Lady" and rants in politically charged "Windy City", but his favorite track right now on the mixtape is aggression-streaked anthem ""Just Do Me"." Harris' preferences ebb and flow every day, but "Just Do Me" especially carries his current sentiment that one should embrace him or himself and bring their marinating dreams to fruition.
He proves this mantra quickly by switching on a hard, random backbeat on YouTube.
"No, wait, I don't like this one."
Harris opts for a slow-velocity retro tune that's reminiscent of Chance the Rapper. He starts to freestyle rap a few bars, and does his normal drill, deriving emotion from the beat and then shaping his words around a topic that is relevant to him: his current life situation.
"School people sleepin' on you/I just messed up the flow," Harris finished, chuckling as his lines finally hit a hitch. He reclines back in his chair in a way that is strangely similar to the leader of the free world. He turns his laptop to face me. "Now you go. It's your turn."