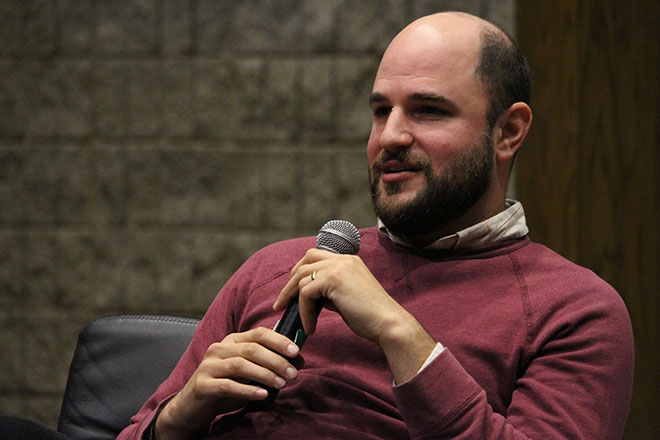 Fifteen years ago, a Northwestern senior walked the stage for his Theatre degree, said his final goodbye to Shanley Pavilion and set off to start a Manhattan theater company with college friends. Three months ago, the same man was onstage at the Oscars as a producer for La La Land. And on Tuesday, Jordan Horowitz (Comm '02) came back to NU, in a talk sponsored by student film organization Studio 22.
After a screening of La La Land in the Owen L. Coon Forum, Horowitz spoke with RTVF professor Stephen Cone about his journey to Hollywood and gave advice on the industry to the largely student audience.
Horowitz responded with eager tangents to many of Cone's questions, and one common thread was his trajectory from an art-filled childhood into the Northwestern theater community, and later, the movie credits. Although he watched and acted in theater from an early age, he also knew he enjoyed the production side because he made up shows with his sister as a child.
"I had a little ticket roll and a little stand," Horowitz said. "It was very much the putting on of a show as [much as] the show itself."
Putting on a good show, as he learned over many more movies, involves patience, a strong vision and a thoughtful team that communicates well. More directly, Horowitz described his job as "the one person whose only priority is the project." He said his most important crash course in producing was working on The Kids are All Right, as he shadowed a more experienced producer to find out the most tactful and effective ways to talk with filmmakers and financiers.
But let's be real, you clicked on this article with another movie in mind: La La Land. Horowitz did not disappoint on that topic, sharing the difficult process of pitching the now-famous film to studios as well as what life on the set was like.
"Getting the movie made was the hardest part of the movie," Horowitz said. He recounted his struggle, with writer-director Damien Chazelle, to present their big-budget movie-musical to Focus Pictures and then to fend off the opportunistic Hollywood "vultures" once La La Land seemed more marketable.
In contrast, he said, the actual filming was a collaborative, fun and high-energy process. He praised the actors as "athletes at the top of their game" in the long takes and big dance numbers. In fact, he thought the hardest scenes were the small, dialogue-heavy ones, because the team had to make sure that tightly choreographed massive freeway dancing and one-on-one conversations between lovers felt like the same movie.
In order to make the movie-musical possible while not working on a film lot, the producers had to bring back an old-school studio system that doesn't exist in today's LA: rather than the usual way, where movie departments are housed in separate offices around the city, La La Land had the choreographers, producers, actors and designers all in one place. They practiced the opening traffic dance in a big parking lot. In this way, Horowitz said, every person in the process was committed to "making the same movie."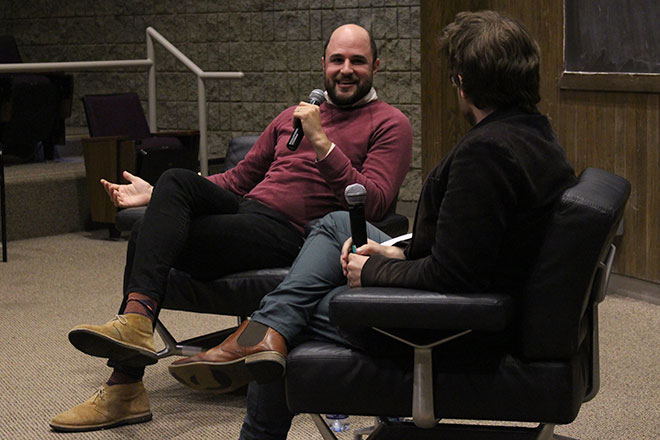 Although Studio 22 did not solicit student questions, moderator Stephen Cone engaged the audience throughout Horowitz's talk. At various times, Cone asked future producers, budding actors and potential Los Angeles residents in the audience to raise their hands, and Horowitz gave some advice to each group: producers can't control the audience's reactions but can control a successful process, actors should focus on being their truest selves and persevere despite relentless daily rejection and future Angelenos need to expect that the city will take a little time to accept them. Oh, and absolutely everyone looking to be in the film industry should watch a lot of movies.
Cone ended the night with a look ahead, asking Horowitz about his plans for future work. In addition to fighting for more people of color "behind and in front of the camera," Horowitz said he would value producing more original works and stories that avoided cynicism.
At some point, musing on why hopeful stories matter, Horowitz said, "The world's very dark." Yet, Horowitz himself brought light to the Coon Forum for his return to Northwestern.