Non-conference play has wrapped up for the 'Cats, who sit at 2-1 but are coming off an impressive blowout of Bowling Green. We took our best guess at how the ever-unpredictable Wildcats will finish off the season.
Maxwell Lee: 7-2 B1G, 9-3 Overall
Bold prediction: Northwestern, coming off a bye week which they use to recuperate and game plan for Wisconsin, comes into Camp Randall and stuns the No. 10 ranked Badgers. However, the run defense cannot stop Saquon Barkley and Penn State the following week, losing badly in their Homecoming game. The 'Cats bounce back and pick up a good win against underrated Maryland, but cannot get it done against a scrappy Iowa team. The next week, Justin Jackson runs through the Michigan State defense for a huge game, igniting the offense and the team to finish off the season with a win and a surprisingly impressive conference record.
Andy Brown: 5-4 B1G, 7-5 Overall
I wish I could tell you something different, but I expect NU to be felled by the two-week buzzsaw that is Wisconsin and Penn State (they'll nearly win one of these, mind you), beat a vastly overhyped Maryland team, and then finish relatively strong against the remaining middle-of-the pack teams on their schedule. As of now, I see three should-be wins: Maryland, Nebraska and Illinois. Everything else is kind of a toss-up, but win one more outside of those three and NU reaches bowl eligibility for a third straight year, which would be the longest stretch since 2008-2012, and only the second such streak in school history. The 'Cats do get five B1G games at home, so while winning the West is basically a pipe dream, returning to bowl season is well within reach.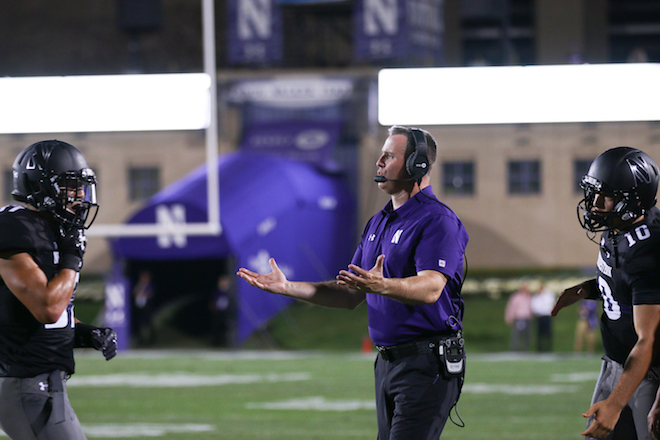 Dan Rosenzweig-Ziff: 7-2 B1G, 9-3 Overall
With tough back-to-back matchups coming up in No. 10 Wisconsin and No. 4 Penn State in the next two weeks, the Wildcats have their work cut out for them in the immediate future. While it's nice to be optimistic, this is Northwestern football, and they're going going to have a very tough time against these two top 10 teams. That being said, with an offense led by two veterans: senior Justin Jackson (the ball carrier) and junior Clayton Thorson, Northwestern football has a good chance to rebound after losing to these two powerhouses. Only Maryland and Iowa appear to be questionable wins following these next two weeks, but with momentum from giving Penn State a potential scare, Northwestern will finish the rest of the season with just two more losses.
Charlie Sidles: 6-3 B1G, 8-4 Overall
Unfortunately for the Wildcats, they have a really tough schedule start to this year's Big Ten campaign. It doesn't get much more difficult than a trip to Madison followed by a home game against Saquon Barkley and Penn State. Although I don't see Wisconsin to be entirely unbeatable, I think the 'Cats will likely drop both of those games but that will not doom their season. Pat Fitzgerald's teams have typically done a great job responding when things are not always going well. Last year, for example, they finished 6-3 after an embarrassing 1-3 start. Each of the last seven games are winnable, and seeing as Northwestern will likely be favored in each one of them, I expect them to come out on top in all but one. My conference record prediction is 6-3.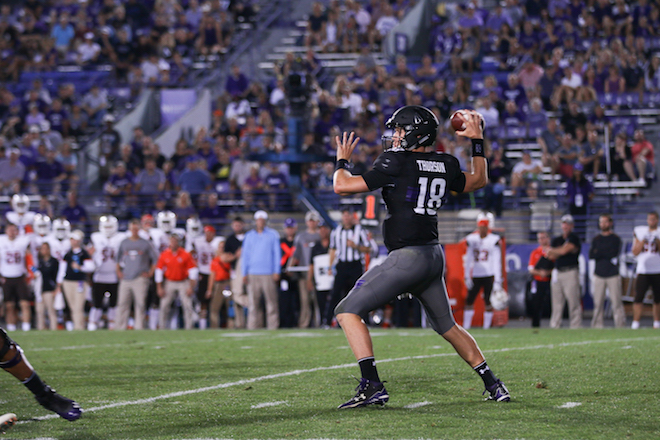 Duncan Agnew: 5-4 B1G, 7-5 Overall
The fiasco against Duke a few weeks ago doesn't bode well for what many hoped would be Northwestern's year in the Big Ten West. I expect the Wildcats lose their first two conference match-ups against top teams Wisconsin and Penn State in slightly closer contests than the lopsided defeat in Durham. A showdown with Iowa in front of a home crowd ends in another close loss, but the Cats will get hot down the stretch, downing Minnesota and Illinois in the final weeks to make it back to bowl season.
Trevor Lystad: 6-3 B1G, 8-4 Overall
The ugly Duke loss certainly tampered my preseason optimism, but I still think the 'Cats finish relatively strong and make their third straight bowl game. The first two games look bleak: beating Wisconsin at home is a tall order, and I fully expect Saquon Barkley to run for close to 200 yards when Penn State comes to visit. After that, things brighten: I think Maryland is quite overrated (they just got blown out by UCF), and Iowa is good but beatable. Illinois, Purdue and Nebraska should be wins (in my opinion), and the rest of the games are definitely winnable if not reasonably likely wins. It is Northwestern – so I wouldn't be all that shocked by a crazy win over Wisconsin or a botch job against Illinois – but I think a solid 6-3 record is the most likely outcome.