After his three-interception performance against Wisconsin a couple weeks ago, redshirt freshman Godwin Igwebuike strolled into the pressroom at Ryan Field wearing a suit befitting his breakout performance. A blue jacket over a floral-pattern oxford and black bowtie; it was an ambitious outfit for a player who had just made his first collegiate start. But Igwebuike had a simple explanation for the flashy threads.
"Dress well, play well. That's the motto."
Northwestern has quietly become one of the most aesthetically ambitious teams in college football, rocking a new uniform combination for every game this season. While they're not quite the Oregon Ducks of the Midwest, the 'Cats are certainly taking advantage of their lucrative deal with Under Armour to outfit their players in stylish and cutting-edge uniforms.
With that in mind, I decided to take a look a back at every uniform the 'Cats have worn this season and pick out what worked and what didn't. I also went ahead and ranked them, because I'm confident everyone will totally agree with my fashion sense.
Game 1. Purple Helmets, Purple Jerseys, Black Pants vs. California
The 'Cats started the year off with a classic look, wearing their standard home uniforms against Cal. This has the been the uni combination the 'Cats have gone to the most since partnering up with Under Armour back in 2012. It's not hard to see why, as the uniforms are a nice mix of tradition (it's all about that purple) with a sleek and modern look. However, one issue I have is that the 'Cats signature chest stripe is almost impossible to make out on the purple jerseys. It's a minor complaint, but it'd be cool if they could make that more visible in the future. I'm also a big fan of white pants over black, as they give the 'Cats a more collegiate look. Overall, these jerseys are fine, but the Northwestern has definitely got some better looks.
Grade: B-
Game 2. Heroes Day helmets, Purple Jerseys, Black Pants vs. NIU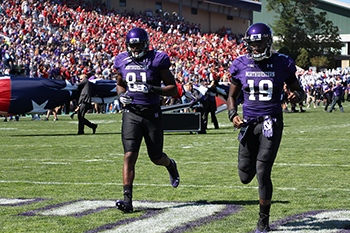 The 'Cats have made a point of honoring the military through their uniforms in the past and they continued that tradition in 2014. Donning special red, white and blue helmets for "Heroes Day," the 'Cats proved they can honor the troops without causing a controversy (what Wounded Warrior jersey?). It's actually not the first time Northwestern has worn these helmets and it looks like they might make an appearance every year. A good look with a great message? I've got no problem with that.
Grade: B+
Game 3. White helmets, Purple Jerseys, White Pants vs. Western Illinois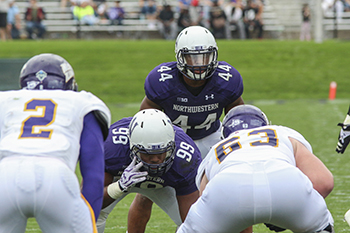 "Hail to Purple! Hail to White!"
Whoever wrote our alma mater had the right idea when they singled out these two colors as those that most embodied Northwestern University. The football team was wise to heed the message of our university hymn and debut this awesome uniform combination against Western Illinois. I liked the white helmets when the 'Cats wore them against Cal last year, but they look amazing with the purple jerseys. They've just got a really nice retro feel, even though I don't think Northwestern's ever worn uniforms like this before. Hopefully, the 'Cats will go back to this look in the future, as it's definitely one of my favorites.
Grade: A
Game 4. Purple Helmets, White Jersey, White Pants vs. Penn State
In my opinion, this is one of the classiest uniforms in college football. The chest stripe looks unbelievable and Northwestern is the only school in the nation to wear anything like that on a football jersey. Everything about this uniform is simple and understated (it almost feels like a throwback jersey), but it just works so well. I know the 'Cats have worn white helmets with this look in the past, but I'm definitely more fond of the purple ones. It's our school color, after all, and we've got to show the country what we're all about.
Grade: A+
Game 5. Purple Helmets, Purple Jersey, White Pants vs. Wisconsin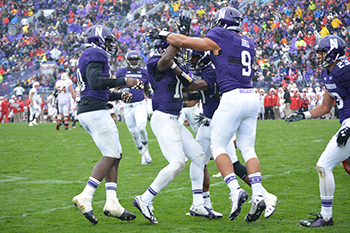 Any Chet Haze-endorsed uniform that features purple and white is going to be one of my favorites, and this jersey combo is no exception. This is a really nice look for the 'Cats, one that I hope will become their standard home uniform in the future. Drawing heavily on the uniforms Northwestern wore during the early 2000s, there's nothing fancy about this look, but everything just comes together nicely. Well, almost everything. I still can't see the chest stripe, and I'm not really sure why "Wildcats" is written across the butt. Maybe Trevor Siemian has trouble remembering our nickname before he snaps the ball, but even then, only the center would really need to have it written on his…whatever. Seriously though, these are nice uniforms.
Grade: A-
Game 6. White Helmets, White Jersey, White Pants vs. Minnesota
The 'Cats debuted these "white-out" uniforms last year against Cal and I thought they looked really nice under the lights in Berkeley. While the novelty's worn off a little bit this year, I still can't blame Northwestern for breaking these out again in 2014. They lose some style points for the lack of purple, but I'm definintely cool with the 'Cats wearing these once or twice a season. Oddly enough, I though the 'Cats and Gophers uniforms went together really well in this game. Not sure if the two schools planned that out, but props all around.
Grade: B
Game 7. Gothic Helmets, Gothic Jersey, Gothic Pants vs. Nebraska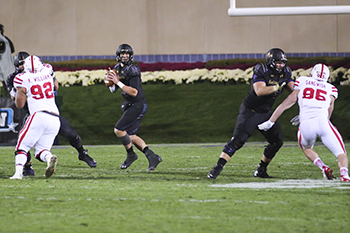 I've got a couple hundred of those Gothic T-shirts stashed in my dorm room if anyone wants to grab one. Okay, not really, but you were interested right? That's all you need to know about the special homecoming uniforms that the 'Cats brought out against Nebraksa. One of the most popular alternate uniforms Northwestern has ever worn, these things practically have their own storyline. Inspired by those black and yellow signs that are eveywhere on campus, these uniforms used a special Gothic script and also featured tributes to the Arch (on the back of the helmet) and Deering Library (the ivy pattern on the shoulders). They certainly struck a cord with students and it's going to be tough for Under Armour to top these next year.
Grade: A+++
Game 8. White Helmets, White Jersey, Purple Pants vs. Iowa
I don't know why everyone seemed so upset about this game, because I thought the 'Cats looked fantastic. Purple pants! Northwestern wore these during their glory days in the 90's and I'm sure Coach Fitz still gets a little choked up every time the 'Cats break these out. The white helmets look amazing here and this uni combo also features the white road jersey (#ChestStripe) that I'm pretty much obsessed with. I'd be fine if the 'Cats just wore these for every game next year.
Grade: A++
Final Standings:
1. A+++ Gothic Helmets, Gothic Jersey, Gothic Pants vs. Nebraska
2. A++ White Helmets, White Jersey, Purple Pants vs. Iowa
3. A+ Purple Helmets, White Jersey, White Pants vs. Penn State
4. A White helmets, Purple Jerseys, White Pants vs. Western Illinois
5. A- Purple Helmets, Purple Jersey, White Pants vs. Wisconsin
6. B+ Heroes Day helmets, Purple Jerseys, Black Pants vs. NIU
7. B White Helmets, White Jersey, White Pants vs. Minnesota
8. B- Purple Helmets, Purple Jerseys, Black Pants vs. California