Voter turnout during this year's midterm elections drastically exceeded numbers from previous years. Preliminary estimates say that over 113 million people voted in November, or 49 percent of eligible voters — far beyond the 83 million votes cast in 2014 midterms, and nearing the 139 million votes cast in the 2016 presidential election. This was the highest midterm election turnout in 50 years.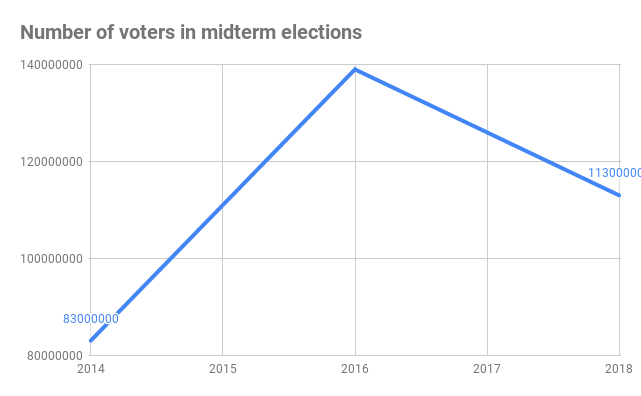 Some counties, such as Travis County in Texas, even experienced higher turnout numbers for these congressional elections than in 2016. As incredible as these numbers are, they all lead to the same questions: Why? What made the difference?
For one thing, 31 percent of young Americans voted this year, the highest in 25 years. Many young adults who were below the voting age during the 2016 elections may have jumped on the chance to vote this year. However, though young voters, which typically lean Democrat, helped narrow many races nationwide, their voting rate is still far below the rates at which older citizens vote.
"I did hear more about [the elections], but I think it was more due to the fact that I can vote now," McCormick sophomore Adam Leung said.
Exit polls also indicate that women and Latino voters voted in higher percentages.
For Weinberg sophomore Emily Suen, on-campus voter engagement organizations were highly influential.
"I heard more people talking about voting than normal, especially with NU Votes," Suen said. "I feel like there was a lot more publicity for registering to vote."
Voting, she said, is "convoluted," especially when many rules and dates vary by state. "NU Votes really streamlines it," said Suen.
NU Votes is a nonpartisan initiative run by Northwestern's Center for Civic Engagement. The program estimates that it provided voter registration and absentee ballots to over 2500 students this year. Evanston precincts noted a 40 percent student turnout for this election, in comparison to 20 percent during the 2014 midterms.
Northwestern political science professor Thomas Ogorzalek explained that people's individual choices to vote are structured by organizations like NU Votes and political parties, as well as by rules. Ogorzalek is on the Steering Committee for NU Votes, which helps direct the organization's activities.
"When NU Votes contacts someone and encourages them to register and to vote, it provides that nudge," Ogorzalek said.
The same goes for the Democratic and Republican parties.
"Party and other civic society actions do seem to have increased in the last two years," Ogorzalek said. "There's more money in politics with parties and with other 'get out the vote' organizations, so that probably will contribute to increased turnout."
Voter enthusiasm was particularly high among voters of both parties this year, and it might be because this year's midterms would make or break the Republican party control of Congress – and they did. Ogorzalek said that polarizing figures, such as the president, could also drive turnout.
"It indicates an opinion about President Trump that tends to make people more motivated to vote, because the intensity of their feelings, one way or the other, is pretty high," he said.
President Trump himself also continuously reminded rally attendees that a vote for a Republican Congressional candidate was a vote for him.
"This is also a referendum about me," Trump told supporters at a Mississippi rally in October. "I want you to vote. Pretend I'm on the ballot."
Liberal and anti-Trump leaders also reminded their followers that a vote for Democratic candidates was a vote against the president. USA Today author Jason Sattler wrote in a column, "If you don't want to reward Trump, vote for Democrats and do it soon."
Forty-one out of 50 states experienced double digit rises in voter turnout compared to 2014, but rates were particularly high in states with close elections, like Texas. The Texas Senate race was the most expensive in the country this year, with both candidates raising over $90 million. The state was also the site of the highest increase in voting, at about 63 percent. When races are close, voters may feel like their choice makes a greater impact.
Still, current vote totals aren't final. Some states are continuing to count absentee ballots, mail-in ballots, and provisional ballots. Other states with close or contested races, like Florida, may be holding recounts. As more ballots are added to running totals, the country will see just how many more people exercised their right to vote than in years past.