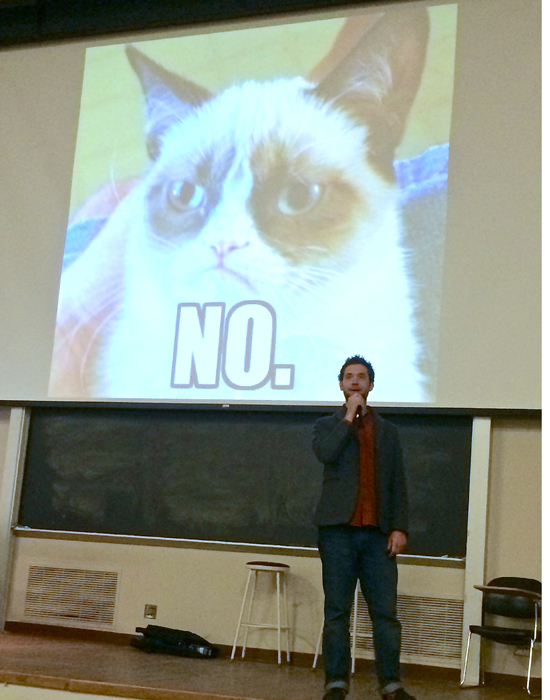 Reddit co-founder Alexis Ohanian told a crowd of budding software engineers that he has no idea what he's doing Wednesday night in Fisk Hall. Ohanian gave the talk as part of a nationwide tour to publicize his new book, Without Their Permission: How the 21st Century Will Be Made, Not Managed.
"Life is not a paint-by-number," he said, adding, "Anyone who fronts you like they have it all figured out it is lying or delusional."
Ohanian told audience members to start working on their own projects now, regardless of how much programming education they'd received. The day of its launch, Reddit looked "pretty janky," he admitted. But so did Twitter, or 'twttr,' when it started, Ohanian said, and so did 'thefacebook.'
"It's okay to fail," Ohanian said. "It's okay to suck."
He told the story of the time a Yahoo executive invited him and his co-founder Steve Huffman to a meeting in Silicon Valley three or four months after Reddit's launch. In the meeting, Ohanian said, after determining Reddit's viewership at the time was between 10,000 and 12,000, the same executive who had invited them said, "You guys are a rounding error to Yahoo – what are you even doing here?"
When he returned to his home in Boston, Ohanian said he printed out a piece of paper with five words – "You are a rounding error" and tacked it to his wall. "The fact is he did so much good for me," he said. "This guy still motivates me to this day, and when I get to meet him again, I'm going to thank him because he's brought me so much motivation all these years."
Now Reddit is one of the most valuable websites in the world, Ohanian said, worth almost $4.3 billion, according to worthofweb.com. At one point, Ohanian asked if there were any audience members who were working on a project they would be proud to talk about. McCormick sophomore Nikhil Pai raised his hand, and Ohanian called him onstage. "It was absolutely terrifying," he said of his impromptu speech.
"We just had a midterm review with Motorola yesterday, so I kind of knew what I was talking about," Pai said. He told the audience he'd been developing a GPS wristband with motors planted around its circumference. The motors vibrate on the side of the wrist their wearer should turn in accord with a pre-programmed destination. Pai and his team of fellow McCormick students Shikhar Mohan, Nick Paras and Alex Oplawski are developing the technology to compete in Breaking Mobile Limits, a Motorola-sponsored Northwestern campus engineering contest.
"You're a god-**** sophomore doing this," Ohanian said. "Guys, this is happening right now, right here. Innovation is not limited to a zip code in Silicon Valley," he said. Ohanian also brought onstage Northwestern alum Kat Mañalac, social outreach director at YCombinator, and Mike McGee, co-founder of Starter School, a graduate school of software development and entrepreneurship in Chicago. Both discouraged audience members from putting off their projects for more education or higher GPAs.
"You're never going to be totally ready," McGee said. "You have to start now." Ohanian concluded the evening with the same tone of cavalier fearlessness he strove to inspire in the engineers before him.
"Go forth and suck," he said.