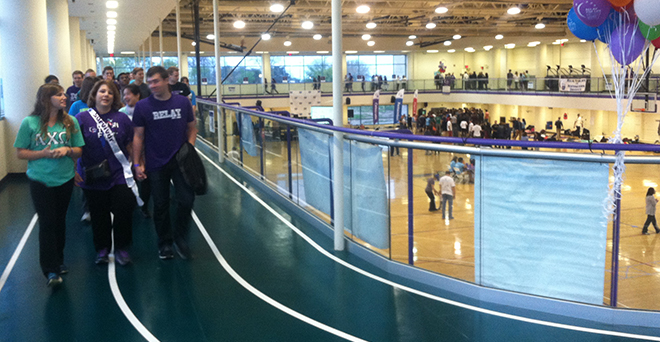 Relay for Life, a 12-hour overnight philanthropy event that raises money for the American Cancer Society, kicked off Friday night with enthusiasm and the high levels of emotion.
For Northwestern's second largest philanthropy event after Dance Marathon, teams of students take turns walking around the track at the Henry Crown Sports Pavilion and Aquatics Center to raise money in support of finding a cure for cancer.
So far, according to Relay for Life's website, at the start of the event they had already raised about $64,504 dollars from 46 teams and 517 participants.
At this pace, Relay for Life co-chair and McCormick sophomore Bridget Popovic said, they are making great strides toward meeting this year's fundraising goal of $100,000.
"But regardless of how much we raise," Popovic said, "we're happy to donate as much as we can to the American Cancer Society."
Since Relay for Life's establishment at Northwestern 11 years ago, they have donated over $1 million dollars to the society.
The event started with the opening ceremony speech from Jonny Imerman, who spoke about his experience battling cancer twice in his twenties and the importance of giving back as a survivor.
"When you give back, when you share your story, when you live through something, what we should feel is a lot of gratitude," said Imerman. "The spotlight on our own problems and our own fears gets moved to another person who's in the middle of a fight for their lives. The more you help other people, the more you realize the focus is on them and you find peace."
"No one should fight this alone," Imerman said.
Following Imerman's speech, the relay began with a "survivor's lap," where all of the cancer survivors and caregivers at the event led the first lap around the track as students cheered them on below. By the time the lap was finished, most of the survivors and caregivers had tears in their eyes.
"I was definitely inspired when the survivors led that first lap," said Isaac Yampolsky, Weinberg freshman and member of the Pi Phi/Phi Delt team. "Sometimes you're thinking you're struggling with a cough or a hurt foot, but these people have beaten a debilitating and life threatening disease. It really puts your problems in perspective."
Throughout the night, the participants take part in activities and games (such as a game of knock-out with the basketball team or water pong), eat food, and watch various student groups perform as they walk around the track.
The relay also includes a Luminaria ceremony after the sun sets, where candles are lit inside paper bags with personalized messages on them to honor those who have been affected by cancer.
"It makes a difference," said Kristin Palarz, relay co-chair and Weinberg senior. "We should be doing all we can those who can't. I'm here to fight for all the families who've lost people to cancer and for all the people I know who've lost people to cancer."