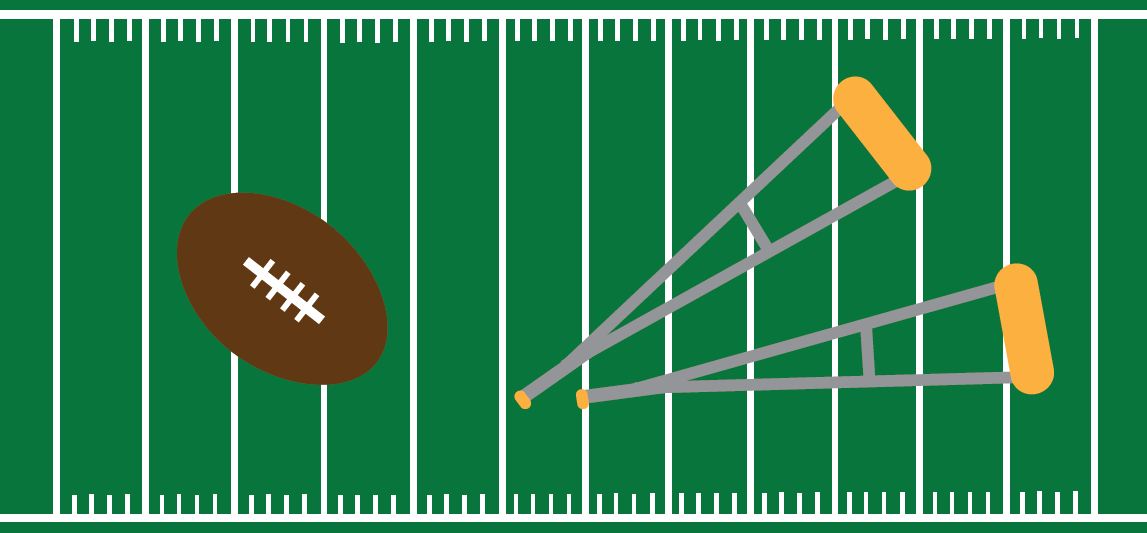 Before current head football coach Pat Fitzgerald led the Wildcats to the Rose Bowl as a player in 1995, Northwestern's football team hadn't experienced double-digit wins in a season since 1903.
Fitzgerald showed that to be a Wildcat is to be gritty, dedicated and tough. Since then, 'Cats fans have seen their players fight back from injuries that could have ended their careers, only to be stronger as a result. Here are some of the most impressive injury comebacks in Wildcat history.
Pat Fitzgerald (1993-1996)
Pat Fitzgerald is synonymous with Northwestern football. His 1995 leg injury is also Northwestern's most famous athletic injury and subsequent comeback story.
In his first two seasons with the program, Northwestern won just five games combined, but in 1995, Fitzgerald led a dramatic turnaround that culminated in a Rose Bowl berth. Unfortunately, Fitz had to watch the end of the season from the sidelines, because in the penultimate game of the regular season against Iowa he broke his leg.
Despite missing the final Big Ten game against Purdue, Fitzgerald was named First Team All-American and Big Ten Defensive Player of the Year. He also earned both the Bronko Nagurski Trophy and the Chuck Bednarik Award, both given to the best defensive player in the nation.
Duplicating those feats would be near impossible under any circumstance, but Fitz also had to recover from a very difficult injury. Even so, he accomplished every one of them yet again the following season. To date, he is the only college football player to ever win both the Nagurski Trophy and the Bednarik Award twice.
D'Wayne Bates (1995-1998)
Considering the numbers and achievements that Bates racked up in his time as a 'Cat, it's remarkable that he did it all in just three years.
As a true freshman wide receiver, Bates earned All-Big Ten Second Team honors and tallied 145 yards in the 1995 Rose Bowl. His second season was even better: He was named to the All-Big Ten First Team after 1,196 yards and 12 touchdowns, both Northwestern records.
In the first game of his junior year, the All-American candidate broke his fibula and ankle, which kept him out for the remainder of the season. But he came back reenergized in 1998 and toppled his own record by accruing 1,245 yards while also scoring nine touchdowns.
Bates then moved on to a short yet significant stint in the NFL, mostly with the Minnesota Vikings, but he's most remembered for holding nearly every receiving record in the NU books.
Tim Long (1996-1999)
Coming back from a torn ACL is tough enough, but for a kicker whose success is predicated almost solely on his leg, it's even more difficult. Rehab and regaining leg strength are challenging processes that can sideline some players permanently.
That was the road Tim Long walked after tearing his ACL in 1997, just before his sophomore season. After missing that year and not seeing much action the next, Long hit his stride his senior year. As the starting kicker, he connected on 12 of 18 field goals and 11 of 12 extra points.
Mark Philmore (2002-2005)
Few things are more frustrating to a player than dealing with the same injury multiple times. Philmore, a wide receiver, didn't let injuries get the best of him. Instead, he came back even better.
Nine games into his sophomore season, Philmore injured his knee and missed the rest of the regular season before coming back and catching 15 three passes in the Motor City Bowl. Late in his junior season, Philmore hurt his knee once again, but this time he didn't see any action for the rest of the year.
He responded by returning to the field for his senior year stronger than before. In 2005, he made the All-Big Ten Second Team with 662 receiving yards and six touchdowns before heading to Europe to continue his football career.
Nick Roach (2003-2006)
If one were to look at his time at Northwestern, it would be fair to say that Roach, a linebacker, had his career derailed by injuries. But he's managed to come back and make a name for himself in the NFL.
In Roach's first three seasons as a Wildcat, he suffered a concussion, a sports hernia, a back injury, a bout of dehydration and several other dings and bruises—yet he still played in every single game. As a senior, he was named the team's co-MVP, but his collegiate career was cut short by a broken leg.
That injury caused Roach to go undrafted, but he found a place with the Chicago Bears and eventually earned a starting role. He is now the starting middle linebacker for the Oakland Raiders