For one night, a lecture room in Fisk Hall transformed into an arena for drag performers and an oasis for queer students.
SADHAUS, a professional drag and performance art group based in Chicago, put on a show for Northwestern students (and whoever else happened to show up) Friday night. The members of SADHAUS were excited to be back on the campus where they had taken classes – some in that same room.
The event was part of a promotion for Spectrum Theatre Company's production of Hedwig and the Angry Inch, going up Oct. 19-21 in Shanley Pavilion.
"I think that, especially at the beginning of the year, it's really exciting to give freshmen, who may or may not have been out of the closet at home, a space to be queer and to be empowered in their queerness," said Communication junior Lindsey Weiss, Hedwig's producer.
The night began when the lights cut off and the speakers started playing Lady Gaga. A few moments later, the three queens of SADHAUS – Yolo Ono, Wanda Screw (Comm '15) and Quinn (Comm '15) – began strutting their way down the aisle toward the lecture-platform-turned-stage.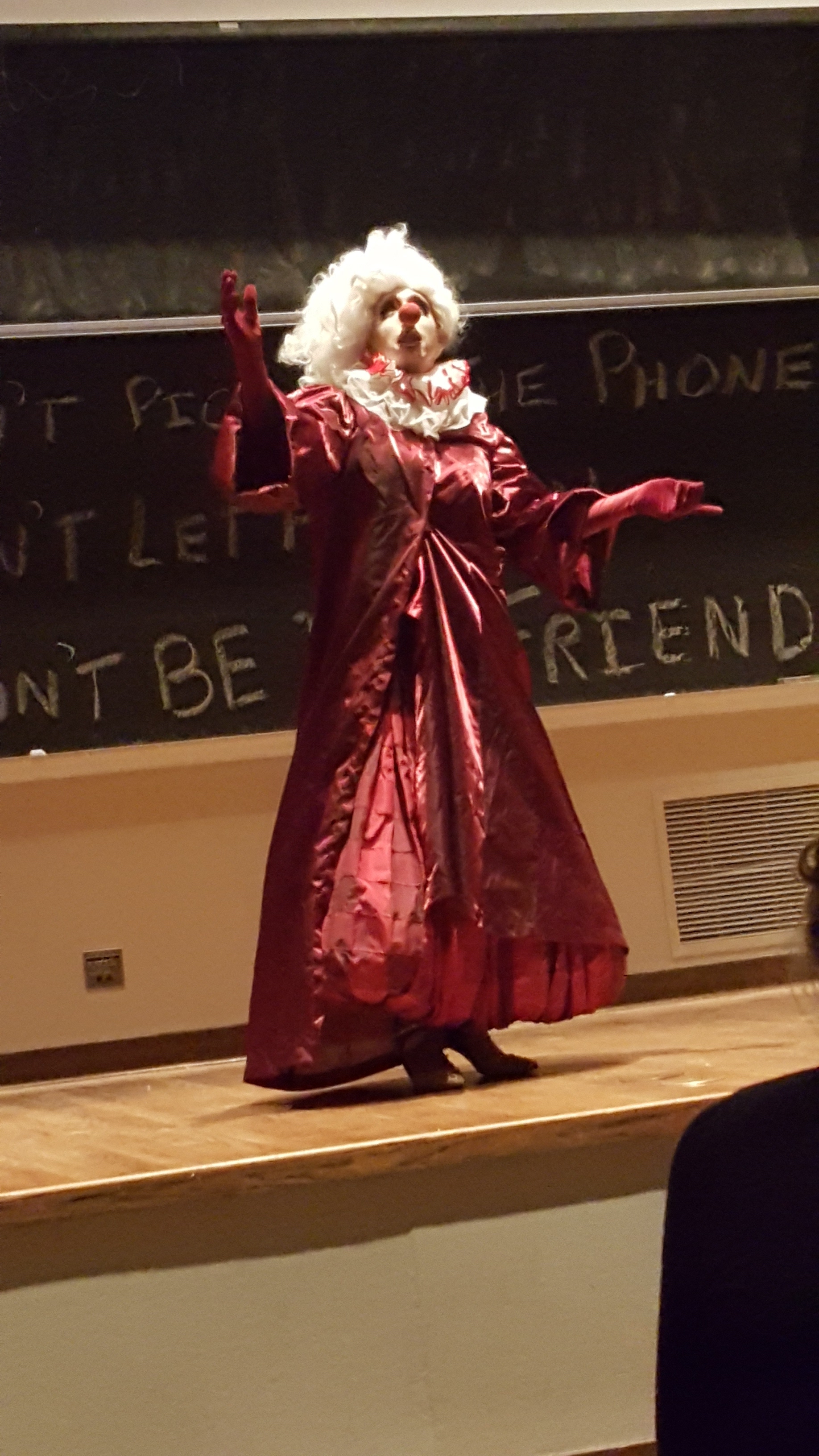 The highlight of the night for many was Yolo's performance of "Not Ready to Make Nice" by The Dixie Chicks. What first appeared to be a subtle lip sync performance soon turned political as Yolo pulled a severed Trump head from behind the podium. In a fit of crazed dancing, she threw the head into the audience, which reacted with shrieks of surprise and excitement.
"I caught this moment on Snapchat," said Jimbo Pestano, a Niles West High School student who attended. "I was so excited for the performance, and then five seconds later you just see the Trump head blast on my phone. It was a good moment to be alive, during that little second."
In addition to the talented performers of SADHAUS, a current Northwestern student named Jack (who would like his last name to remain unprinted) took the stage as Ken Doll Jenner, wearing a flower bra, a black corset and a dark turquoise faux fur coat. Despite this being her first performance as Ken Doll, she blew the audience away with her rendition of "Boys" by Charli XCX.
Ken Doll chose the name because she "love[d] the idea that a 6-foot-2 square-jawed German-looking dude can put on clothing from the thrift store and a wig and whatever amount of makeup and then call themselves Kendall Jenner and be Kendall Jenner as a way of exposing the illusion that is the beauty industry [and] beauty standards. Anyone can be Kendall Jenner."
After a stunning performance and a disclaimer that anyone who wanted to leave to go to a frat party could, the night transitioned into a Q-and-A session with the queens, led by Hedwig outreach chair Adam Davies. When asked where the inspiration for their drag personas came from, the queens gave some surprising answers, including Pusheen the Cat and Ursula fromThe Little Mermaid.
The night eventually dissolved into photo taking and a meet and greet with all the queens. Amateur drag performers, drag fans and those who were "drag virgins" all lingered after the final question for a chance to meet with the queens.