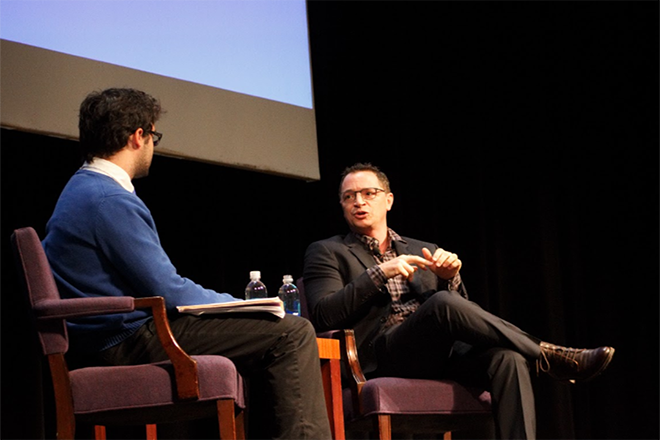 With only a week left before the 2016 presidential election, Northwestern Hillel welcomed a well-known politician to campus – albeit a fictional one. Actor Joshua Malina, most prominently known for his roles in The West Wing and Scandal, spoke to a group of students in Cahn Auditorium Tuesday night about his acting career, on-set pranks and the political role of celebrity.
Structured as a conversation between Malina and Communication senior Harry Wood, the event maintained a light tone, especially when discussing Malina's journey as an actor. Although he quickly became known for his work in Aaron Sorkin dramas, his first steps into the acting community were not so glamorous.
"I did a few episodes of this educational TV show called Family Album, U.S.A.," he said. "I think it played in parts of Asia in the idea that it could teach people English ... the production value was pretty terrible."
At his mother's prodding, Malina said he decided to reach out Sorkin, who he vaguely knew through his cousins, and had attended school with. Sorkin invited him to play poker, they became friends, and soon after, he auditioned for Sorkin's play A Few Good Men, where he got his first big break. To Malina's good fortune, it was not the only Sorkin role he would play; he was later cast in his critically-acclaimed drama, The West Wing.
"I remember reading that Rob Lowe, who played Sam Seaborn, was thinking about leaving The West Wing and I immediately wrote an email to Aaron, just completely and utterly shameless," Malina said. "I wrote, 'I just read this thing in Variety, I don't know if it's true or not, but if it is – just a pitch – how about someone who's less good looking and less famous who's willing to work for less money?'"
While Sorkin later suggested he had Malina in mind for a role on the show all along, Malina said he believes the email planted the seed for what would become the character Will Bailey, written specifically for Malina to play. He co-starred on the show until 2006.
Currently, Malina co-stars on the hit ABC television show Scandal, produced by Shonda Rhimes. He said that both Sorkin and Rhimes stand out in the industry due to the personal connections they form with their actors and staff.
"One of the really, really sweet things about working for people like Shonda and Aaron is that they are both good people who care about the people who work for them and who, in a serial fashion, hirer the same people," Malina said.
"Shonda calls it a 'no-asshole policy' and on occasion, I've been asked how I slipped in," he joked.
According to Malina, he is a serial prankster on set. When Scandal actors leave their phones unlocked, he is known to access their Twitter accounts and tweet "I'm horny," much to the surprise of fans – and the dismay of his colleagues.
"In an emergency situation, if I needed a phone, nobody would give one to me," he laughed.
Wood had a joke of his own for the star. Taking out his phone, the Communication senior pulled up Scandal fan fiction and traded lines back and forth with Malina, Wood reading for protagonist Olivia Pope and Malina playing his own character, David Rosen.
Malina's playfulness throughout delighted the crowd.
"I thought it was incredible," said Weinberg sophomore Estie Gelman after the event. "He was even funnier than I thought he was going to be."
As the evening drew to a close, however, the conversation took on a slightly more serious tone as Malina discussed the election and his engagement in political issues.
"I've always taken a pretty dark view of actors who are constantly giving their opinions as if we should care because they're an actor," Malina said – but there's an also an upside when it comes to important issues.
In 2001, he was invited to appear as a celebrity guest at a rally for Israel by the Jewish Federation of Los Angeles. Although he said the event was pretty apolitical, there were not any other prominent Jewish entertainers in attendance, which he found problematic.
"I started to realize there are some things that I care about and I don't want to be one of these guys who's like, 'Hey, you should listen to me. I was on Sports Night," Malina said. "I do try to be careful recognizing that in the end, I'm just a person with an opinion."
But still, he said, as an actor, there are sometimes opportunities to use your voice for good.
"If people are going to listen or want to hear what I have to say, I just try to be measured," he said.
Ethan Cohen, a Medill senior who helped organized the event, said that Malina's activism is one of the reasons Hillel brought him to campus.
"We're interested in the Jewish connection when we have these speaker events, and he's someone who's very vocal and very passionate about his Judaism and how that relates to his life and work," Cohen said.
Malina can be heard on The West Wing Weekly podcast, and will next be seen in the Warren Beatty film Rules Don't Apply.
Editor's note: Ethan Cohen previously contributed to North by Northwestern.