"When you've met one person with autism, you've met one person with autism."
Presenters at Seesaw Theatre's Inclusive Theatre Festival quoted this phrase again and again throughout this weekend, and with good reasons. The two-day festival at Norris featured over a dozen panelists working to provide environments and communities to make theater experiences accessible to all, while acknowledging the unique gifts and needs of every individual participating.
"People are just dying to get into a room with each other," said Communication and Weinberg junior Christina Layton, Seesaw's internal education director. She said the festival's role was bringing together members of the inclusive theater community.
"We're continually striving to grow as both individual practitioners and as a community," Layton said.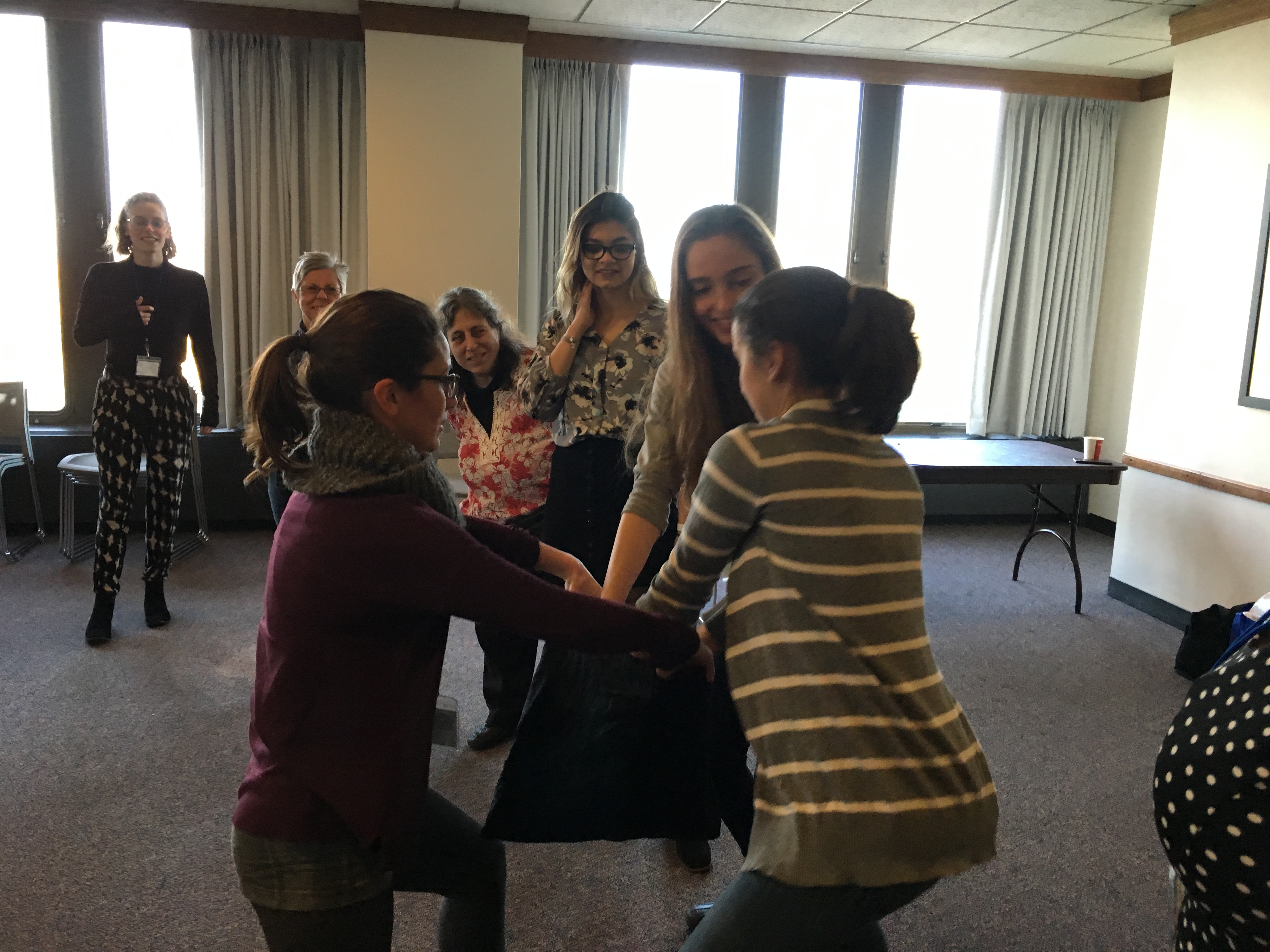 Seesaw Theatre, an on-campus undergraduate theater group, provides multi-sensory, individualized theater productions to young audiences often excluded from other performances due to cognitive and developmental differences such as autism.
Many presenters – including Seesaw – focused on audiences falling on the autism spectrum. The weekend, however, featured discussions about providing theater for every audience member, regardless of developmental differences or disabilities. Such theater offers multisensory experiences that engage the audience in more ways than simply watching and listening to a conventional play. These shows include interactive elements like props that audiences are welcome to touch, smell and sometimes even taste during the performance.
While some speakers presented their work and experience in the field of creating inclusive theater communities, others provided hands-on experiences for audiences, such as adorning their name tags with stickers and googly eyes. Other panels showed short films and live performances involving students with developmental differences in the creative process. ABLE Ensemble, a theater group based in Chicago, recited a scene from Shakespeare's The Tempest that was a joy to both watch and, judging from the smiles on the actors' faces, perform.
"This is a relatively young field, but it's rapidly, rapidly growing and expanding," said Liza Alrutz, Seesaw's brand manager and a Communication junior. "We're leaders in the field, which is crazy to think about."
This weekend's festival, the second of now an annual tradition on campus, brought this small but growing community of inclusive theater together. According to Alrutz and Layton, finding panelists and guests began as an effort of networking and outreach, but evolved to a stage where people were actively reaching out to Seesaw Theatre, requesting permission to attend and share their ideas. Alrutz said the festival serves as a reminder of the impact Seesaw Theatre has: "Just because we are undergrad students doesn't mean that we can't be an established organization recognized nationally."
Alrutz wasn't exaggerating – the weekend's presenters included speakers from Brooklyn, Seattle and Dallas, as well as several from areas around Evanston and Chicago. Nancy and Karl Schaeffer, founding members of Dallas Children's Theater, gave a presentation on their experiences expanding their programming to cater for all audiences regardless of developmental differences. The duo said they experienced some apprehensions when first setting out to create theater experiences for all, especially for the not so conventional or neurotypical audiences.
"I was so worried about offending someone, or doing something wrong, or not serving someone the right way," said Nancy Schaeffer, the education director and associate artistic director of DCT.
Ultimately, the theater company decided it was better to risk making mistakes and fixing them later than not addressing the problem at all.
"We will probably always make mistakes," she said. "Just letting go of that … and trying to adjust when we can, and just realizing that we're not gonna get it right all the time."
These overarching themes of inclusion and individualized experience carry over into Seesaw Theatre's other programming as well. Founded in 2012 as Theatre Stands With Autism, the group specializes in developing theater programming that can be enjoyed by neurodivergent and neurotypical audiences alike. Though the group and the festival still place a special emphasis on individuals falling on the autism spectrum, the name change stems from efforts to expand to other audiences who have difficulty attending or enjoying more mainstream theater experiences, such as individuals with Down Syndrome, those with sensory processing disorder, and audience members confined to wheelchairs.
Madeline Napel, a Northwestern graduate who now works at Seattle Children's Theater, returned on campus to speak at the festival. She served as executive producer for Seesaw Theatre during her time at NU, and said she felt motivated to join Seesaw Theatre due to her love for her brother, who has cerebral palsy.
Napel's brother loves theater and concerts, but "his audience behavior is far from traditional," including screaming along with the music and jumping out of his seat. "I wanted a place where we could celebrate that and not shut it down," Napel said, which motivated her to participate in Seesaw Theatre as soon as she heard they specialized in programming for young audiences with disabilities. "My experiences with Seesaw taught me what I want to do."
In the festival's attendee packet, a greeting and introduction from Seesaw's current executive director Maddie Rostami ended with the phrase "Let's Play." This is indicative of the attitude Seesaw Theatre adopts when developing its programming, according to Layton.
"This idea of play being the basis of our work is something that holds true in everything that we do," said Layton. "The best way to accomplish [inclusivity] is by bringing out our inner kids and playing."
"It's just my favorite thing I do on this campus," Alrutz said. "You can't fully process how cool it is … until you have the kids in the room."