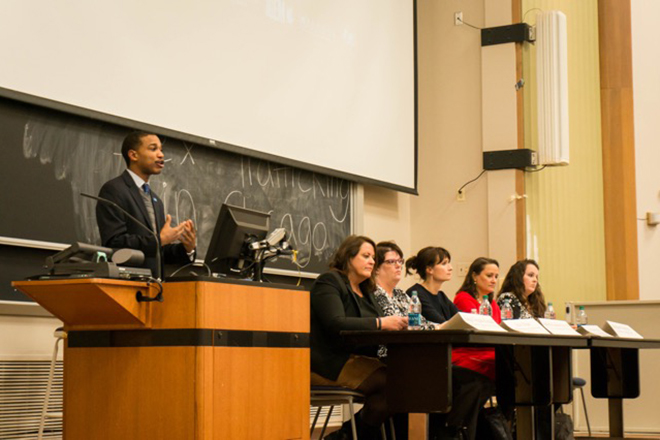 Northwestern University student organizations facilitated a panel on Wednesday evening to discuss the prominent issue of the thriving human trafficking business in Chicago.
Fight for Freedom, the Global Engagement Summit, the International Gender Equality Movement, the Northwestern University Model United Nations and UNICEF NU collaborated to bring in five panelists of different expertise in the human trafficking industry. The panelists answered questions and talked to an audience of about 150 people in Fisk Hall regarding human sex trafficking and the lack of attention the issue receives.
According to the U.S. State Department, about 27 million people are subjected to human trafficking throughout the world. The Jane Addams Center for Social Policy and Research at the University of Illinois at Chicago released a fact sheet stating that 16,000 to 25,000 women and girls are involved in commercial sex trade annually. Sixty-two percent of the women get involved in prostitution by the age of 18.
At a price tag of $150 billion worldwide, the human trafficking industry is an extremely lucrative industry to which 5.5 million children fall victim. The panelists' goal was to not just talk about these problems, but also enlighten students on how to work towards solutions.
"Our goal collectively was to bring this global idea of what human trafficking is and bring it into a local context and have people realize that this is a thing happening in our community," said Weinberg junior Vivien Hastings, a co-chair of the International Gender Equality Movement.
Each of the panelists discussed her beginning involvement in eradicating human trafficking.
"I became passionate about the first time I met a victim across the table and talked to the victim about what really happened to him," said panelist Virginia Mary Kendall, a United States District Court Judge. "When I found that out I knew it was something that I would never turn my back on again because it was so horrific and so unbelievable that this violation of human rights was occurring locally right here in our district."
Conversation focused on the emphasis to increase law enforcement training, methods to identify victims of human trafficking and what pushes people to become involved in sex trafficking.
"There's no single profile of a trafficking victim or a trafficker," said panelist Katherine Kaufka Walts JD, the director of the Center for Human Rights of Children at Loyola University Chicago. "It's pervasive. There are industries where there is little protection and people are vulnerable."
The panel concluded with addressing the audience on what can be done within the community and how everyday students can make an impact. Kendall emphasized increasing academic discourse and facilitating discussion within the Northwestern community. Mentoring youth and working with vulnerable populations were also stated as ways to contribute to the anti-human trafficking movement.
"I thought this was really important," said School of Communications freshman Meryl Faye. "I think it's great that they chose to come speak to students because we're students who can develop futures to do something about it."
Outside of the panel room, Annie's House Soaps and CAUSEGEAR were sold, with proceeds going towards helping those susceptible to trafficking and human rights infringements.
Fight for Freedom previously paired up with various student groups on campus to put on additional events in support of National Slavery and Human Trafficking Prevention Month. The eye-opening documentary, "Save My Seoul," focusing on the sex trade in South Korea, was shown in a public viewing on Jan. 29 in Harris Hall.