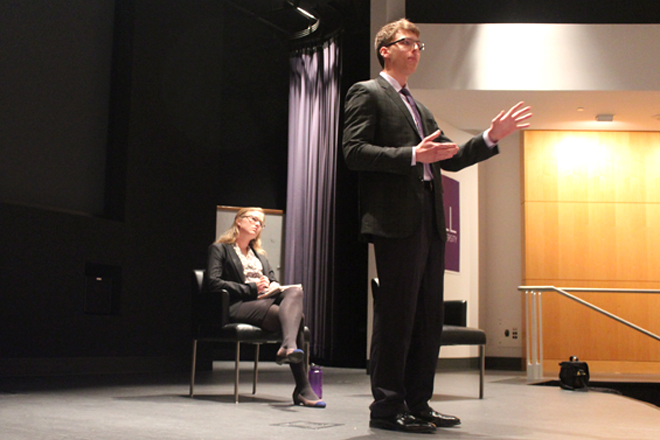 On election day Friday, ASG president won't be the only race on the ticket. Though the election for academic vice president is uncontested, the race for student life vice president is still up in the air. Catch up with both candidates so you can be more educated when you log onto the polls.
Anna Kottenstette By Ryan Milowicki
Tell us a little bit about yourself, let's have a person to match the candidate. Where are you from?
I'm a junior from Burlington, Iowa, born and raised. There is no coat factory there, though. I went to a really small high school, graduating class of 32. When I was a freshman, I came in as a Biological Sciences major, really gung-ho about that. Coming from such a small town, I was kind of overwhelmed with the whole Northwestern experience, so I actually left for two quarters to go to the University of Iowa. It was really eye-opening there and really opened my eyes to everything that Northwestern has to offer. At the end of the day, I knew that I was a Wildcat at heart, so I came back for my sophomore year. I switched to School of Comm, and I am now a Communication Studies major and a History minor. It's a perfect fit for me.
How have you become involved since your return to Northwestern?
The ASG Student Life Committee was one of the first things I joined as I was figuring out what I wanted to do with my life. I also got involved with the Daily, WNUR, WNUR Sports, my sorority, all sorts of things. I've had the opportunity to be on several advisory committees, which make some pretty important decisions.
Within the Student Life Comittee, I've worked on providing different incentives for students to attend athletic events, bringing free printing to campus for next year, which will be really cool, and I was named director of residential services within ASG, which is a subexecutive position. We're looking at ways to bring gender-neutral housing options to campus for next year.
I like to try different things, so being involved with the committee has enabled me to become immersed in a lot of aspects of Northwestern. That has been really fulfilling.
What's driving you to run for VP at this time?
Having been able to work under Alex [Van Atta, outgoing student life VP and executive VP candidate] for this past year, it just seems like a natural progression. I will be stepping into familiar ground. I have really good relationships with the members of the committee now.
I'm running because I feel well equipped to run the committee. I have made many connections with the administration. There will be no "Nice to meet you." It'll be more of a "Hey, now that I'm elected, we can work together even more."
For the viewers at home, what else encompasses the role of student life VP besides heading the committee?
My main role is to be a liaison between the committee, ASG as a whole, the student body and the administration. It's my job to be the center of those interactions.
If elected, I would be involved in all of the projects we undertake, I would hold the members accountable for their role, etc. In a nutshell, the student life VP is the pinnacle of communication.
What's your opinion of the job that ASG is doing now? Is there anything you'd like to change?
I definitely want to keep my committee as is. The ASG system was run very efficiently and hands-on this year with an elaborate Google Docs system, so I'd like to continue that.
In terms of things I would change, I will be looking for new members to represent different aspects of student life which aren't currently represented. I'd like to try to reach out even more to student groups and instigate more cooperation between them and ASG. If we do this, we can get rid of that stereotype that ASG is so bureaucratic and run from the top-down. I accept that some people think that way, but I don't necessarily believe that it's true. I think increased collaboration can help to break that.
In closing, what makes you a better candidate for the VP job?
Harrison is a really great public speaker, and his presentation is wonderful. That being said, the majority of his content is just words.
I have direct experiences that will apply to the position. Most of his experience has been within Residential Life, and while he did some great work, at the end of the day that's just one very specific aspect of Northwestern. I've had experiences with athletics, with residential services to provide printing to different res halls.
My experiences are more varied, just from the virtue that I've been at Northwestern longer. I've had to transfer schools within Northwestern, I've transferred in and out of Northwestern, which helps me relate to a lot of fellow students. My network has simply had more time to develop than his.
Anything else you'd like to tell your voters?
I hope that students can look past the Facebook likes, the fancy websites and the endorsements. I'm running because I love Northwestern, and I've been involved in all aspects of life here. I'm really looking forward to hearing what everybody has to say and interacting with them as student life vice president!
Harrison Flagler By Matthew Zellner
To begin, tell me a little bit about your background. Where are you from, where do you live on campus, what do you study?
I am a freshman majoring in Economics and Music Composition. I live in the North Mid-Quads, where I serve as the ASG senator for my building and our sister building, South Mid-Quads. I'm from downtown Chicago – the inner city, not a suburb – where I attended the Chicago public high school Whitney Young.
How did you first learn about ASG?
At the beginning of the year, leadership in ASG came around to the living spaces, holding info sessions where you could find out about ASG and what it does.
When did you decide to run for a position? What motivated that?
I'm passionate about effective governance and wanted to help ASG reflect what students want to see out of their hall government, so I ran for ASG senator and won. As for student life VP, I've had the experience this year of seeing how ASG works and how it doesn't. I have a proven track record of strong leadership, success, and results as senator, and believe we should take that a step further as ASG.
Not a lot of people know what ASG actually does, so what have you done?
As a senator, my biggest passion has been making ASG more dedicated to students. Over this year, I've served as head of a committee that has toured each and every one of the residential living spaces on campus, looking for short term improvements, as well as working with students to create long term visions to enhance each building.
Our team has seen some awesome progress – this includes trash and recycling rooms in all the living spaces, new flooring and shower shelves in many buildings, and fixing lots of old lounge furniture where need be. We've also started setting up some long-term plans, such as developing the rocky area by Elder dining into a seating venue and turning part of the Sargent eating space into a late-night community study space.
I also worked with constituents in my building to address a major issue, University transparency, as it relates to the Chabad incident. I worked with members of the Northwestern community to craft the document, "SR1213-10: Chabad and Administration Transparency," calling for University administration on behalf of not only the Jewish community, but all students. This was a major resolution that raised awareness to the Chabad case and set a strong precedent that ASG – on behalf of the student body – expects transparency from the administration in any future incidences.
What do you plan to do with the power of student life VP? What's your platform?
Our platform is all about forming a stronger relationship between ASG and the student body and making ASG an organization totally dedicated to student-led initiatives. I am running for student life vice president because I feel so passionately about making ASG a student-driven organization.
I want to work with all students to promote bold initiatives that make ASG a reliable resource for you to use. Over the course of this year, I've shown this passion through my work with the housing committee, the Chabad resolution and forming relationships with many hall governments and student groups to find out how ASG can better help them.
Have you already started working with any of the other candidates? Have you officially endorsed any of the other candidates?
I've formed close relationships with each of the presidential candidates, so as student life VP, I will be able to hit the ground running working with any of them, regardless of who wins. While several of them have asked me for an endorsement, I will not be making a public endorsement.
Speaking of endorsements, who would you say is your – modern or historic – political role model?
This campaign is similar to Barack Obama's bid for the presidency in 2008, where we bring to the table a fresh set of ideas and the perk of not being tied to the ASG political establishment, while at the same time a strong track record of success and reliability in fighting on behalf of students.
Am I invited to your campaign party?
Absolutely! We'll be waiting for results Friday in NMQ and have already purchased pop and chips for a victory party to celebrate!