Dimly lit with sparse overhead lights and occupied by wall-to-wall soundboards and professional-looking equipment, the WNUR studio looks straight out of a HOT 97 video. While I channel my inner tourist, gawking at arrays of industrial sound systems and well-dressed RTVF people, School of Communication sophomores Cameron Smith and Lorenzo Gonzalez Lamassonne, known by stage names Freddy Mümmix and zorenLo, effortlessly navigate the corridors of Louis Hall. After almost two years, the duo has carved a distinctive spot for themselves, both at WNUR and at Northwestern.
GREENS, their follow-up to Melanin Stained Lover, is their first full-length, purely 50/50 collaboration; equal parts creative experiment and aural snapshot for both artists. I sat down with the two (separately – because it wouldn't be Northwestern if we could coordinate a meeting of three without difficulty) and discussed GREENS, working as a duo, hip-hop tropes and more.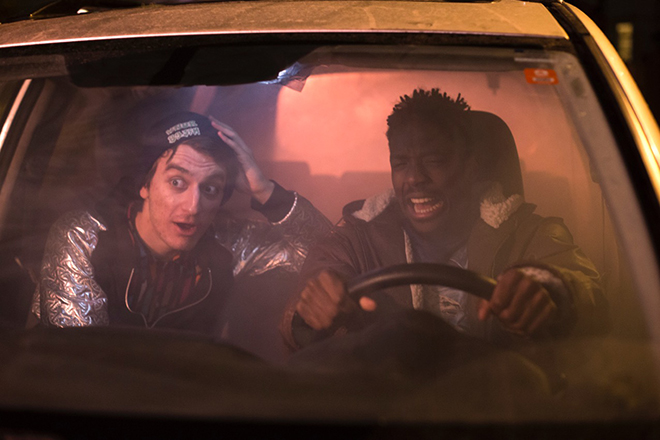 The sound
For Smith and Lamassonne, GREENS is a distinctive venture, juxtaposing disparate sounds, stitched together with their fluid conception of "greens." The songs are cohesive in the way that they all "sound green," while maintaining an element of "greens" as "our generation's version of the blues," a slogan that Smith commonly uses to characterize the project. Whether "greens" channels a manmade breed of aural synesthesia or the celebration of the "best first hit", it's undoubtedly a strange concept – an eccentricity that has never been done before but that Smith and Lamassone wholly embrace.
"I think I can articulate it as an homage to 80s instrumentation that still very much has it's sights set on a futuristic sound, particularly combining acoustic instruments with electronic sounds, [fusing together] styles that wouldn't seem to fit and making them work," says Lamassonne, "It's kind of like Prince meets Kraftwerk."
The album does indeed have a sense of creative frenzy, mixing influences from Latin cumbia to British grime synths to create something that just somehow works.
"It's kind of off the wall," Lamassonne says. "Like if I were to describe it as a genre, it just sounds like we made it. It sounds like Freddy Mümmix and zorenLo."
The lyrics
In the age of Kendrick, greater social consciousness in rap is being critically rewarded. Although Melanin Stained Lover had several cleverly poignant tracks, Smith notes that his most popular collaborations with Lamassonne, like "Stop Talking," have been ones that align with mainstream hip-hop tendencies.
"Hip hop has always tried to maintain a balance of catchiness and lyricism. Looking back on Melanin Stained Lover, that was a bit more of a selfish project, about me speaking about my life and my college experience," says Smith, "In making this new album, I wanted to deviate from that hip-hop trope mentality and try to experiment a little more. I want people to be able to take away from my music."
As primarily a rap artist, Smith is conscious of the message he puts out. Now more than ever, he feels more comfortable making a statement with his music.
"Maybe you could attribute it to the state of rap right now, but it's also just a part of my personal growth. The topics that we touch on in this project are a little bit deeper."
For the duo, rap is more than verses about turning up at the club superimposed on DJ Mustard beats. "With rap, you want every word to evoke something. You want to create a mood," says Lamassonne. GREENS is their way of attaining this, layering witty, evocative lyrics over unconventionally infectious beats.
The process
Although both artists have done solo work, their work as Freddy Mümmix and zorenLo together is entirely an entity of its own. "In terms of production, I make 50% of the beats and he makes 50% of the beats. That's just what keeps us happiest and blends our styles best. [Lamassonne] has some more influence when it comes to the final mix, because he's more of an audio engineer than me, and I am more of the one who influences the project conceptually," Smith says.
While both contributed to this project equally in sound and subject matter, Lamassonne's past work has been mostly DJing and remixing with his label; GREENS was his first time full-on rapping, which pushed him to "step up his lyric game."
"Trying to find my own voice that could complement Cam definitely put me out of my comfort zone, but it was a really fun and rewarding experience," says Lamassonne, "[Smith] is so prolific. Working with a rapper like him has made me better. I've had bars where Cam has been like 'Come on man, you're better than that.' It motivates me to want to impress him. His praise is the best praise for me."
The sheer amount of partnership in this album is abundantly clear – from rapid fire trading bars to multifaceted narrative back-and-forth, their musical rapport is rare. As long-time collaborators, their familiar dynamic allows them to counterbalance each other as foils, playing off their individual strengths to create a uniquely "Freddy Mümmix and zorenLo" final project.
"We really embraced this duo aesthetic. It doesn't seem like there's a place for it but that's what we're trying to do – carve out a niche for that," says Lamassonne.
What's to come
Following the release of GREENS, Smith and Gonzalez are eager to promote their album, locally and online, and build a greater fanbase through the grassroots scene in Chicago. The duo has connected with Chicago's underground artists and other Northwestern student artists through their individual work and through their continued involvement with Streetbeat, and they plan to take advantage of these opportunities to expand their audience and get their record to the ears of as many willing listeners as possible.
Smith says, "I think the hardest part is reaching out to people and saying 'Hey there's a lot of other cool stuff out there, please get out of your bubble for one second and check it out'. But we know once we have that initial attention we'll definitely wow them."