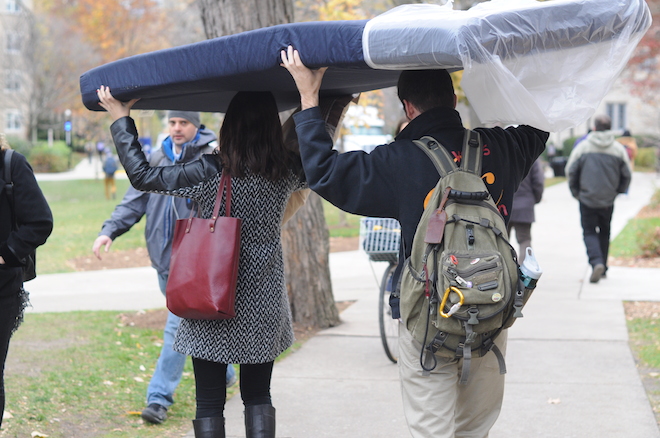 As part of a national movement to stand in solidarity with the victims of sexual assault on college campuses, students at Northwestern carried around mattresses as they went about their daily routines on Wednesday.
The solidarity movement called Carry that Weight was inspired by Emma Sulkowicz, a senior at Columbia University who began protesting the way the university handled her case once she reported that she had been raped. Sulkowicz wrote a piece for Time last May detailing her experiences with the university's justice system, which ultimately found the person she accused not guilty. "Every day, I am afraid to leave my room," she wrote, knowing that her attacker was still on campus.
"This issue is something I care deeply about," said Medill freshman Jordan Friedman as she balanced a mattress with her backpack and books while walking towards a class. "I know people who have been raped and accused wrongly, or people who try and justify the actions."
Communications freshman Shea Lee, who carried a pillow, said she felt it was important to get involved "because so often the survivor – I hate the word victim – is invisible because they don't know how to speak out or they're afraid to."
The protests were designed to draw attention to the emotional burden which those who experience sexual assault carry with them every day – whether that burden is seen or not.
"First and foremost there always needs to be a recognition that sexual assault happens on college campuses to people of all genders," said Weinberg senior Jasmine Stephens. "These protests help us remember that." Stephens helped organize the event as part of the Title IX movement at Northwestern University, an unofficial student group which aims to end the prevalence of sexual assault on college campuses.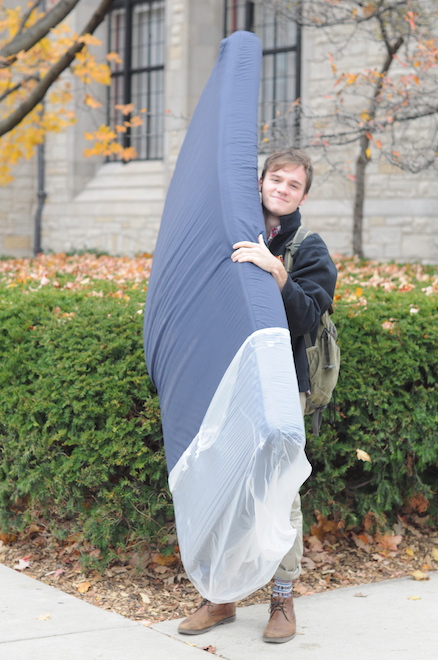 The national Carry that Weight movement gained attention through social media, with over 10,000 people responding to the Facebook event.
"It was empowering to demonstrate today and show solidarity with other survivors on campus," Stephens said, particularly in light of new developments in the lawsuits surrounding Peter Ludlow.
Ludlow, a professor at Northwestern who was accused of sexually harassing a student last February, filed a lawsuit on Tuesday suing his accuser for defamation, according to the Chicago Tribune.
Molly Benedict, a Weinberg sophomore and representative from Sexual Health and Assault Peer Educators (SHAPE), declined to comment on Ludlow's case, but said that the Carry That Weight movement aligned with SHAPE's mission of "creating a positive" community in regards to sexual health and assault prevention.
"Carry that Weight is just another situation of assault and it's great to see people speaking out about the issue as a whole," Benedict said. "SHAPE is trying to do that all the time."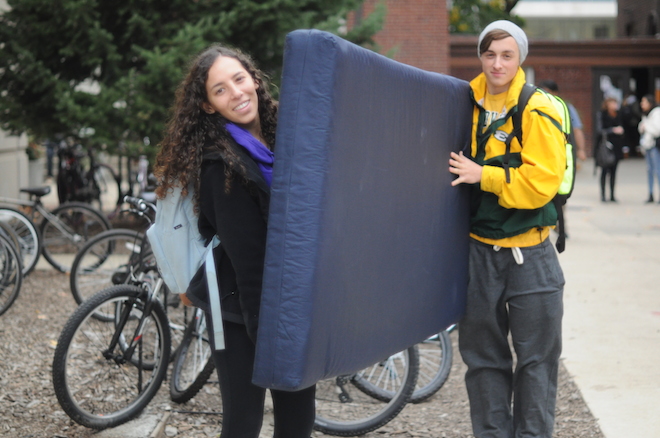 Across campus, both men and women participated in the solidarity movement.
"I heard about Carry that Weight through Rainbow Alliance," said Weinberg freshman Troy Thisler.
"Guys also get sexually assaulted and raped. It is a controversial issue and nothing is being done," he said. "It just shows that effective coalitions building is important to bring attention to these issues."
The prevalence of sexual assault on college campuses and the broken systems which handle complaints and accusations has become an issue with national momentum. Earlier this year, the Obama administration launched a task force to address the issue.
In the meantime, the protests by students today at Northwestern and across the nation demonstrate that students are willing to take a stand for a change.
"Being a victim means that there's nothing you can do about it, that you're helpless, and it takes all power away from a person," Lee said. "The acts of protest hopefully will allow the emotional burden to be lifted by carrying the physical burden today."