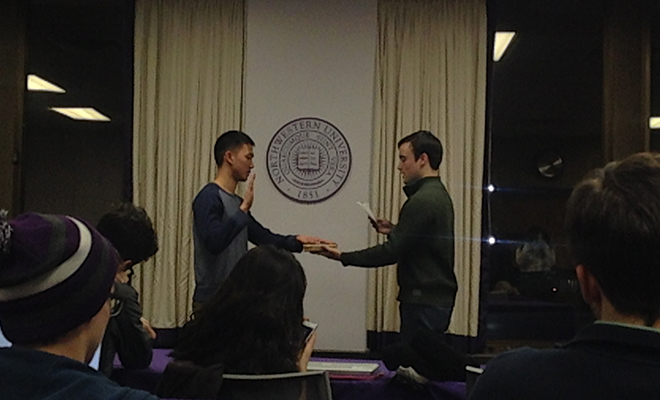 Students dished their thoughts on Northwestern dining Wednesday night at the ASG meeting as a part of a series of workshops to rework the University's dining master plan.
A national consulting group, Envision Strategies, is holding the workshops and researching in a six-month process that started this week to recommend changes about dining on campus to Northwestern and Sodexo.
"We don't normally get an opportunity to be in front of students," said Rob White, president of Envision Strategies.
ASG members voiced their concerns about dining halls, meal plans and late-night food.
Common complaints were about the high prices of food in C-stores, the cost of meal plans and the lack of food on-the-go. Others said that the hours of operation are narrow and not at prime times for eating and working.
"It was always weird freshman year," said one representative. "Why are people are eating dinner at 5:00?"
Christina Cilento, sustainability vice president, suggested several changes to how dining serves vegetarians and vegans, like adding a tofu scramble to breakfast menus. She said not every dining hall addresses these needs.
"Some of them have great vegetarian and vegan options and some have none," she said. "We should make that standard."
Some representatives discussed the infamous North-South divide on campus that rings true for dining halls as well, which are mainly on north or south campus. The master dining plan is developing along with the new housing plan, the consultants said, so dining halls could change.
"We are looking at this long-range," White said. "Some things we might be able to focus on for next year but more likely it's a three- to five-year horizon."
ASG also confirmed Kenny Mok as the new student groups vice president, replacing Alex Van Atta. Mok, a junior, advised theater groups last quarter and was endorsed by the Student Theater Coalition co-chairs.
"I thinks student group funding is one of the most important responsibilities of ASG," Mok said.
He said he will go into his new position with several main ideas, including finding ways to make funding and campus resources accessible to student groups that aren't already eligible.
"In our community, we talk a lot about how community service groups and publication groups don't fall under open programming," he said. "Is there any way we can still support these groups in an equitable way?"
Mok also suggested creating a database to keep track of all student group events happening on campus and connecting groups with similar events.
The representatives also discussed a resolution on student conduct hearings created by students from all 14 Big Ten schools that visited Northwestern for a conference last weekend.
The resolution will be sent to Washington, D.C. to advocate that students are present during Title IX hearings. Student representatives were allowed in hearings but currently are not after a White House task force recommended otherwise.
Parliamentarian Petros Karahalios proposed an anti-discrimination and harassment amendment to ASG's constitution, which also serves as the undergraduate student body constitution.
The amendment condemns the discrimination and harassment of 38 protected categories and is very similar to what many student groups already include in their constitutions.
During the meeting, ASG also elected three rules committee members, who help edit legislation and are the judicial board if someone breaks a constitutional rule. Jake Rothstein, Matt Clarkston and Ariel Roitman were elected to different terms.
The students talked about adding off-campus representative elections to the presidential ballot in April to make the representative choice more democratic. As a part of the online voting process, voters would specify if they lived off campus and then rank the candidates on the same form as the president.