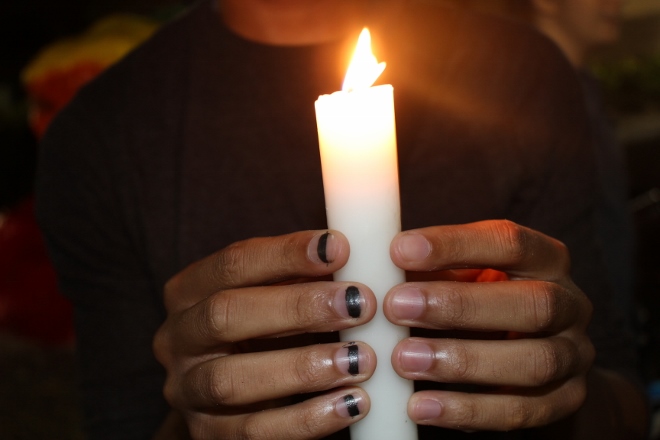 It was a night of solemn reflection Tuesday as the Rainbow Alliance held a candlelight vigil at the Rock.
About 15 students participated in the service, which remembered and celebrated the lives of members of the LGBTQ community who died during the last year. The vigil first occurred after the 2010 death of Rutgers student Tyler Clemente, who committed suicide after he was bullied for being gay. Since then, the Rainbow Alliance at Northwestern has timed the vigil to fall during Rainbow Week each October and to coincide with National Coming Out Day on Oct. 11.
After a moment of silence, students shared stories about their own experience as members of the LGBTQ community. Some shared struggles with acceptance in their family and friend groups, while others reflected on improved relationships and conversations with those around them.
Rainbow Alliance Co-president Redmond Lhota said the evening was meant to bring people together.
"The goal is to honor who we have lost in the last year," the McCormick junior said. "We also recognize the stories and experiences of the people here at Northwestern. People share whatever feels safe, and we try to create a safe place for anyone to participate."
Lhota said he feels Northwestern is on the way to being a completely comfortable place for members of the LGBTQ community, but events like these are still necessary.
"Sometimes people still don't feel safe because they come from places where it isn't comfortable for them," he said. "People still struggle with feeling comfortable .... Northwestern is on a track to becoming a much safer place than the average."
Aimee Hechler, who serves as student outreach chair for Rainbow Alliance, reiterated the importance of the annual event.
"The vigil is a is an event with a more solemn approach where we remember how hard it was 30, 40 years ago," the Communications junior said. "Not that now it is super easy to be LGBT, but it's a time to remember people who are no longer with us."
Additional events for Rainbow Week include an open mic night co-sponsored with For Members Only on Wednesday night, a movie screening Thursday and a barbecue Saturday.
"My hope is that helps people get engaged with Rainbow and the general LGBTQ community on campus," Lhota said of the week's events. "There are a lot of us here .... It's nice to know you are not alone."