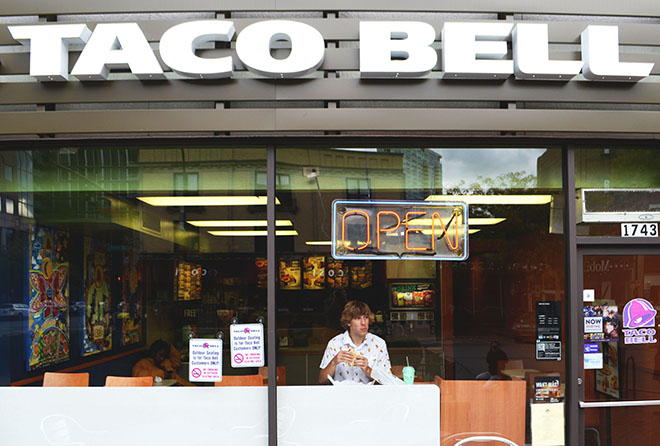 With a head full of floppy, dirty blonde hair, nothing seems out of the ordinary for McCormick sophomore Ben Barteau. His overgrown hair billows out over his oval face, and he's often seen sporting a white, button-down shirt. Upon closer inspection, one sees the dozens of small tacos printed on the shirt. This isn't just any Northwestern sophomore; this is Taco Ben, who has made it his personal mission to review every item on Taco Bell's menu.
His Facebook page description aptly summarizes his illustrious mission: "After eating every single item on Taco Bell's extensive and ingenious menu, I decided to write down my stupid thoughts in review format. In case you were wondering: yes, this is my proudest accomplishment."
Although Barteau has been eating Taco Bell for his "whole life," he didn't venture into writing reviews until fairly recently. In fact, it was somewhat on accident. "It kind of started as a joke, and it just kind of kept going," said Barteau.
"[Taco Bell] released three loaded grillers, and I thought it would be funny to try each of them and post on Taco Bell's Facebook page a short little review with a number," said Barteau. He recalls a generally welcoming reception on Facebook. "I kind of figure[d] like 'Oh I could do this with every item.'"
Those initial reviews set the tone for his entire website, which maintains a combination of sass, wit and humor whilst also being informative. Barteau launched tacoben.com this past August with his good friend Carter Davis, a University of Iowa computer science and English Major. He and Barteau met in middle school and have been friends since.
The site screams Taco Bell, or rather Taco Ben, with its inordinate amount of purple, tacos and, of course, Barteau himself. Rows of tacos line both sides of the page. The website's header features Barteau's cut-out face, the Taco Bell logo and even more tacos. In the pictures, Barteau looks gleefully upwards and his eyes shine with the sure delight that Taco Bell always brings.
In the making of the website, Barteau was the content generator, while Davis was the principal editor and website generator.
According to Davis, they frequently experiment with random, somewhat absurd creative projects. Their projects typically involve them "making really goofy things" and putting in surprisingly large amounts of effort into their self-generated projects. "Taco Ben" has simply been one of their most time intensive projects.
"I expected [creating the website] to take a night or two, but it took 30 hours," Davis said. "If I had known it would take that much effort, maybe I would have had a different approach."
Considering that he signs his emails with the famous Taco Bell slogan "Live Mas," Barteau is not quite as out there as one might expect him to be. He's, in fact, very down-to-earth. Other than the taco shirt he occasionally wears, there are no obvious giveaways that indicate that this Ben is the Taco Ben.
But his friends are quick to point out that Taco Ben and Ben Barteau are clearly two sides of the same coin.
"I think the website definitely echoes his day-to-day personality very well," said McCormick junior Evan Gray, Barteau's Phi Mu Alpha pledge father and a member of Boomshaka whom Barteau also drums for. "It's completely hilarious, and all I could have ever wanted in that website."
While Taco Ben is now the name he is most commonly known by, Barteau's friends originally dubbed him "Taco King." He earned the nickname along with a four-foot tall baseball trophy they constructed as a token of congratulations after he finished eating everything on the menu.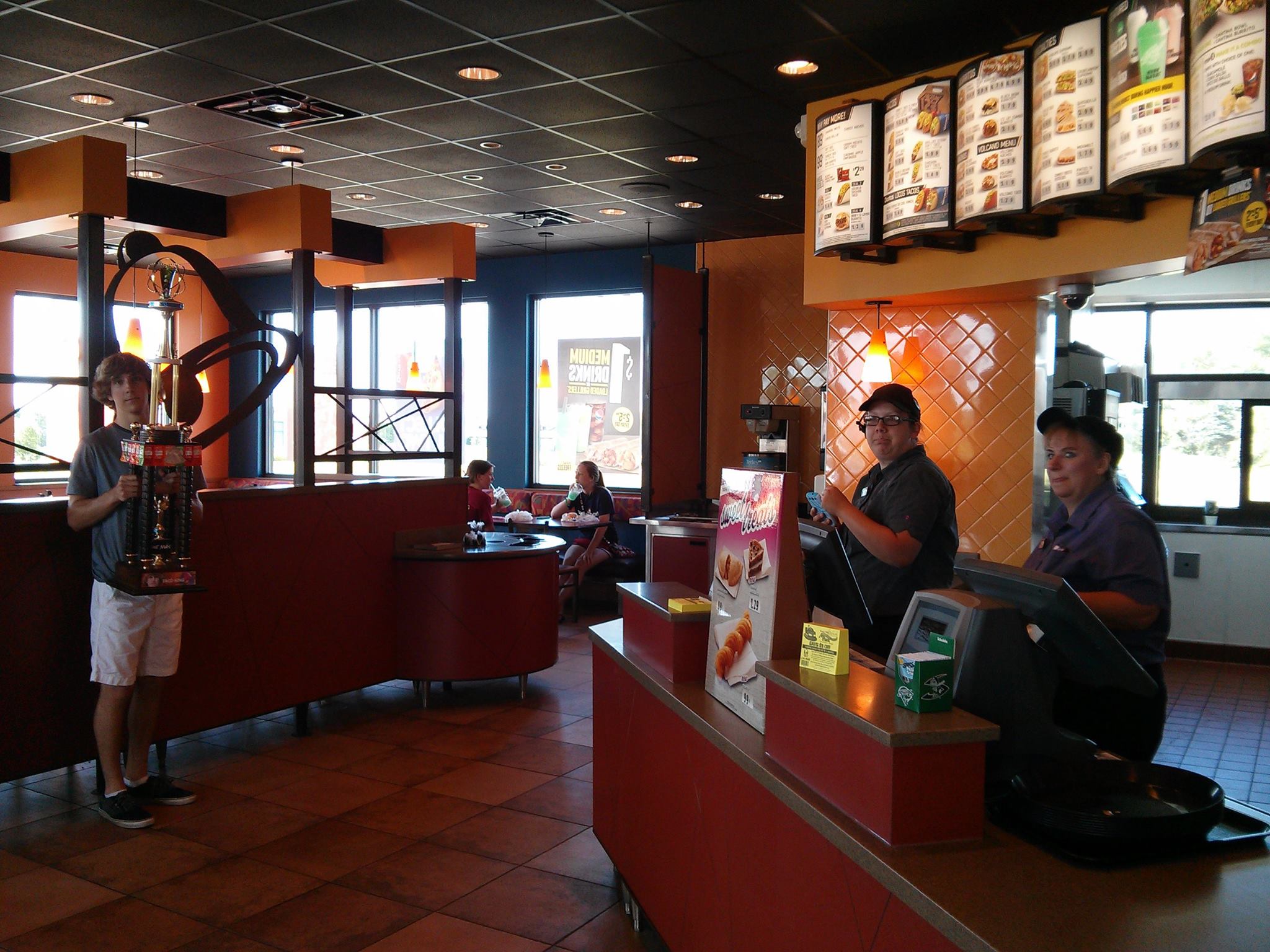 To make the trophy actually celebrate Barteau's taco accomplishment, his friends placed a taco container and faux taco fillings where the baseball figurine usually is. Golden Taco Bell sporks, sauce packets, and a placard of Ben's face adorns the trophy in place of athletic emblems.
While Barteau specializes in writing reviews on his website, he also has a handful of question-and-answer videos which feature none other than the great Taco King himself. Throughout his videos, Barteau takes himself seriously, but not too seriously. He tends to give honest answers while still working in some amount of snark.
In one of his frequently asked questions videos, he is asked, "How do you feel about restaurants like Taco John's or Del Taco?" Barteau's answer to that? Deadpanning the camera for a solid twenty seconds without once opening his mouth. Clearly, no answer is necessary – Taco Bell will always be the one, and only, taco joint for Taco Ben.
Each one of his videos ends in a personal jingle that one of his friends created for him: "Are you skeptical about the menu? He reviews it for you. In Taco Ben we trust."
The final line of the jingle is Barteau's default slogan. He has used it on a handmade poster that he brought to a baseball game where he was sitting in the fourth row. Emblazoned with "In TacoBen.com we trust," the poster has a printed picture of a taco, and, of course, a cut out picture of Ben's face.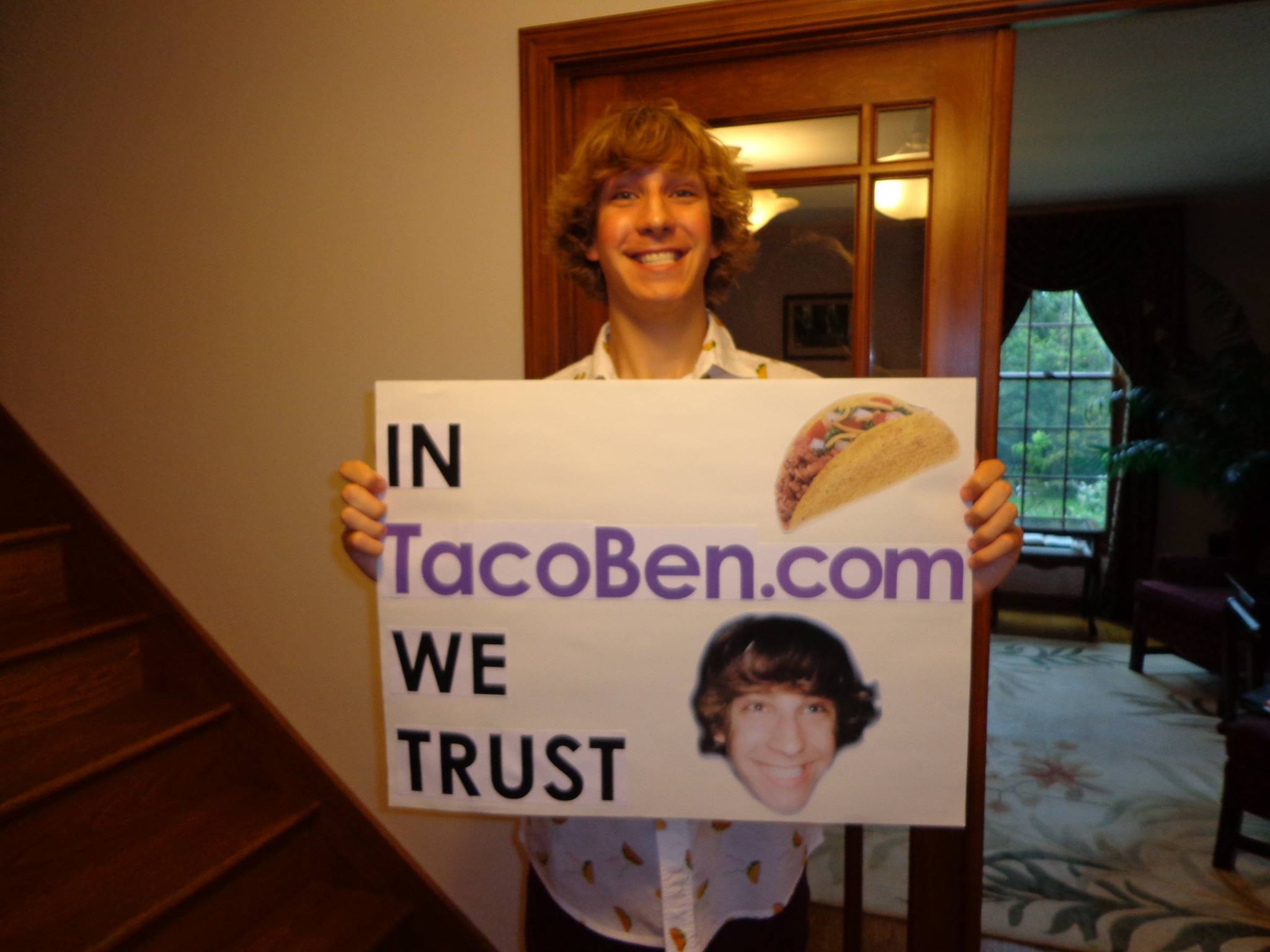 Although Barteau is unsure of how many page visits he's had, he guesses that the website received more traffic since the publicity stunt.
"We advertise the website more than the Facebook page," Barteau said. "So I would guess, somewhere more than 200 [page visits], probably less than a thousand. But who knows."
The Facebook page, which was launched on August 24 of this year, has amassed slightly over 200 likes so far.
According to Gray, many of the brothers at Phi Mu Alpha and other Boomshaka members call him Taco Ben in person. "We're always complimenting him," said Gray. "We love him and the entire concept to death."
Barteau has also received a level of celebrity on campus too. Just the other day, Barteau was stopped outside his dorm by someone that recognized him, yelling "You're Taco Ben! I've watched all your videos and read your reviews."
"That was, like, the most famous I've felt in a while," said Barteau.
Barteau's taco fame is only beginning, but he still is very level-headed. "He's a great guy, and I don't think this is getting to his head," said Gray. "I hope he maintains this and doesn't sell out."
For Barteau, the original ardor that he had for Taco Bell has diminished now that he has covered everything on the menu.
"The spark isn't there anymore," Barteau said. "I still really like eating there, I didn't get tired of eating it, but the challenge isn't there anymore."
But don't count him out of the taco review business just yet.
"The good news is that they release new items kind of often. So I'm catching up right now with some new items," Barteau said. "If I could just drop out of school and do this for a living, I would."