Things have changed quite a bit. After plenty of offseason hype, the transfer announcement of Hunter Johnson and the opening of the Ryan Fieldhouse, hopes were high going into 2018. After a 1-3 start and the retirement of Jeremy Larkin, those dreams have been crushed, and around campus the cynics far outweigh the optimists. This week, NBN Sports takes an updated look at best and worst case scenarios for the rest of the year. The ceiling is still high, but the floor is very, very low.
As I always tell people... good teams don't win close games, they avoid them. It is amazing how close the margin is between a 9 and 5 win season for Northwestern every year.

— Philip R-R (@RiseNU) September 30, 2018
Charlie Sidles
Best case scenario: 7-5. The 2012 Wisconsin football went 7-5 in the regular season but due to a weak division, they ended up in the Big Ten championship. They won that game against a ranked team that they blew a 17-point lead to earlier in the season to move on to the Rose Bowl. (Sound familiar?) While winning the conference might be tough, there is no reason that this Northwestern team can't make it to Indianapolis for the Big Ten championship. While the team has not looked great so far this season, neither has anybody else in the West division. Wisconsin looks weaker defensively than they have in past seasons, and Alex Hornibrook… meh. Iowa lost to Wisconsin at home. Purdue looks pretty good but we've already beaten them. Pat Fitzgerald coached teams have finished the season much better than they've started it and if that's the case, I wouldn't be shocked if the 'Cats made it to Indy with two or three conference losses.
Worst case scenario: 2-10. While the top half of the Big Ten West is weak, the bottom of the division is better than previous years. If Illinois plays at the respectable level that they started their season with and offensive guru Scott Frost gets Nebraska on track things could be headed in a dangerous direction. Minnesota is 3-1 right now as well so outside of Rutgers there are few easy wins on the schedule. If this trend of weak finishes to games continues, this could be a season to forget for the Wildcats.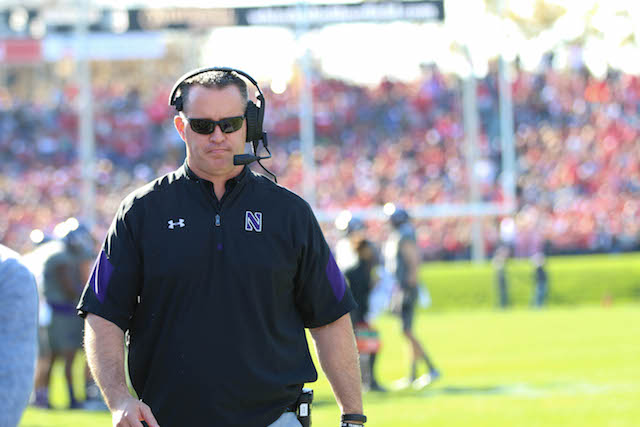 Shreyas Iyer
Best case scenario: 8-4. Northwestern makes a run like last year's that seemingly defies everything we knew about the team through the first four weeks. John Moten IV breaks through, Clayton Thorson shows some consistency and the offense plays like it did for the first quarter and a half against Michigan, but instead for the full game instead of barely a half. The defense plays bend-but-don't-break football as the 'Cats surge past Wisconsin and MSU in nail biting victories. Northwestern makes a mid-tier bowl and finishes the season, improbably, with a winning record. Coach Fitz, to some fans' dismay, keeps his coordinators.
Worst case: 3-9. The team's uneven play continues as Northwestern fails to make a bowl game. Games versus MSU, Wisconsin and Notre Dame all end in crushing defeats as the offense plays like it did for the last two and a half quarters against Michigan without Jeremy Larkin to open up a multifaceted attack. The defense is a sieve as teams continually beat our defensive backs and little pass rush gets generated. Wins against Illinois and Nebraska make our record somewhat more respectable as the team moves toward the Hunter Johnson era. Coach Fitz, to most fans' dismay, keeps his coordinators.
Jono Zarrilli
Best case scenario: 7-5. Northwestern has three games remaining against ranked teams. Over the years, Coach Fitz has proven the ability to play the toughest competition close. If this year's team can make a midseason improvement even larger than last year's and shows unprecedented 4th-quarter grit, the Wildcats could pull out two of those games (of the three, my money would be on Michigan State and Notre Dame). For this to happen, the secondary needs to contain vertical threats like the Spartans' Cody White and Notre Dame's Miles Boykin, while Clayton Thorson and company need to miraculously find a way to score second half points. Northwestern goes 4-1 in its other five games and winds up in a middle-tier bowl game with fond memories to look back on.
Worst case scenario: 4-8. This seems more likely. Northwestern suffers a combination of excruciatingly close losses to teams like Wisconsin and Minnesota, and embarrassing losses to Notre Dame and Michigan State. Wins against Nebraska, Rutgers and Illinois don't make fans feel better about a team with significant flaws on both sides of the ball.