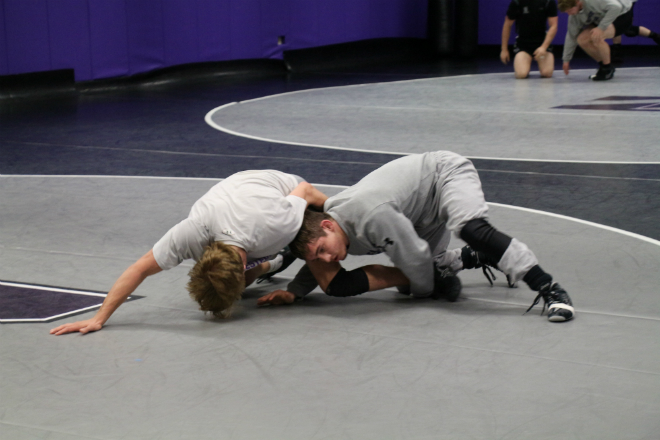 Most people on campus may know who Jason Tsirtsis is: The redshirt freshman wrestler came out of nowhere to take the Big Ten and NCAA Championship in the 149-pound weight class. Now that the 2013-2014 wrestling season is in the books, spring quarter and the summer might seem like a nice time to rest. But for Tsirtsis, there is no offseason.
Even now, in a "low key" part of the season, he's in the gym nearly every day and lifting four days per week.
I paid him a visit in the wrestling room during a practice last week to get to know Tsirtsis. Even after practicing for about an hour and a half in full sweat gear in the 85-degree practice facility, Tsirtsis was still energetic and excited to chat. As you'll see later, he even showed me the ropes a bit.
"We're still working hard in the off-season," he said. "During the season, every day's a little bit different."
Only a few days before my visit, Tsirtsis did something that he hadn't done in months: changed his hairstyle. His trademark mullet got chopped off in favor of a more clean-cut look.
Just because it's the offseason, a time for training, doesn't mean Tsirtsis can't take some time to indulge in the finer things of life – other sports and guitar, for example. There's more to him than just wrestling.
"I love disc golf," Tsirtsis said. "It's a pretty under-the-radar type sport. It's exactly like golf, just a poor man's golf game. But you'd be surprised by how technical and advanced you have to be to be good at it. That and guitar are probably my favorite hobbies."
His hometown of Crown Point, Ind., is a hub for disc golf activity – the Professional Disc Golf World Championships were held there last August. With many disc golf courses at his disposal, Tsirtsis said that when he is home, he plays just about every day.
Here in Evanston, he lives in a house with eight other wrestlers, which often leads to one thing – a very messy kitchen. And that's something the NCAA Champion absolutely can't stand. One of those eight people is redshirt freshman Matt Greene, who also spoke to me about the Tsirtsis' unconventional life.
"You [Greene] aren't allowed to use my kitchen anymore," Tsirtsis said, referring to a recent incident involving a highly questionable bowl of homemade chicken soup that was not cleaned up for a long time.
Off the disc golf field or out the kitchen and back on the wrestling mat, Tsirtsis is a force to be reckoned with.
After posting a 32-3 overall record this season, he finished the NCAA Tournament with three victories in overtime. The final match came down to a matter of seconds.
"For about six minutes and 30 seconds of that match, I really was conservative and wrestling defensively," he said. "Then, I got hit for stalling, and that kind of opened my eyes to myself, saying, 'I've got to pick up the pace.' So the last 30 seconds of that match, I really opened up and got a good flurry going. I didn't quite get the takedown in regulation, but I came close."
With the confidence gained from the end of regulation, Tsirtsis was able to use the momentum to push him to victory in overtime.
"I got to the leg, there was a big scramble, I ended up getting to his ankle and got the takedown," he said. "It was more instinctual than anything else."
Tsirtsis shared some of these moves, demonstrated on yours truly. Whether it was smart or not, this was quite the experience. Luckily, nothing was damaged in the filming of this video, except my pride.
Among the moves Tsirtsis demonstrated was the "high-crotch."
"You tie up with me, you put your hands on me, and then from that, I grab your elbow," Tsirtsis explained. "I hit my penetration step to my high-crotch and then I drive up from my feet in good position and I lift and put you on the mat."
Another move Tsirtsis showed off, the "single-leg," made an appearance in his NCAA Championship match. In overtime, facing off against Oklahoma State's Joshua Kindig, Tsirtsis used it to get the final takedown and seal the victory.
"I snap you into a front headlock," Tsirtsis said. "You're still on your feet and I get an underhook to your right side and I drop my level and I shoot a single-leg and I come around back and I finish. That's what happened in the finals."
Though winning the NCAA Championship as a redshirt freshman is an impressive accomplishment, Tsirtsis sees it as a reason to work even harder.
"It's a goal that every wrestler that's serious about the sport sets for himself," Tsirtsis said. "Winning that tournament and coming so quickly in my career here at Northwestern, it was pretty special. It's only going to get harder from this part, so I have to keep training hard."
The Arm Wrestle
Tsirtsis' Stats:
• Hometown: Crown Point, Ind.
• Height: 5'6"; Weight (at time of filming): 157
• Last time in weight room: Earlier this week
• Athletic accomplishments: 2014 NCAA Champion; 2014 Big Ten Champion; 2014 InterMat Freshman of the Year; 2014 Big Ten Freshman of the Year; four-time state champion in high school; high school overall record of 176-2 (two losses as a freshman); No. 1 national prospect coming out of high school at 141 lbs.; 2012 Post Tribune Wrestler of the Year.
Hersh's Stats:
• Hometown: Dallas, Texas
• Height: 5'7"; Weight: 162
• Last time in weight room: February 2014
• Athletic accomplishments: soccer player in high school; JV football "contributor"; sixth-grade lacrosse goalie; IM football; Fantasy Football League Champion 2013-2014; Delta Chi IM soccer