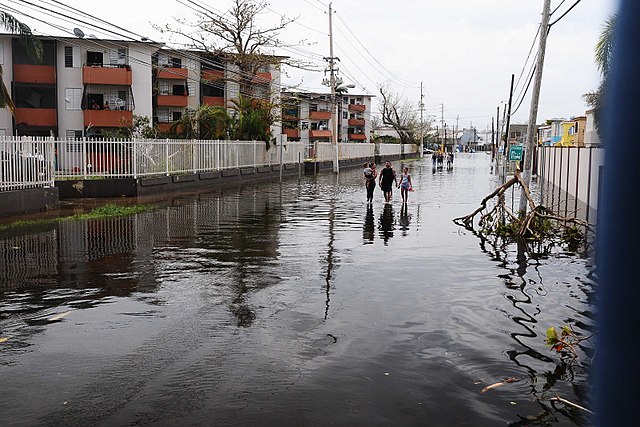 Eighteen days after Hurricane Maria, only 11.7 percent of the island of Puerto Rico had power, and just 29 percent of the cellphone towers were back online, according to CNN.
The Latina and Latino Studies Program and the Latin American and Caribbean Studies Program co-sponsored an informal presentation and Q&A this Thursday that showcased the narratives of Hurricane Maria survivors.
Javier Valentín Feliciano, a visiting scholar from Puerto Rico, and Veronica Dávila, a Ph.D. student in the Department of Spanish and Portuguese, each described how they have handled Hurricane Maria and the turmoil it has caused.
Clips of heavy rain, roofs flying off houses and pictures of flooded roads and ruined buildings during Dávila's video presentation did not shy away from showing the effects of Hurricane Maria.
On the day of the hurricane, Valentín Feliciano left his small town of Añasco with his sister, knowing it was possible his house would be destroyed.
When they returned, he said many of the roofs of his neighbors' houses had been blown away, saying to his sister, "I think we lost everything in our houses."
Without radio or telephone service, Valentín Feliciano was completely without communication for weeks. He was always wondering, "What happened in Mayagüez? What happened in the capital city?"
The Federal Emergency Management Agency did not arrive for a month after Maria, but when Valentín Feliciano went to receive aid, the lines were long and the food was low-quality.
Regarding President Donald Trump's visit to Puerto Rico, during which he tossed paper towels into crowds of people seeking aid, Valentín Feliciano said the president's behavior was disrespectful to all Puerto Ricans.
"I never, never in my life, should throw anything to hungry people," he said of the president's actions.
Valentín Feliciano dedicated his speech to his sister, who died due to an illness for which she was unable to receive treatment in the days following the storm, and a police officer from his area, who died the day the hurricane hit.
Though the government does not consider his sister an official victim of the hurricane, Valentín Feliciano does.
Valentín Feliciano does not trust the government's reports on the numbers of victims of Hurricane Maria, adding that he believes the number is higher than what it is reported to be.
Dávila was out of town with her father when the hurricane hit, and her sister and mother were in Toa Baja, Puerto Rico.
Unlike Valentín Feliciano, Dávila had access to a radio. While she said that it was mainly used as a means for people to send messages to their families and call for help, she also used her radio access to follow the news. This is how she discovered that the government had lost communication itself.
"The governor had to drive to the station in order to send a message to all municipalities and to everyone on the island that had radio access," Dávila said.
She said she and her father could not drive to Toa Baja until the next day, after the rain had subsided. Dávila's footage of the drive to Toa Baja showed flooded streets, fallen trees and ruined buildings.
As the streets surrounding Dávila's sister flooded, she managed to capture footage of herself on top of the roof of her home.
"The water that flooded our homes was mainly sewer or toxic water," Dávila said. This water caused health problems for members of her family, but, according to Dávila, the whole community suffered even more devastation.
"More than 10 people were found dead from the floods in Toa Baja," she said, "including families and children."
Dávila spoke about how Puerto Rico continued to endure challenges in the months after the hurricane even as people, like her parents, began to go back to their lives.
"The school where my mom teaches operated without running water and still, now without electricity, depends on a small generator," Dávila said.
"It seems that even though some parts of the island have gained their power back, this is no guarantee that it will last," she said in regards to Puerto Rico's future.
During a question and answer session, Valentín Feliciano and Dávila discussed how the troubles people endured as they attempted to receive aid following Hurricane Maria produced a distrust of the government that united the Puerto Rican people.
Though both agreed this brought communities closer, they also agreed that it leaves them concerned for Puerto Rico's future. Both Valentín Feliciano and Dávila expressed fear that Puerto Ricans will leave the island only to experience more suffering in the U.S.
Dávila also fears that rich developers will use the island for resorts. "I don't think we're getting out of this for a really long time," she said.
Both Valentín Feliciano and Dávila stressed the importance of educating Americans about Puerto Rico and the context in which this hurricane happened.
With these pleas for education came reminders that Puerto Rico remains in need of substantial aid.
"Don't stop supporting us," Valentín Feliciano said.