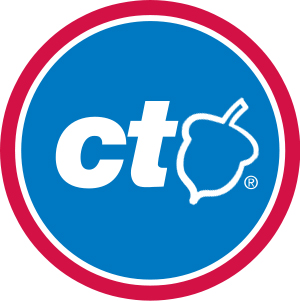 Take a ride on the CTA Red Line sometime in the next few months, and you may be confronted with some advertisements that challenge everything you thought you knew. As part of his upcoming ad campaign, comedian Ben Larrison (Medill '09) will, at long last, expose L passengers to the truth about squirrels.
"When you ride [the train], it can often be the most stressful or the most gloomy part of your day," says Larrison. "Maybe you've woken up super early to get into work, and just don't have it in you that day... or you're riding home after the worst day of work ever, and you just feel exhausted or defeated."
Bothered by this happiness vacuum, Larrison came up with a solution: a fake ad campaign on the CTA, featuring "Facts about Squirrels" (FACT: Statistically speaking, at least one "person" on this train is actually 7 squirrels dressed up in human clothing. Can you spot him/her? #SquirrelTruth") and messages from a man pleading to "Vanessa" to take him back ("Vanessa, please take me back. I wear button down shirts now. It's a good look for me, I think.")
The 27-year-old Larrison has a natural smile that keeps coming back to his young, clean-shaven face. Though he graduated five years ago, he could still easily fit in on campus in his cozy red hoodie and blue jeans. But despite his lazy Sunday aura, he radiates energy: his short brown curls sprout haphazardly from his head, and his striking, gray-blue eyes gaze wide as he talks.
After his years at Northwestern, Larrison moved to the city, living in Lakeview as a freelance communications writer by day and performing and writing for Chicago improv theaters like ComedySportz and the Playground by night.
He also rides the CTA; that's where he first noticed the problem that got him thinking about squirrels. Larrison says he hopes that his ads could improve passengers' CTA experience, simply by "making them laugh or smile just a little bit." That's exactly why Jesse Gomez, a friend of Larrison's and a fellow comedian at ComedySportz theater, liked the idea.
"What I found most interesting was the ability to very subtly put a smile on someone's face in a situation where they're kind of dreading that particular activity," says Gomez. "And at the very least, it can just totally mess with people who don't get the joke."
The urge to brighten people's days is nothing new for Larrison. As a junior at Northwestern, he founded Happiness Club, the student group notorious for bringing joy to students through free bubble wrap high-fives.
"Northwestern is a big ol' pressure cooker, and people can get really down there," says Larrison. "I was thinking about... how I wish there was a nice counter to that. If we can just encourage a little bit more of that, it could help maybe pick people up."
Larrison smiles like a proud parent as he lists the projects he did with Happiness Club, from handing out hugs and hot chocolate during finals week to creating improvised sandboxes. Even now, he says he often thinks of ideas he'd want to do with the group.
Yet out in the "real world", where things like money and permits get in the way, Larrison found that Happiness Club-esque events were much more difficult to bring to life. But after successfully organizing a dunk contest against WNBA star Sheryl Swoopes, funded through crowdfunding website Kickstarter, Larrison gained the confidence to try to bring his ad campaign to life.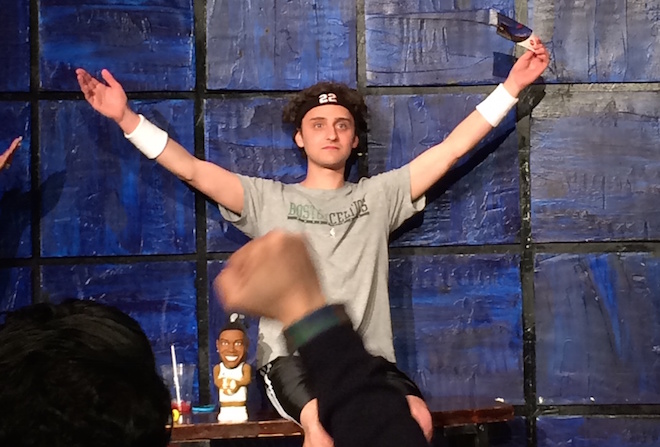 Like a good Wildcat, Larrison began by doing his research. Once he felt sure his ads wouldn't violate any of the CTA's extensive advertising guidelines, he reached out to get a price quote. By mid-July, a Kickstarter campaign was up with a $3,999 goal, and within a few weeks, the project had made the front page of the Chicago Reddit and had earned a spot on Chicago's NBC News affiliate.
"It suddenly had people paying attention to it, which was super weird," he said, rocking back in his seat excitedly. "That's just the most awesome thing to me. I love when people just support people because they're like 'Oh I want to help out.'"
Despite the publicity, only about $2,600 flowed in from the campaign. (When Kickstarters don't reach their funding goals, all money is returned to the donors.) When he realized the project wasn't going to make it, Larrison said he was a little nervous.
"I was genuinely concerned that I'm gonna wake up tomorrow and there's gonna be hundreds of people that I've never met before on the Internet who hate me because I'm trying to do something weird, and the Internet loves to hate people who try to do weird things," Larrison said. "But overwhelmingly, people were really nice, and it was a really wonderful, relieving, cool moment."
"When I called asking about an upcoming CTA ad campaign, their representative immediately interrupted me: 'Is it about the squirrel ads?'"
Supporters immediately approached him encouraging him to give it another try, and after re-launching a few days later, about half of the original backers contributed to the project again. Gomez was one of these committed patrons.
"[Ben] has this really unique perspective on comedy... everything he does is always very surprising to me, in a good way," Gomez said. "I definitely try and support anyone I'm friends with that's doing something creative and really working at it."
To express how "sincerely awesome" he felt his supporters were, Larrison offered rewards to people based on how much they gave. A ten dollar donation bought twelve backers their name on the project website, as well as a promise to each from Larrison that he would smile and wave at a stranger. For one $250 donor, Larrison has promised to wear a t-shirt for a day featuring their name and a slogan of their choosing. Larrison said he notifies backers when he carries out their reward, providing pictures and funny reactions when possible.
These small sources of happiness seem to be what make Larrison tick. At one point during our conversation, he stopped mid-sentence and stared over my shoulder: There was a baby in a stroller with its eyes fixed on him, mouth agape.
"I have a big, dumb face," Larrison explained matter-of-factly. "So I feel like babies can go like 'Oh, that's funny.'"
Turning with a smile back to the conversation, Larrison told me that with momentum and media behind the second campaign, he raised $4,300 from 91 different backers in just two weeks, making the project a reality. He has now commissioned four or five different ad designs, and hopes to have them up within a few months. According to his math, the ads should be in one of every four Red Line cars, and over their 30-day run, could reach up to one million people.
As far as the CTA's stance on squirrel jokes goes, their media relations department says as long as the ads meet their guidelines, they shouldn't have an issue. When I called asking about an upcoming CTA ad campaign, their representative immediately interrupted me: "Is it about the squirrel ads?"
Despite his success, Larrison shook his head in disbelief with every personal achievement he describes. He can't even drop his modesty when asked if he has any advice for aspiring comedians.
"Especially in comedy, so much of it is about failing your way to success," Larrison starts off.
He stopped.
"That's such a bullshit... that's not a thing," he laughed. "I'm so terrified I'm gonna come across as an asshole, and I really hope I don't."
However he comes across, it seems the projects are going to keep rolling out for Larrison. While he isn't ready to reveal anything new, he says he wants to "continue blurring the line between comedy and the real world."
Of course, he's also pretty occupied directing his original show, "Spaceboy", premiering in November at the Annoyance Theater. So for now, as long as he's being funny,Larrison said he's ok with just letting things happen.
"Making people laugh or laughing about someone or something is just the best," Larrison said. "It has a really important place in society, and when we lose sight of it, the world isn't as fun."