With the stress of a new school year taking its toll on my skin, I'm in desperate need of some face products that will soothe and destress this quarter. Face masks are the perfect solution, but with no big name beauty outlets like Sephora or Ulta Beauty in downtown Evanston, Northwestern can feel worlds away from quality skincare.
But is it possible that CVS – our favorite stop for toiletries, snacks and prescriptions – is the answer to all of our face mask prayers? I headed to the shop on Sherman Ave. to find out. Picking up four masks from various drugstore brands, I set out to determine which is the best option, testing a new one each night.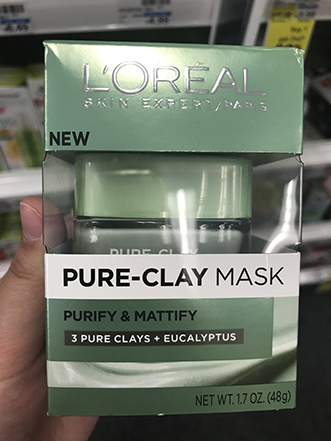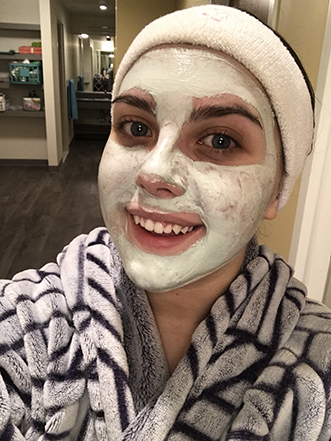 After an unusually hot week in September, I needed a mask to remove all of the sweat and oil that had been accumulating in my pores. With eucalyptus and three different types of clay, this mask by L'Oreal promised to do just that, removing any impurities and leaving my skin matte.
I expected that putting on this clay mask would be luxurious and relaxing, but that was definitely not the case. The consistency was thick and almost glue-like, making it slightly difficult to apply. It also had a strong, unpleasant scent, and it stung for a minute or two.
Once on, the mask started to dry and harden. A LOT. I couldn't make any facial expressions without it pulling apart and cracking, making the 15 minutes that I had to keep it on uncomfortable. Also, it took a bit of scrubbing with warm water to remove the mask, which left my skin red.
This mask definitely succeeded at mattifying my skin and making it feel very smooth, but I couldn't see any difference in the way my pores looked. My skin also felt very dry once the mask came off. Overall, it wasn't a hit for me, but it did get rid of shine, so it might be good for people with oily skin. This clay mask was also the most expensive of the bunch.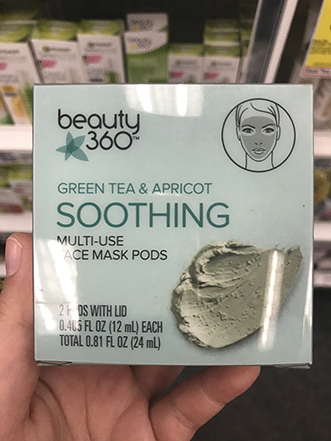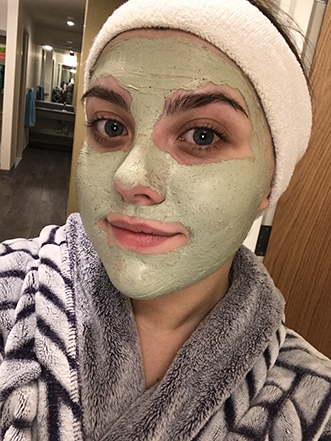 I chose this Beauty 360 mask with green tea and apricot for night two to soothe my skin after the first mask left it a bit irritated. This mask went on much more smoothly than the L'Oreal one, but it caused a similar tingling sensation. It had little exfoliating beads that felt nice. Also, it smelled weirdly like butternut squash.
This one only stays on for 10 minutes. It didn't dry up like the first one, so it felt better when I moved my face. It also came off more easily with warm water, and my skin felt very smooth afterwards. I couldn't see any noticeable difference in the way my skin looked, but it definitely felt refreshed, clean, and calm.
If you're looking for a thicker, luxurious face mask, I think this one by Beauty 360 is a good option. It's less than a fourth of the price of the L'Oreal one, and is much more relaxing.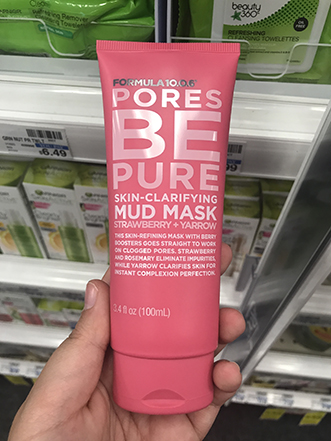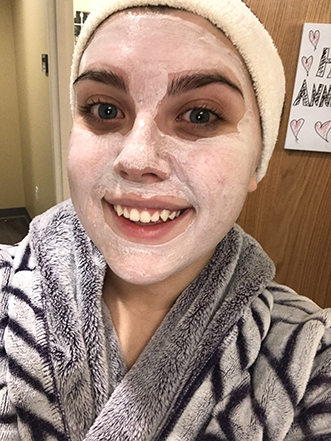 I had never heard of Formula 10.0.6, but on night three when my pores still felt clogged, I decided to give this skin-refining mud mask a try. The packaging was super cute and it smelled exactly like those Yogos yogurt bites I used to eat in elementary school, so it was already a win/win before I even put it on. And it only got better from there, as it applied so smoothly and easily. It had the same tingly feeling as the first two, but was less intense.
During the 15 minutes that this mask was on, it did dry and harden, but since the formula is so thin it was still comfortable to wear. When it was time of take it off, the mask melted off so easily with warm water that it almost felt too easy.
My face felt SO SMOOTH afterwards, and this was the first mask that actually made a noticeable difference in the way my skin looked. My pores looked smaller and smoother, and my breakouts were reduced and less irritated. This mask is great for anyone who wants their skin to look clearer, or who just wants to have a relaxing mask experience.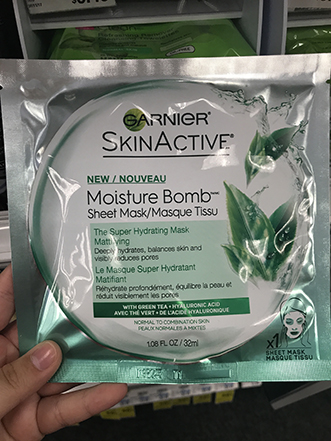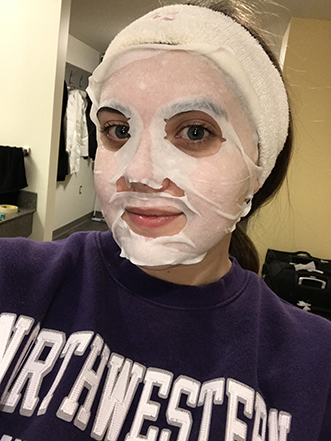 For the final night, I chose this sheet mask from Garnier. I found the packaging to be a little contradictory, because I had no idea how a mask could be both hydrating AND mattifying. But I was intrigued, so I gave it a shot.
Sheet masks are pretty simple, you just peel away the film and press the mask into your skin, so they are perfect if you're looking for something that's low-stress and quick. This one felt nice while I had it on, it didn't burn my face at all and it stayed on while I did other things. The best thing about this mask is that you don't have to rinse when you're done, you just rub in any product that's left on your face.
I didn't think it was possible, but somehow this mask did what it promised, mattifying in oily areas while also making my skin feel hydrated. My experience with this mask was satisfying, but sheet masks start getting a little pricey, considering you only get one use per package. Still, I think this is a good (and less expensive) option if you can't get your hands on the classic Sephora sheet masks.
So, is CVS a good place to pick up some face masks? Yes!
Overall, I enjoyed my CVS face mask experience. I LOVED the Formula 10.0.6 mud mask, and even though the L'Oreal clay mask wasn't right for my skin type, it was still good quality. Every brand I tried had different masks for all different skin types, and there were plenty of other brands to choose from as well. So, my advice would be to go into the store, look around and try out masks that you think will work best for you, because there's something for everyone!