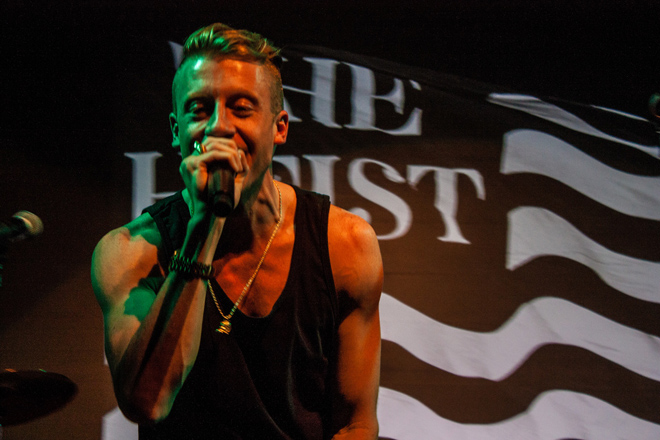 In case you didn't hear by now, rapper Macklemore won a bunch of Grammys on Sunday for The Heist, his album with producer Ryan Lewis. Four, in fact; that's more Grammys than OutKast, Biggie, Tupac and Snoop Dogg combined.
Obviously, this caused some controversy. First of all, no one deserves to have more Grammys than OutKast, but second (and more importantly), both Macklemore and Ryan Lewis are white guys. The inevitable implication from this would be that the Grammys only recognize rappers if they're white. And so the Internet responded, as it so often does, with a flood of thinkpieces. In the words of rapper Geologic, who as a member of Seattle rap duo Blue Scholars served as a mentor to Macklemore at one point, the Thinkpiece-Industrial Complex got its money yesterday, discussing and dissecting Macklemore's whiteness, his shamelessness and his debatable lack of musical skill (especially compared to Kendrick Lamar, whose hip-hop masterpiece good kid, m.A.A.d city lost out to Macklemore).
Those are all things worth talking about, but in my opinion, Macklemore's biggest problem goes beyond them. I think he simply got too popular for his own good. The innocent, earnest message behind his music meant one thing when it was small and "indie," but has whole different connotations when that music is massively popular.
I actively hate deploying the "I liked so-and-so before it was cool" hipster trope, but sometimes there's nothing for it. The literal truth of the matter is that my affection for Macklemore crested in 2010-11 (my senior year of high school), when a friend of mine showed me The VS. EP, Macklemore's first collaboration with producer Ryan Lewis (for the record, there are two earlier albums of Macklemore rapping without Ryan Lewis' production, but they are mostly unremarkable). I was predictably struck by the earnest, personal storytelling on songs like "Otherside," a memorial for rapper Pimp C (who died of codeine overdose in 2007), which also involves Macklemore dealing with his own insecurities and personal drug history. These are the trademarks of Macklemore's style with which we are all familiar by now: catchy production, uniquely raspy flow and unironically confessional lyrics.
These same trademarks are present on The Heist. Even though Macklemore's star was obviously rising by the time I first heard "Thrift Shop" and "Same Love," I still processed them the way I had The VS. EP. They were cool, fun and harmless. When you listen to "Thrift Shop" as simply another single by a quasi-indie artist you like, it's just a fun, goofy song in the vein of "Crew Cuts" from that earlier EP. But when it's the biggest single in America, constantly playing on Top 40 radio and heading everybody's Spotify party playlists, it seems like hip-hop's legacy of innovative music and social awareness has been reduced to novelty songs about Salvation Army that are barely one step removed from The Lonely Island.
Similarly, when I heard "Same Love" for the first time I thought it was cool that a rapper was publicly, musically defending gay rights. Rap has long struggled with homophobia, and that struggle is far from over if Eminem's recent album is any indication. But having it performed at the Grammys while dozens of couples get married on-stage makes the struggle for gay rights into (at its best) a gay/straight version of the White Man's Burden or (at its worst) into a joke.
Macklemore may be enjoying his current stardom (as any normal person would) but he certainly never expected it; read the eloquent open letter he wrote to his fans on the anniversary of The Heist if you don't believe me. Unfortunately for him, his music has totally different connotations as popular music than as cool, underground music.