Prepare yourselves, PBS viewers. The series two "finale" of Downton Abbey is this Sunday. It's actually the Christmas Special that originally aired in Britain a whole 49 days after the last episode of the series. Don't ask me why PBS edits its British shows the way it does; just be grateful you only have a week to suffer the disappointment that was series two before experiencing the return of the show's high quality in the Christmas Special. And then you'll have to wait another year for series three.
I'm a fan of Downton Abbey for the love story, the Maggie Smith one-liners and the sheer Britishness of it all. I'm also particularly drawn to the culture of the 1910s and 1920s and this show just reinforces my attraction to it.
If you're going through Downton withdrawal next week and need some 1920s British culture to keep the dream alive, here are some things I can suggest…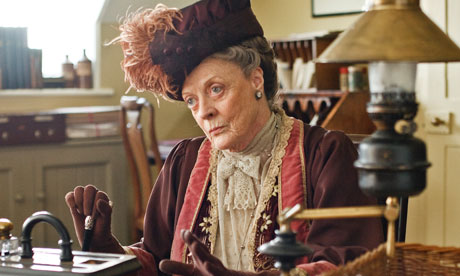 Watch: Gosford Park
Julian Fellowes is a genius. I think we can all agree on that. His 2001 film Gosford Park is another upstairs-downstairs, multi-plot script like Downton Abbey. Only this time, it's a murder-mystery-comedy and it's set in 1932. When William McCordle, the aging owner of an English country estate, is found at his desk with a knife in his chest during the visit of a shooting party, all kinds of secrets come out. The script oozes dry British humor and the cast basically includes every British actor available for shooting: Maggie Smith, Michael Gambon, Helen Mirren, Stephen Fry, Clive Owen, Emily Watson, Jeremy Northam and so on.
Wear: A cloche.
The cloche is a tight, bell-shaped hat had been around since 1908 but became especially popular in the 1920s. The Downton daughters tend to wear pretty elaborate cloches with asymmetrical brims with feathers and ribbons, but I like the simple black one I got at Target three years ago. Apart from how classy cloches look, their brims are perfect for keeping snowflakes off my glasses in the wintertime. Yay for functional style!
Read:Maisie Dobbs by Jacqueline Winspear
I've always been a big fan of detective stories, and my favorite such series in recent years has been Jacqueline Winspear's Maisie Dobbs series. The titular character is a young woman who rises from an impoverished life as a maid in a big house to independence as a private investigator in London. The first book follows Maisie's life from 1910 through her time in service, education and as a nurse in World War I to 1929, when she starts her own investigative business. It's not just the compelling cases that got me hooked on this series. I appreciate the historical context of the novels because the Great War has always been overshadowed by World War II and the Holocaust in my education. Details about the lives of Roma and how Londoners confronted the Great Depression also enriched understanding of the time period. More than anything else, though, I appreciate these histories portrayed through the eyes of a woman. So far, Winspear has written eight books about Maisie and the ninth will be released at the end of March.
Listen: Hot Jazz
The enthusiastic, danceable music of brass bands is readily associated with the roaring twenties. It's hard to imagine hot jazz making an appearance at Downton Abbey, but the Crawleys are a pretty open-minded family so it could happen. After all, Marion Harris' "Look For The Silver Lining" has already made it in. Search iTunes for "1920s" and you'll find numerous compilation albums to suit your need for hot jazz. My personal favorites are "Ain't Misbehavin'," "The Sheik of Araby ," "Then I'll Be Happy" and, of course, "The Charleston."
So now that you're equipped with a passion for 1920s style, culture and music, please remember to break out the Charleston for the next time you're at a party and Party Rock Anthem comes on.