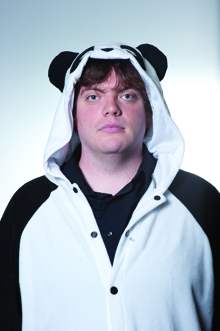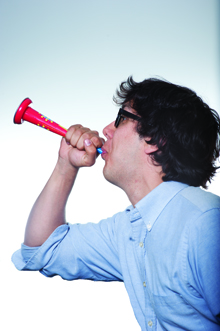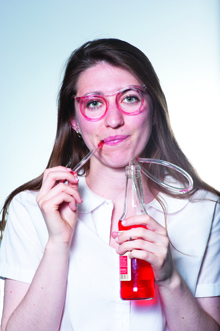 Zach Braff stands grinning in the Mussetter-Struble Theater, the place where he learned about Shakespeare and worked with mentors during his college days. Today, Braff (Speech '97) is back to workshop his first play, All New People, with nine budding comedic actors.
"Let it be known that I was the first alumnus to bring cocaine and a dildo back to school," Braff proudly announces to the audience after interrupting a scene to critique the actors. The Scrubs star frequently laughs and applauds during the hour-long session, giving positive feedback and notes for improvement. He praises all the students for being "ballsy" as they act out his R-rated play for 100 people. Communication senior Dan Selinger is one of three students who gets a shot at playing the protagonist.
"I love comedic acting, getting to flex those muscles and have an acting workout with someone who I personally see as a hero," Selinger says.
He says Braff's style of teaching is right in line with how Northwestern acting professors coach students. Selinger talks about how great Braff is, and how he, too, started at Northwestern. And Braff seems as impressed with the current students as they are with him.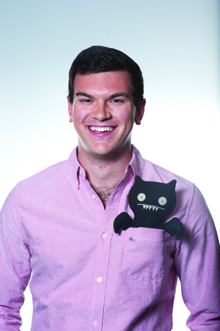 Braff sits on the literal edge of his seat with his legs crossed, blue and orange sneakers on display, while students perform his scenes.
"Northwestern has a great reputation out in the real world, so it's great to see you guys upholding that," he tells the group.
It's easy to see what Braff means when he refers to the talented pool of alums—names like Stephen Colbert, Seth Meyers, Julia Louis-Dreyfus, Ana Gasteyer and David Schwimmer are some of the school's most beloved. The representation Northwestern has in TV and film is evident. What's less clear is what steps students take to get there. How does a young comedian end up hosting "Weekend Update"?
It all goes back to the network students create with one another while on campus. They consider the path from an on-campus group like Mee-Ow, an improv and sketch comedy troupe, to Saturday Night Live or a sitcom a feasible achievement for a select number of talented comedians, but it can be easy for students to miss the magic of that process. Jumping from Shanley to stardom is no easy task.
Support system
For these comedians, talking about the industry is rarely funny. They treat it like business, often veering drastically from their stage and screen personalities.
Current students and graduates alike look fondly on connections they made while in Evanston. Student theatre boards, improv groups like The Titanic Players, Mee-Ow and No Fun Mud Piranhas and different stand-up comedy options, students have no shortage of opportunities to practice their skills and build relationships.
"Creatively, I think I bloomed at Northwestern in a way that not every campus can provide for students," Aaron Eisenberg (Comm '11) says. While at Northwestern, Eisenberg directed Mee-Ow, performed with The Titanic Players, which specializes in long-form improv, and took part in other theatre shows.
Maulik Pancholy (Speech '95), who played Jack Donaghy's loyal secretary on 30 Rock, echoes Eisenberg's sentiments. It's important to note, though, that while Pancholy was in college, he thought of himself more as an actor than a comedian. He says working on comedies has ended up being a large part of his career trajectory—he also played a role on the show Weeds.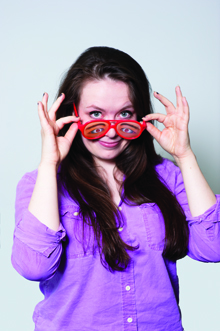 "My training at Northwestern gave me the tools I needed as an actor," he says. "The theatre program was so creative. There was so much imagination work and freeing up that emotional toll and just opening yourself up creatively. I really hold onto that." And without that background, 30 Rock viewers may not have been treated to Jonathan's ear-splitting shrieks in response to Jack, or his insistence that the duo should be referred to as "Jackonathan."
One of the writers on Weeds had been a graduate playwrighting student at Yale, where Pancholy earned his graduate degree. He told Pancholy they had written a part he was right for and encouraged him to send in an audition tape. "That was a direct way that that networking thing happened for me," he says.
He also credits his Northwestern peers with supporting him as they all tried to make it in the industry around the same time. Now, even as Pancholy is more established in the acting world, he says he stays in touch with and is grateful for them.
Eisenberg says he still feels connected to Northwestern and his classmates as he writes, directs and acts. One of his first major projects was a web series calledYour Dad's Friends (available at MeetDadsFriends.com), which he created and starred in. Eisenberg invited Richard Kind (Speech '78) to make a cameo in one of the episodes. Eisenberg's father, a former classmate of Kind's, introduced them.
Trying to make it isn't as daunting now as it once was; Eisenberg is planning a move to Los Angeles and has several projects in the works, including a web series for Nickelodeon. Before he heads west in a couple of months, Eisenberg is writing for People magazine, as well as reporting and showing tourists around celebrity hot spots for TMZ.
Just after graduation, when Eisenberg had no such projects in the works after a job offer with MTV fell through, leaning on his friends was crucial. "To have each other's backs is so, so important," he says. "We have the diplomas. We're capable, but it's going to be hard. We'd better latch onto each other."
Learning community
Student comedians go through years of successes and failures while practicing comedy at Northwestern. Honing any craft comes with its fair share of trying new things and making mistakes along the way.
There's no better way to take chances than in groups on campus. Shielded from the larger Chicago comedy landscape, students have opportunities to test the waters in improv, stand-up, acting, writing and more.
That's a large part of the reason why Weinberg senior Tim White, a member of The Titanic Players, co-founded No Fun Mud Piranhas during Fall Quarter. The improv group takes its name from the group Colbert was a part of in his days as a Wildcat. Although both are well-known groups for student improvisers, White says spots are limited.
Originally, the founders planned for No Fun Mud Piranhas to be a space where students could practice their skills, but they decided this wouldn't be the best way to give up-and-coming artists the individualized pointers they need to improve.
"What's hard about an open gym or a jam group is you sort of get limited feedback. You can say, 'great job,' or 'maybe you should work on this,' but you don't really get specific attention, which is really important," White says. He smiles frequently while he talks, making it easy to see why he'd make an approachable teacher. "We thought organizing it into teams with coaches would let people learn and maybe become more comfortable with it and audition the next year for a group."
A stated goal of the group is to diversify the improv network at Northwestern beyond just students in the School of Communication.
White says it can be hard to get any outside interest for improv, even just to recruit audience members. He laughs. "The most you can say is, it's sort of like Whose Line is it Anyway? And then they're like, 'Oh, I don't want to pay three bucks to see that.'"
Medill sophomore Tessa D'Agosta is a rare non-Communication No Fun Mud Piranhas recruit. She performs with White's team, Dr. Swallow and the Spirit Animals. She says she struggled to find her place at Northwestern her freshman year and didn't participate in comedy.
"I remember over the summer I was like, 'Holy shit, I lost my funny,'" she says. When she didn't make the cut for The Titanic Players this year, No Fun Mud Piranhas helped her bounce back and revitalize her involvement in comedy. She's practicing with the hope that she'll make it to The Second City's mainstage and then eventually to SNL. Nothing seems to get her more excited than when she talks about a popular series of sketches mocking The Lawrence Welk Show, where her idol Kristen Wiig plays a character with comically small, baby-sized arms.
"It just sucks that I can't major in SNL," she says.
Katie Rich (WCAS '05), a mainstage Second City actor, was a transfer student who commuted and never really took part in the Northwestern theatre scene. She started at iO Chicago Theater (formerly "ImprovOlympic") years after she first became a "loser super fan" of the theater. While practicing on campus can be beneficial, Rich cautions that campus experience can give students a big ego when they get to places like iO and Second City.
"They come to iO and they come to Second City and they think they know everything," she says. "'I did short-form games in college and I was a rockstar.' Woah, buddy. No."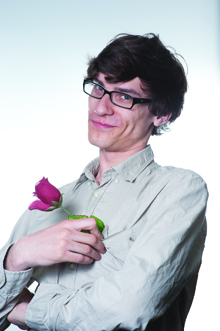 While White tries to gently introduce people to improv—people who hopefully won't go on to be the pseudo-rock stars Rich describes— Communication senior Dan Selinger does the same for stand-up. During his sophomore year, he co-founded Comedy Forum with his friend Chloe Cole, a Weinberg senior. It's a group in which aspiring stand-up comics write and practice jokes.
It's learning through Northwestern groups that makes confronting creative challenges in the real world easier, Pancholy says.
"It was a place to get super creative, make mistakes and have fun with people," Pancholy says about how studying here prepared him for a career in television. "Then you get into the real world and you're more willing to do that with strangers."
Selinger, who carefully shares both his humorous and serious thoughts in measured sentences, laughs as he recounts stories about his past failures. He once stress-ate a giant slice of pizza to recover from a poorly received stand-up gig in Chicago, but that doesn't even compare to when he fell down during a set change during rehearsal in front of family and friends for the School of Communication New York Showcase this winter. After reflecting on his recovery from the fall that put the audience at ease (no industry representatives were present), he says, "It's just my comedy instincts coming through for me, I guess."
Breaking away
Mia McCullough would consider Selinger's failures reasons to celebrate. McCullough (Speech '92) has taught playwriting and screenwriting in the Creative Writing for the Media program in addition to the Radio, Television + Film and theatre departments. Having been a student as well as a teacher, McCullough is in tune with the apprehension and ambition surrounding the job search.
"There's a certain kind of Type A personality at Northwestern, and generally those students haven't seen a lot of failure or dealt with a lot of rejection," she says. "Being able to take risks, fail and try again is essential to being an artist and essential to comedy. You have to be able to bomb, analyze what went wrong and learn from it."
Kind is quick to point out that Northwestern students are inexperienced because they're young, but considering they are inexperienced and immersed in a high-pressure academic culture, they also show a great deal of promise.
"Being Northwestern grads, they have an education," Kind says brazenly. "They're not idiots."
McCullough concedes that she personally did not get the most out of what her fellow Northwestern grads had to offer since she intentionally wasn't close friends with many theatre majors. She also chose not to move to either Los Angeles or New York after graduating, even though that's where most of her fellow theatre alums are now. She says she never wanted to become completely immersed in the industry at the expense of her personal life.
Beyond teaching, McCullough herself is a playwright and a screenwriter who also dabbles in stand-up comedy. Her most recent credit was for her play Impenetrable, which premiered at Stage Left Theatre in the fall and was named a finalist for the Steinberg Award, a national prize awarded annually by the American Theatre Critics Association.
Like most, McCullough's success didn't come quickly. Regarding her written work getting produced, she says, "One out of every 20 things actually pans out, it seems like." She voices this in the same calm, matter-of-fact way in which she voices all of her concerns, not in a manner that indicates any frustration with the industry. "For my own mental health, I don't count them."
Kind also emphasizes the need for young comedians to have patience and keep open minds, just as he needed to do with years spent making moves from New York, back to Chicago and then to Los Angeles.
"For the first 10 years, do anything and everything," the Waa-Mu Show veteran says. "Money will come if you are good. The journey can be as much fun, if not more so, than the success. And you won't realize it while you're on the journey."
Life experience
Kind's advice about the journey isn't so clear cut. There are a few different paths to take. Communication sophomore Aimee Hechler, a Comedy Forum member and an associate producer for NSTV, a sketch television group, knows it's possible to lose sight of comedic goals while trying to enter the workforce.
She's only a sophomore, but it's obvious even from her opening set for Josh Radnor in Ryan Auditorium that her career is on her mind. She jokes about the state of the indus- try, describing it as very diverse. "There's the 30-year-old white guy who hates women and loves yelling." She pauses. "Then there's the 40-year-old white guy who hates women and loves yelling."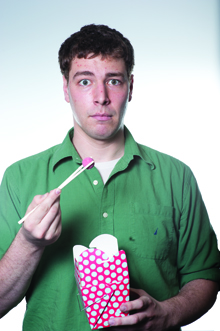 When she's not performing, Hechler makes an extra effort to inject her study of the profession into other areas of her life. In a gender studies class Hechler took last spring, she wrote her final paper about Sarah Silverman, one of her idols. She tried to tease apart what makes some jokes offensive and not others. Hechler wants to continue pursuing her passion for comedy at every chance she gets.
"I'm kind of afraid that I'll have a corporate job and say that I'll do stand-up on the side, but then never make time for it," she says. "So it's really important for me, regardless of what career path I end up choosing, that I always continue to do stand-up."
At the same time, McCullough asserts that full immersion in the entertainment industry isn't necessarily the way to go, either. "If you choose to enter the industry vacuum," she says, "you will very quickly run out of meaningful things to say." She explains that comedy is about storytelling, and storytelling is about having diverse experiences to share with an audience. While not practicing comedy at all isn't the answer, it could be just as harmful to focus too much on comedy and not enough on other interests.
"Most 21-year-old college grads have not lived enough or faced enough conflict to produce meaningful work," she says. "You can be clever and smart and snarky, but have you really been through some shit that's going to move people?"
Like Hechler, Selinger worries about what life after college will look like. When asked if there's anything he's afraid of in the real world, he immediately spouts off a laundry list. "Are you kidding me? I'll tell you a lot of things I'm afraid of. I'm afraid I'll drop my smartphone in the New York City subway system and try and get it instead of just letting it go and get hit by a train. Even if I survive that ordeal, I'll still be the guy who went for his phone on the train tracks and I'll never live that down. I'm afraid I'll bump into Jimmy Fallon on the street and say something terrible or insult him in some way. He probably won't know who I am, but I'll live with that forever."
He rattles off more concerns, though it's possible he's the only member of the Class of 2013 who fears that spending too much money on crab rangoon, one of his favorite dishes, will render him homeless.
"I think if we were to talk real fear, I'm afraid of losing sight of the thing I have in sight right now, which is knowing my strengths and my weaknesses," Selinger says, adding that he doesn't want the pressure of earning a living to change the way he sees performing.
Even if that means he must choose between crab and shelter for a few years.
Full disclosure: Hechler became North by Northwestern's assistant photo editor after the time of her interview for this story.