As the Northwestern men's basketball team looks to build on its first ever NCAA March Madness win this past season, the squad welcomes two former high school teammates and Lou Malnati's grandson, who is also eligible to play after sitting out last year. To take a closer look at the newbies, we talked to all three of them and to captain Vic Law about what to expect from them as 'Cats:
Anthony Gaines
The 6-foot-4, 3-star recruit will look to use his minutes as a role player on this offense to put the ball in the basket, force contact, and get to the free throw line. Gaines, a slashing guard out of Kingston, New York, provides the team with a driver and a scorer as the lone true freshman on the roster. Gaines dominated in Northwestern's annual scrimmage, posting 21 points and six rebounds.
Vic Law on Gaines:
"Anthony brings a real toughness and attacking mindset to our team. In the scrimmage we played last week, a lot of people got to see what he brings to the table as a really good driver, passer and slasher. He does a lot of good things. He's obviously going to be thrown into the wolves in the Big Ten... but I think he's comfortable with what he's doing right now, and he's really been welcomed into the team."
Gaines:
"I know what I'm capable of, what I can help the team with. Whatever role coach wants me at, and whatever I need to do to win is what I'll do. Our goal is to get back to the tournament this year. Rebounding, driving, getting to the rim, getting fouled, shooting free throws. One of the goals of mine is to shoot above 80 percent [from the line]."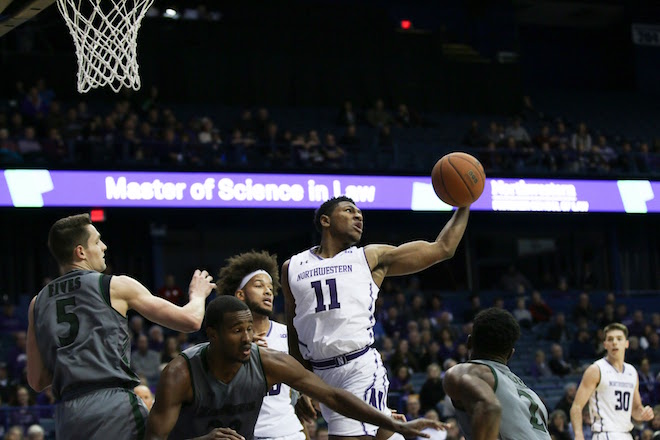 Photo by Mia Zanzucchi / North by Northwestern
"Northwestern was a great visit, one of my best visits as far as connecting with the players and the coaches, and again I say it a lot, Northwestern of course is a great academic school. That was one of the main priorities for me when looking into a school: academics and basketball because I know I'll be playing basketball my whole life."
A.J. Turner
Since transfers a forced to sit out their first season, fans unfortunately won't see much much of A.J. Turner this year – but that doesn't mean he won't contribute. Turner, a junior transfer from Boston College who hails from Mt. Clemens, Michigan, will use his redshirt season this year to train with the team and be that energizer in practice, in order to give Northwestern a better chance to win next year. He will help this year's squad out by practicing against the likes of Scottie Lindsey, one of Northwestern's top players, to help improve Lindsey's game as well. At Boston College, the 6-foot-7 forward averaged 8.4 points, 3.3 rebounds and 3.0 assists per game. Turner has some familiarity on the team in Anthony Gaines, whom he played with in high school. Coming into college, Turner was ranked as the fourth best recruit from Michigan by ESPN. Turner scored 12 points for team White in the preseason scrimmage.
Law on Turner:
"A.J. just needs to use his year to really get better. When we practice against him, I'm more excited for him to go as hard against me than ever. He really has nothing to lose this year, just focusing on getting better and working this year to make us a better team next year. But he's looking good, really good shooter. His game really reminds me a lot of [Lindsey's]. I think he can be really good for us in the upcoming years. A.J. is just soaking up as much as he can. I'm glad we got him."
Turner on the biggest lesson he's learned since transferring:
"The amount of hard work and dedication it takes to win. There's definitely a culture here that they've created since coach Collins has been here. This program is moving in the right direction."
Turner on why Northwestern:
"I felt it was the closest to [perfect], it's closer to home, the academics are great and you know coach Collins is a hell of a coach. I wanted to be somewhere where I felt loved and continue to improve. This seemed to be the spot."
Turner's goals for the year:
"Definitely put some weight on, continue to improve. My main goals this year, since I can't play, is just to go at guys like Scottie and Vic, [Gaines], Jordan [Ash] and Isiah [Brown] in practice just to get them better, so that when game time comes around it's easier for them. In doing that, they're great players, so I'll get better."
Tino Malnati
The 6-foot-3 redshirt-freshman guard from Northfield, Illinois, gained fame (at least in Evanston) last season as being an incredibly entertaining bench presence and the grandson of the founder of Lou Malnati's Pizzeria, a popular Chicago-area pizza restaurant. As a bench player this season, Malnati sees his primary job as being ready to go whenever he might be needed while providing energy to the guys on the bench and the court. Malnati did not play in the annual preseason scrimmage.
While we couldn't find any Tino Malnati highlights, this impromptu interview with Charlie Hall is a highlight in and of itself.
Malnati:
"I'm not gonna get too many minutes... but when I get in [I'll] try to be aggressive try to have some fun. I haven't played a game in over a year and a half. Excited to get back out there and play basketball again. Obviously you learn so much about the college speed versus high school speed. Always staying ready during the year and get better."
Click here for additional info on forward Rapolas Ivanauskas, who is also a redshirt freshman after missing last year due to injury.