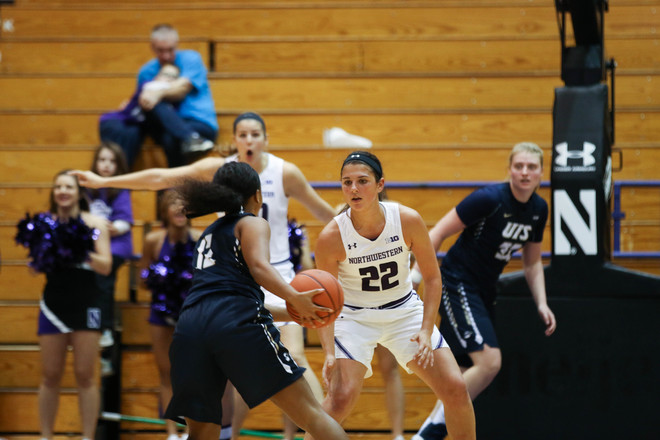 In the 2015-16 season, Northwestern scored 2,611 points. 463 of them were scored by players not named Nia Coffey, Maggie Lyon, Christen Inman or Ashley Deary. That means that those four players provided over 82 percent of the offense. The lack of scoring depth and absence of bench scoring doomed the 'Cats to an 18-17 record and a first round departure from the WNIT. With Lyon gone, who will step up and add some additional scoring and provide some support for the Big Three? The answer may lie in some unfamiliar faces: the 2016 freshman class.
Abbie Wolf
Last year Northwestern lacked a dynamic No. 5, a center, as Christen Johnson struggled as a senior and freshman Pallas Kunaiyi-Akpanah had to adjust to the college game. There is hope that Abbie Wolf may eventually become that kind of player. Listed as a forward/center, the 6-foot-4 native of Greenwich, Connecticut, garnered a grade of 94 and a four-star rating from ESPN; the Worldwide Leader calls her a "strong and agile low-post prospect with consistent interior game" that's active on the glass. In her junior year, she averaged 16 points, 11 rebounds and three blocks per game while doubling as a volleyball player.
"Abbie is one of the most skilled players in the country," said head coach Joe McKeown. "She can score, defend and hates to lose. I feel that she could have a great impact on any program."
She's already had a bit of an impact on his program. She played 21 minutes in Northwestern's exhibition demolition of Illinois-Springfield, tallying three points, two rebounds and three blocks. In her appearances in Northwestern's first two regular season games in the 2016 campaign, Wolf recorded seven total minutes and did not score on two shot attempts, but she did pick up three boards and another three blocks.
Oceana Hamilton has played well in the small sample size thus far, which may limit Wolf's minutes. Still, McKeown highlighted her as a player that he will utilize when needed, especially should Hamilton get into foul trouble. The mere presence of depth options at center and power forward affords McKeown some leeway that he simply did not possess a year ago.
Abi Scheid
The 6-foot-2 native of Elk River, Minnesota, nabbed a 95 grade and a four-star rating from ESPN, which calls her a "long and agile low-post prospect" that "brings interior footwork and finishing skills to [the] block" and is "mobile in the up-tempo game," words that must be music to McKeown, who acknowledges that his squad is very much a transition team. Scheid averaged over 20 points and 11 boards per game and was a three-time MVP in a high school career in which she also played volleyball and soccer and ran track.
"We are really excited that Abi chose Northwestern and wants to be in the Big Ten," said McKeown. "She really impressed us with her mobility as she can run the floor, shoot threes, guard inside and out, and plays with great intensity."
After the exhibition, McKeown listed Scheid as a player with great versatility, who, along with someone like Kunaiyi-Akpanah, could easily pick up minutes at either the 4 or 5 spot. Scheid could potentially give Northwestern something resembling a true power forward – not that anyone is complaining about the results that Nia Coffey delivers at the position presently. Scheid played nine minutes in the exhibition and made 1-of-4 shots for two points while added five boards and a block. In the two regular season games, she made one of her two shots and both of her free throws for four points in ten total minutes, adding one defensive rebound.
Byrdy Galernik
She's got an awesome name, and potentially an even more awesome career down the road. A 5-foot-8 native of Perrysburg, Ohio, Galernik was a three-star recruit that garnered an 88 rating from ESPN, which described her as a "floor-leader with a scorer's mentality in the back court that handles and distributes in transition." She averaged 18.1 points, 6.3 assists, 3.4 steals and 5.2 rebounds per game in a high school career that also included a spot on the soccer team and multiple awards for performance on the track. It may not come as a surprise then that she has said she likes to run down the court and get her teammates involved.
"Byrdy is one of the top point guards in the Midwest and will make a great addition to the Wildcats," said McKeown. "We love her toughness and the fact that she wants to run a team. Byrdy fits into the style that we want to play and is a great competitor. She is super quick and can run all day."
As a natural point guard, her minutes seem likely to be limited since there is some player named Ashley Deary ahead of her on the depth chart. But last year, then-freshman Jordan Hankins saw some playing time behind Deary, and showed some flashes of brilliance, mainly in the Big Ten Tournament, and finished as the team's fifth-leading scorer.
Similar things may be in the cards for this year's freshman guard, who has played in 12 minutes over the team's first two games, picking up five assists and five rebounds without attempting a shot. This comes after she played 18 minutes in the exhibition, picking up three rebounds and four assists. And though she is firmly ensconced behind Deary in the pecking order, McKeown says she is already learning from and even challenging the reigning Big Ten Defensive Player of the Year. Galernik has clearly made an impression on the veteran head coach.
Bryana Hopkins
Last but not least is a 6-foot-1 forward from nearby Palatine, Illinois, who is a three-star recruit with an ESPN grade of 90. The Worldwide Leader called Hopkins a "versatile faceup-4 performer with midpost attack that is agile in transition and defends in the paint." An All-Area Honorable Mention, Hopkins led her high school to two conference championships and led her Amateur Athletic Union squad to two state championships.
"Bryana comes from a great high school program and will be a strong addition to Northwestern," said McKeown. "Her potential as a college player is so high. She gets better every time we see her play. We love her work ethic and how selfless she is as a player."
But despite her high potential, "Bry" might have trouble seeing the floor in her first year. With Coffey the obvious mainstay and some other players like Lauren Douglas and perhaps Amber Jamison in the mix, forward minutes might be scarce and a redshirt year, after which both Coffey and Douglas will be gone, might in the offing for Hopkins. She hasn't seen any action in Northwestern's two games thus far and played just four minutes in the exhibition, making one basket and grabbing one rebound. She seems unlikely to play much, if at all, but, as we saw last year with Dererk Pardon, stranger things have happened.