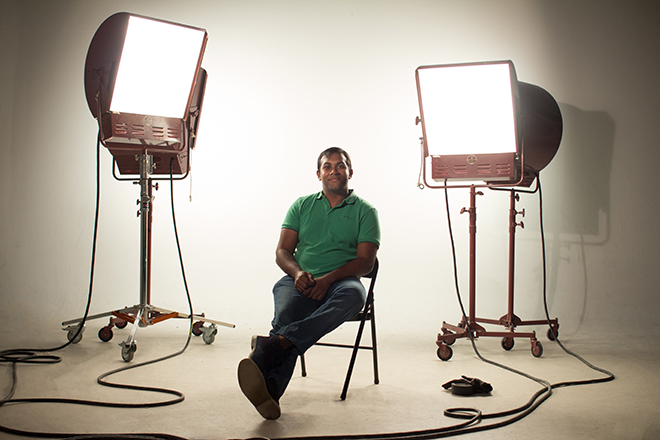 On Sunday, March 29, 2015, torrential rains battered Singapore, as tens of thousands of mourners took to the streets with their umbrellas to say their final goodbyes to Lee Kuan Yew, the city-state's first prime minister.
As the grieving citizens stood shivering and wet, a group of young Singaporeans began walking around passing out food and drinks in an attempt to bring a little joy to an otherwise somber occasion. Unknown to most in the crowd, these were volunteers from a growing youth movement in Singapore that was started by a public relations firm known as The Hidden Good. While all of this was happening, Rovik Robert, a McCormick freshman and founder of The Hidden Good, was sitting in his room in Slivka.
The Hidden Good, which began as a YouTube channel showcasing hidden camera footage of everyday Singaporeans committing acts of kindness, has now developed into a profitable business, with companies choosing to sponsor The Hidden Good's content because of the social capital it holds with young people.
Originally, The Hidden Good was just a fun project that Robert and his friends started working on during their required service in the Singaporean military. What began as casual conversation about what it's like being a young person in Singapore turned into the idea of producing videos aimed at empowering their peers to do good in society.
Robert describes the success of The Hidden Good as "a whole series of accidents that happened to turn out really well."
Despite growing up during what Robert describes as an age of cynicism in Singapore, The Hidden Good resonates with a young Singaporean audience that cares about positivity and change.
Jiezhen Wu, who now serves as the company's executive director, moved back to Singapore after graduating from Wellesley College because of the exciting things she saw happening in her home country.
"I was working in San Francisco," Wu says. "But my entire Facebook feed seemed like it was pictures of my friends doing awesome things back in Singapore, so I decided to move back."
For Wu, being executive director of The Hidden Good means something different each day. The Hidden Good is moving beyond just videos of societal experiments and into many other areas of com- munity development. From representing the company at hackathon to attending community leader forums, Wu and her team are expanding The Hidden Good well beyond what Robert imagined when he started the YouTube channel. With four full-time staffers and a volunteer base of more than 30 people and counting, The Hidden Good is accomplishing its goal of forming a community that spans ages, demographics and backgrounds in Singapore.
"Where there is prosperity, we try to see who is being left out," Robert says of the business' mission. "Where there is celebration, we try to see who is not celebrating with us. Where there is happiness, we try to see if this happiness is well deserved, or if we are doing this at the expense of someone else."
Kenneth Koong, a Weinberg freshman from Singapore, first heard about The Hidden Good because of a video the company produced called "The MP3 Experiment." The video featured more than 1,300 people listening to the same recording in a crowded mall, which directed them to do amusing, synchronized activities such as the wave and giving high fives to random strangers. When Koong met Robert at an NU meetup in Singapore, he was surprised to find that Robert was the one who had planned and produced the video.
"Rovik is a very positive person," Koong says. "He has managed to create a career out of sending a positive message to people, and that's something to marvel at."
Since beginning his freshman year at Northwestern, Robert has started working on projects similar to those he began in Singapore, although he does not want to give any details yet.
"My goal is to continue talking about societal issues," Robert says. "But of course that means something entirely different here in the U.S. than it did in Singapore."
Although Robert now serves in an advisory role in The Hidden Good, having hired Wu to replace him, the firm continues to solidify itself as the go-to outlet for youth-centric media in Singapore.
With more than 430,000 YouTube channel views and a full lineup of video releases planned for the rest of 2015, the company has the potential to capture the attention of an ever-growing population of Singaporean youths who want to see positive change in their country.
Reflecting on The Hidden Good and the role he played in its foundation, Robert says, "I thought it was about finding the hidden good in our society, but I've come to learn it's equally about uncovering the good in ourselves."