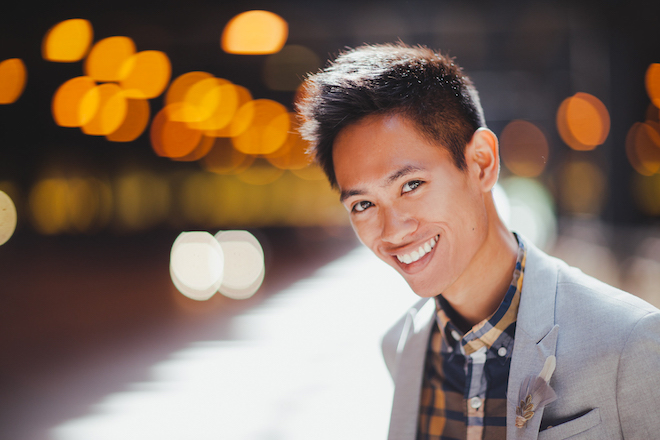 What do formals, concerts, theater productions and Dance Marathon all have in common? They are documented by one person: Justin Barbin.
At 27 years old, the NU alum shoots for the Chicago Tribune, the Chicago Sun-Times, the Huffington Post and People Magazine, among other publications. However, Barbin remains highly involved with his alma mater, finding joy in the relationships he has made through photographing countless events.
Naturally a sentimental person who has always loved to document his experiences, even as a child, Barbin kept disposable cameras on him just in case the opportunity to snap a picture arose. During his freshman year in high school, he got his first digital camera. After starting an online journal where he posted photos of his weekly activities, he began to gather a following from surrounding high schools.
"People were really supportive of me doing it, so I kept it up and it really got me into my comfort zone of always having a camera on me," he said.
Originally from Chicago, Barbin grew up in the Philippines and Houston. He graduated from Northwestern in 2011 with a degree in communication studies and a Business Institutions Program minor. He acted in shows every quarter while working for NBN as a photo editor, writing for the entertainment section of The Daily and editing Stitch Fashion Magazine. Always keeping busy, Barbin fostered his passion of photography.
"I've been documenting my college experience since I was a prospie in 2007," he said, including his first sorority formal when he was a junior. He went on to shoot parties, theater shows and campus events. "The most parties I ever attended in one night was 7."
Senior year was an especially difficult time in his life. Barbin's stepmother was diagnosed with breast cancer for the third time and was given only a few months to live. On top of the four-hour rehearsals, photographing parties for Stitch and applying for jobs, Barbin had to deal with a tragedy for which he couldn't be physically present.
She passed away a few days after graduation. Barbin flew home to Houston and spent the summer with his family, recovering from the loss. Northwestern students continued to contact him, asking when he was coming back to Chicago and if he could shoot their events.
"It was then that I realized, I'm going to take this risk," he said. "It was a very scary first few months where every shoot mattered. $50 for a shoot would cover utilities for the month."
That leap of faith made all the difference. Barbin photographs Broadway openings, which is a dream come true due to his background in theater. His current favorite is Hamilton, which he swears everyone should check out. In addition, he covers events such as Lollapalooza, where he got to photograph some of his favorite artists – Florence and the Machine and Sam Smith.
"After shooting her [Florence], I just had to stop and grab the closest photographer to me and hug her and just scream, 'I love my job!'" Barbin said.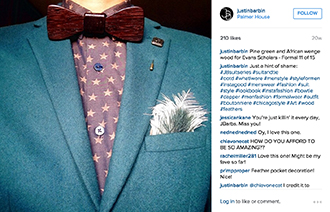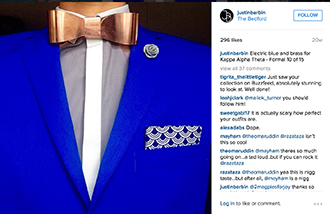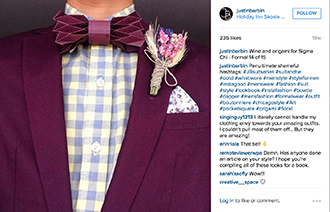 Another passion of Barbin's is fashion. Though he doesn't like use the term "fashionable," his suits are always on point. He wears a different bowtie to every event he covers, and he documents these on his Instagram account. Growing up, he was very attuned to what he wore and had a very colorful closet. College was no exception.
"I even had a spreadsheet where I would write down my shirt and sweater combo to every class I attended," he said.
Barbin loves to collect unique bow ties that he gets from small businesses all over the world. When an event calls for a more proper, neutral colored suit, he likes to touch it up with a unique lapel pin or pocket square.
In the fall of 2014, Barbin was a host for the Dinner with 12 Strangers program, where students sign up to have dinner at a home of alumni who live in Chicago. Medill sophomore Geordan Tilley first met Justin through this program, and they have been friends ever since.
"I walked in, and he starts hugging everybody, and he made this incredible dinner for us," Tilley said. "He's so good at remembering everyone, and I think that's part of why Northwestern loves him so much. He knows us on an individual basis."
He then gifted each guest with a bow tie from a previous event.
"He not only gave us the bow ties, but he connected with all of us on Twitter, Instagram and Facebook," Tilley said. "He said, 'Anytime you do anything exciting in your life, I want you to put the bow tie on and take a selfie with it!' He gave us a hashtag to use when we post a selfie so he can keep up with us."
Though Barbin's schedule is usually jam-packed, he stays connected with friends.
"Each week I like to attend one artistic event, one meal date with a friend and at least one day to myself where I'm editing photos," he said. "On top of that, I set a daily goal for myself where I make at least one person smile. That sounds really cheesy, but usually that little goal gives me motivation each day."
No career is without its setbacks, but Barbin turns his negative experiences, or jobs he is not passionate about, into learning ones. "I think eventually what you deem a failure in that moment becomes not a failure anymore when you self-reflect and when you can learn from it and realize what mistakes you've made," he said.
His positive attitude has gotten him very far, and today, Barbin has gained an incredible following from the Northwestern community. Throughout the interview, several people approached him and he excitedly asked them how they are doing. Though he hates using the terms "popular" or "celebrity," he is truly a trusted member of the community.
"It's an honor. It really is," he said. "Photographing Northwestern for years, I've known a lot of you guys since you got here. It's really great to see your growth within the four years, and I'm grateful to be part of that."