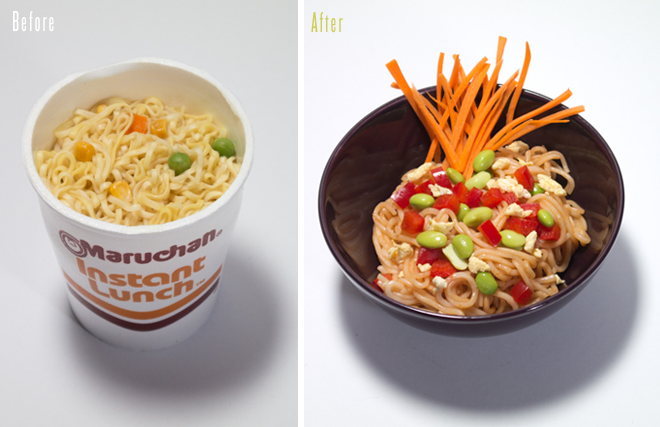 Nothing strikes fear into your heart (and stomach) like moving off-campus with absolutely no idea how to cook, leaving you to polish off boxes of Special K alone in your room. You're probably regretting every complaint you ever made about Northwestern meal plans.
But before you succumb to a nutrient-poor, alcohol-heavy diet, consider this: You can make good food, even in college. And you don't have to be Gordon Ramsay to do it. You don't even have to branch out from your typical collegiate staples.
Ramen
6 oz. rice noodles
1 egg, scrambled
1/2 tsp. garlic
2 tbsp. edamame, shelled
2 tbsp. red bell pepper, chopped
2 tbsp. carrots, cut julienne-style
1 tbsp. olive oil
2 tsp. fresh cilantro, chopped
1 tbsp. green onions, chopped
2 tsp. peanuts, chopped (optional)
cooking spray
Sweet Sriracha Soy Sauce
3 tsp. Sriracha sauce
2 tbsp. low-sodium soy sauce
2 tbsp. teriyaki sauce
1 tsp. garlic, minced
1/2 tsp. sugar
2 tsp. rice vinegar
Boil rice noodles in a saucepan. While noodles cook, crack egg in small dish and beat with fork or small whisk. Pour egg in small skillet coated with cooking spray. Scramble over medium-low heat until egg is done. Remove and chop into small pieces.
In another pan, heat oil and garlic over medium heat. Add carrots, peppers and edamame and sauté for three minutes or until done. Remove from heat. After noodles are done, remove from heat and drain. Put noodles into large dish and toss with chopped egg, carrots, peppers, green onions and edamame.
Make sweet Sriracha soy sauce by combining all ingredients in small bowl and stirring well with a whisk. Add sauce to noodle-vegetable mix and toss.
Long Island Iced Tea
2 shots Absolut Citron
Lipton's Cold Brew iced tea
1 lemon
1 mint sprig
Ice cubes
Make iced tea according to package instructions. Once tea is done, pour vodka and ice cubes in a large glass with tea. Squeeze three tablespoons of lemon juice into drink. Stir, and top glass with slice of lemon and sprig of mint.
Hot Cookie Bar
1 pkg. refrigerated sugar
(or snicker doodle) cookie dough
K cup vanilla ice cream
¼ cup pecans, chopped
1 egg white, beaten
¼ cup sugar
¼ cup coconut, shredded
cooking spray
Preheat oven to 300 degrees. Cut out two cookie's worth of cookie dough. On a cookie sheet coated with cooking spray, place cookies on one end. Combine sugar and beaten egg white in a small dish, then use the mixture to coat pecans. On the other end of the pan, spread coconut and sugared pecans.
Bake until coconut is lightly browned and pecans are toasted, and until cookies are slightly gooey and undercooked. Baking times for each will differ, so you could also use separate pans.
BONUS: While cookies and toppings are in the oven, make rum-caramel sauce. Heat rum, caramel and sugar in a small saucepan on low heat, stirring frequently. Place cookies in a dish and top with ½ cup vanilla ice cream. Sprinkle with coconut and pecans, and then top with rum-caramel sauce.