The predicted 60 degree weather and thunderstorms for Saturday won't stop the 285 people who have marked themselves as "going" to the Facebook event "Shirtless for Dillo." This event means anything that attendees want it to – everything from a crop top to pasties count as going "shirtless." The founders, Miami native Andre Ramirez-Cedeno and Austin native Nnenna Nwagbo are McCormick seniors. As the pair is graduating in a few weeks, they realized they wanted to make their last Dillo Day something special. They created the event three months ago and were surprised when it reached peak campus fame. What started as a joke between friends became a campus-wide phenomenon.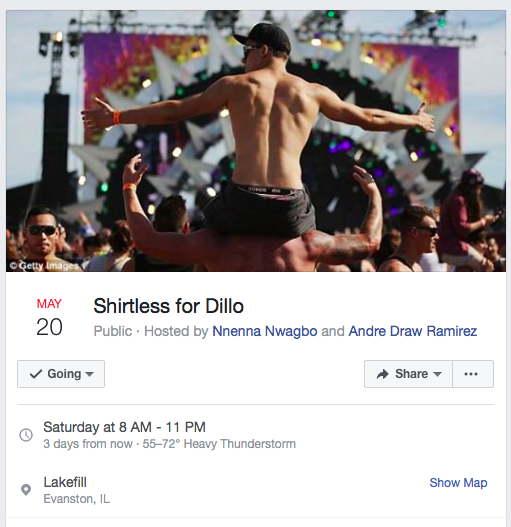 With just a few days before an estimated 285 shirtless Dillo-goers flood the Lakefill, we sat down with Nwagbo and Ramirez-Cedeno for a few quick questions.
NBN: Why did you start "Shirtless for Dillo?"
Andre Ramirez-Cedeno: The story behind that is actually pretty funny. I was sitting at Sargent with Nnenna, and we were just looking back at what Dillo had been [like] the last four years. This is going to be my second and last Dillo. I remember that freshman year my friend and I decided to go shirtless, and the day was beautiful. As a joke I said, "I started shirtless, I have to end shirtless as well." Initially it was to make it the sexiest Dillo of all time, but there is more meaning behind it of being able to express yourself and enjoy a nice day.
NBN: Dillo merch is a huge thing. How do you think you will keep people from buying that instead of wearing no shirt?
Nnenna Nwagbo: I feel like it's an excuse to socially be out shirtless, and I think a lot of people will take that up. You can always wear your Dillo merch not on Dillo.
NBN: Why did you start the Facebook group three months before Dillo? That seems kind of early.
ARC: To start spreading the word and having people have it in the back of their mind as well. Another important aspect of spreading the word was getting people to prepare themselves, whatever that means for them. You can prepare for it [being shirtless] however you want. Giving enough anticipation for the event and promoting it.
NBN: Did you ever think the event would have as large of a following as it does now?
NN: I hoped so, and I'm happy about the turnout. I wasn't sure if people were going to be like, "This is dumb, I'm not doing it," or "This is dumb, I'm going to share it to all of my friends." It is a fun little thing that Andre and I will look back on.