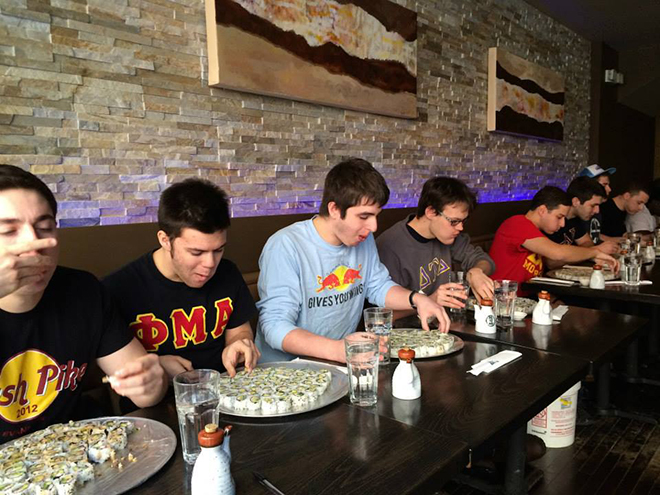 When Grace Chan heard talk of a sushi-eating contest at Evanston's beloved Todoroki in spring of 2014, it felt like fate.
Though Chan (WCAS '14) had never competed professionally in the realm of speedy snacking, she was known among her friends as quite the gluttonous eater. Testing out her skills in an actual contest, and in Evanston, no less, seemed like a no-brainer.
With an eager appetite and an empty stomach, Chan trotted into Todoroki for the Japanese restaurant's second annual sushi-eating contest on April 6, 2014, with determination.
"I was really excited because everybody was there supporting me and they had so much faith in me that I would be really embarrassed if I didn't win," said Chan, now an NU alumna and second-year student at Loyola University Chicago's Stritch School of Medicine.
Chan's carefully calculated strategy – bite, swallow, rinse, repeat – guided her taste buds through a platter of 50 California rolls, all of which she devoured (see: inhaled) in about three measly minutes, the fastest time among the ten female contestants.
"My stomach didn't register that I was really full until a little bit after, because the adrenaline was still keeping me from feeling it," Chan said. "I did end up pretty full, though, and I had to nap it off."
Those looking to haul their stomachs through a similar calorie-packed journey have the opportunity to do so in the third annual Todoroki sushi-eating contest at 3 p.m. this Halloween.
"We try to think of events like this so community members can learn about the restaurant and learn that the restaurant has a very fun and vibrant atmosphere," Wendy Cheng, owner of Todoroki, said. "That's the brand that we carry."
Todoroki initiated its first sushi-eating contest in October 2012 as the effect of a natural, unintended push from customers.
"[The contest] originated from customers who liked doing the all-you-can-eat," Cheng said. "It just began organically, because students generally like to compete amongst themselves while they're having dinner, to see who can eat the most sushi."
With that observation in mind, Cheng and her fellow Todoroki staff got to work organizing a speed eating competition modeled after the annual Nathan's Famous Hot Dog Eating Contest in Coney Island, New York. Unsurprisingly, the first contest was a hit among Northwestern students and has remained a tradition for the sushi hub ever since.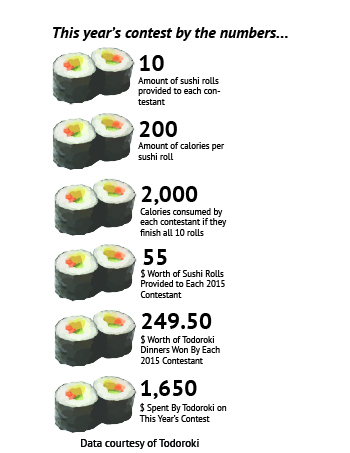 This year's contest tests speed over quantity, as competitors will race to see who can wipe out ten California rolls the quickest within a two-minute period. The motive? An esteemed "golden ticket" for both the male and female champions, worth free all-you-can-eat sushi once a week, all winter quarter.
Due to an excessive amount of demand to compete and a limited number of available spots, participants will be chosen randomly from a raffle, open for registration during the half-hour prior to the event.
In addition, Todoroki handed out two automatic seats at the competitors table during a raffle at Evanston's Big Bite Night on Sunday, October 4. McCormick junior Brandon Bay was one the lucky draws.
"To be honest, considering I'm going to be competing against 15 people, many of which are probably much more seasoned eaters than I am, I'm just looking forward to a free plate of sushi and a good time," Bay said.
The restaurant is also offering up a guaranteed contestant spot to anyone who can show up to the competition with the largest mob of "fans." In addition, this acclaimed "fan favorite" will receive a $100 Todoroki gift card.
"If you're able to bring such an entourage of people to support you, we want to make sure you have a seat," Cheng said. "We think this is a very doable challenge."
If guzzling down spools of crab meat isn't your thing, Todoroki offers an incentive for devoted spectators as well. In the spirit of Halloween, the audience member with the best costume will win a free dinner with one guest, redeemable later that evening.
Cheng said the community response to the contest has been overwhelmingly positive since that first competition three years ago. To keep up with all of the hype, in the coming weeks, Todoroki is kicking off a new program that allows private organizations and student groups to host their own sushi-eating contests at the restaurant.
"The feedback we've gotten is that we don't have [the contest] often enough, so we're happy to organize it for people, for groups that want to hold it amongst themselves and have their own separate contest," Cheng said.
Todoroki tested this program out in March 2014 by holding a private competition for Northwestern's Interfraternity Council. This contest received rave reviews from participants, so the restaurant is opening it up to all student groups this year, allowing organizations to experience the messy affair of competitive eating in a private setting.
Whether going to watch or yearning to compete, those who attend Todoroki's treasured contests can look forward to an afternoon of tasty food, fierce competition and, of course, incredible people-watching.
"There's really nothing to lose at the Todoroki sushi-eating contest," Chan said. "There's free food no matter what. It's kind of too good to be true."