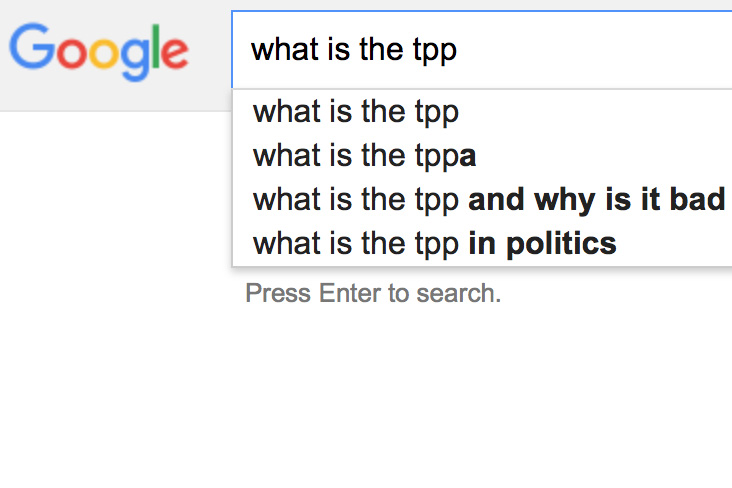 What is the TPP?
The Trans-Pacific Partnership, or the TPP, is not only a free trade deal – it is the largest free trade agreement in history. Comprised of 12 countries and accounting for a cumulative 40 percent of the world's GDP, it's safe to say the deal is…a big deal.
It's been in the works since 2010 and is an expansion of the 2005 Trans-Pacific Strategic Economic Partnership (TPSEP) between Brunei, Chile, New Zealand and Singapore.
What will it do?
The partnership aims to foster trade and, consequently, competition and innovation. By decreasing select tariffs, eliminating others outright and reducing non-tariff barriers to trade, the involved countries would gain access to a much larger market for their exports. The deal would also create and enforce universal standards of environmental protection and labor conditions, outlawing child labor, forced labor and employee discrimination in all participating nations. Finally, it would move dependence away from Chinese trade and set the U.S. up to influence global economic rules in the future.
Why the controversy?
Despite these potential advantages, many have opposed the agreement, worrying that increased competition would send American jobs overseas and drive down wages. Controversy around the TPP also stems from the secrecy that surrounded its negotiation. The full text, a whopping 30-chapter, 6,000+ page document, was only made public last November.
Among the deal's critics are Donald Trump, Bernie Sanders and, more recently, Hillary Clinton. While Clinton supported the partnership during her time as secretary of state, she came out against it in October 2015. Trump tried to take credit for her change of heart at the first presidential debate on Monday, but Clinton maintains that her decision was based on the final agreement containing too many loopholes.
So, what's next?
The partnership was signed in February by the U.S., Japan, Malaysia, Vietnam, Singapore, Brunei, Australia, New Zealand, Canada, Mexico, Chile and Peru. However, there's a long way to go; it still has to be ratified by Congress, which could take months, not to mention the other 11 countries.