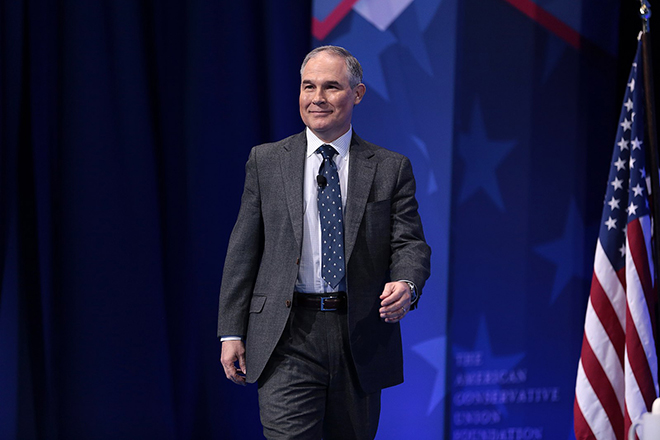 Under the Trump Administration, efforts to combat global warming and build an infrastructure of sustainable energy have slowed significantly. This is due in large part to Scott Pruitt, Administrator of the Environmental Protection Agency, and his "Back-to-Basics" agenda. Pruitt aims to roll back several Obama-era regulations, rebuild the coal industry and repeal the Clean Power Plan. But lately, he's been getting attention for more than just policies.
The newest headlines forcus on Pruitt's extravagant use of federal funds. Allegations include flying first class using taxpayer money, giving unapproved raises to his aids and renting a Washington, D.C. condo owned by the wife of a prominent lobbyist at a discounted rate of only $50 a night. In a rare move, The United States Office of Government Ethics has sent a letter to the EPA requesting the organization investigate these potential ethics violations.
While Security spending was somewhat more than his predecessor, Scott Pruitt has received death threats because of his bold actions at EPA. Record clean Air & Water while saving USA Billions of Dollars. Rent was about market rate, travel expenses OK. Scott is doing a great job!

— Donald J. Trump (@realDonaldTrump) April 8, 2018
How did Scott Pruitt get here?
A lifelong Oklahoma resident, Pruitt began his political career promoting conservative Christian values and advocating for stricter limits on workers' compensation. In 2010, the Republican politician won the Oklahoma Attorney General Election, serving for seven years after running unopposed in 2014. Pruitt attempted to overturn various Obama-era policies, including the Affordable Care Act. As of January 2017, Pruitt had sued the EPA over 14 times. One month later, after a nomination by President Trump and confirmation by the Senate, Pruitt became the head of his old foe – the EPA.
To Stay or To Go?
Government investigators have kept a close eye on Pruitt as ethical allegations against him continue to mount, and the EPA's Office of the Inspector General has confirmed that four audits are in the works. The first concerns Pruitt's travel expenses, which total over $200,000. The rest concern his demand for large security details, the billing of said security details and the unapproved pay raises granted to close federal aids.
Pruitt isn't the first government official to be under financial scrutiny during the Trump administration. Ben Carson, the Secretary of Housing and Urban Development, faced severe backlash in March for spending $31,000 of taxpayer money on a new dining room set for his office. After the story broke, Carson told CNN that he was unaware the order had been made and wanted to cancel it. The set is entirely mahogany, with a blue velvet finish.
It's unclear whether Pruitt's potential ethics violations are significant enough to oust him from the EPA as the audits could take up to a year – and based on current government sentiment, it seems Pruitt is here to stay. Senate Republicans remain in strong support of the EPA administrator despite the backlash, likely due to the slim chance of confirming a similarly conservative replacement before the 2018 midterms. Unlike other Trump administration employees who have been fired or quit, Pruitt admires the president's policies – and the sentiment seems mutual. Trump is no stranger to extravagant spending, after all.