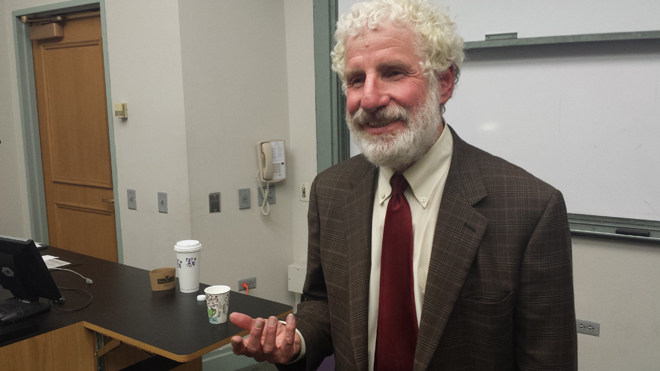 Dr. Alan Gilbert, an international studies professor at the University of Denver, spoke to students Tuesday. Gilbert is a John Evans Professor, the highest faculty distinction at the University of Denver, and serves on the university's committee to investigate Evans' involvement in the Sand Creek Massacre. Evans helped found DU in 1864 during his term as territorial governor of Colorado, a position he resigned from in 1865.
"John Evans was the founder of the University of Denver," Gilbert said. "He and [Army Col.] John Chivington and the editor of the Rocky Mountain News were on the original board of the Colorado Seminary, which became the University of Denver."
In addition to founding DU, Evans was one of Northwestern's co-founders – eventually becoming the namesake of Evanston – and served as the University's first president of the Board of Trustees. Chivington ordered the Sand Creek Massacre, which resulted in the deaths of more than 120 unarmed Cheyenne and Arapaho people. Earlier this year, Northwestern created a committee to investigate whether Evans was actively involved in this decision as well.
Following Northwestern's announcement of a committee to investigate Evans, DU formed its own committee consisting of faculty members, graduate students, representatives from the Native Student Alliance and Arapaho and Cheyenne community representatives. Gilbert said the two committees are in close collaboration with one another, and members of both committees visited the Sand Creek site.
"We're having descendants of the Cheyenne come once a quarter," Gilbert said. "We're running ideas by them and talking with them."
Gilbert said historians are split over whether Evans had an active role in ordering the massacre. Through extensive research with the committee, Gilbert said he concluded that Evans acted deliberately.
"The crucial point is that he targeted these Indians in Colorado, which he did to further the railways," Gilbert said. "Evans was the mafia boss out here and did this. The argument he really wasn't aware of it supposes that he was not very bright."
The DU committee will present two reports in June 2014: one describing Evans' involvement in the Sand Creek Massacre and how he may have profited from seizing indigenous land and a second prescribing recommendations for the DU community to adopt. Like DU, Northwestern's committee will present its own research findings in June.
"We have the liveliest conversation, and I think the spirit of the university is behind doing something about this, something honorable," Gilbert said.
Gabe Bergado contributed reporting.