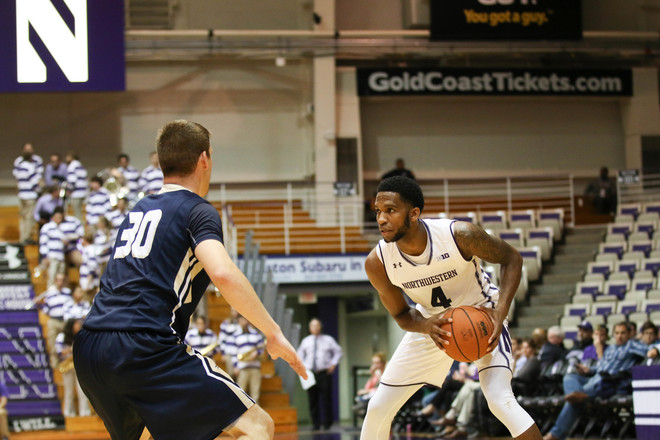 When head coach Chris Collins talks about the upcoming basketball season, one idea comes up over and over again: versatility. Collins is looking forward to switching around lineups and moving players to different positions, and redshirt sophomore Vic Law, making his long awaited return from a shoulder injury that cost him 2015-16, will serve as the anchor of this dynamic approach.
Law's versatility is rooted in his size and athleticism. At 6-foot-7 he's got enough length to get between shooters and the basket, and his speed breaks down Big Ten offenses. During his freshman season at NU, Law started 19 times, averaging 24.4 minutes per game. He also averaged 7.0 points per game, but that stat is a bit deceptive since he struggled for most of his freshman season, but turned it around towards the end. In his short career, he has contributed as a jump shooter, rebounder and a lanky defender, but he said it doesn't matter which of those three roles he is asked to play most.
"When I was being recruited, I learned a valuable lesson," Law said. "There are only two positions: on the court and on the bench. I don't really care as long as I'm out there."
Going into last season, the team was betting on Law being just as effective, if not more so, on both ends of the court. But a shoulder injury from the summer between his freshman and sophomore years turned out to be a torn labrum that required surgery, and after playing in the season's first exhibition game, Law was forced to miss the entire regular season.
As NU's highest-ranked recruit ever, Law's absence was felt by coaches, teammates and fans alike. The 'Cats had a program record 20 wins during the 2015-16 regular season, but lost close games to schools like Maryland and Michigan, both on the road, that could have propelled their season even further. It was painful for to watch his team struggle through games, and he said he would often think to himself "'if I was out there I could've done this, this and this,'" which might have led to different outcomes.
But Law said he can't change what happened last season – he can only look forward. After months of post-surgery shoulder rehab and off-season training, he is ready to get back on the floor. Because of his strength on both sides of the ball, Collins said he plans to weave Law into multiple lineups.
"His game is going to remain pretty much the same, we need him to do a little bit of everything," Collins said. "He's a jack-of-all-trades player. We need him to defend the other teams, one of their top guys, we need him to rebound at a high level, we need him to make plays, we need him to score. I think he can do a lot of those things, and we're going to be reliant on him to be a key guy for us."
In NU's exhibition game against Illinois-Springfield on Nov. 4, Law was finally able to see game minutes again for the first time since March of 2015. He was 2-for-6 on three-point shots, had three rebounds and scored 11 points. On top of that, Law made three of NU's five steals, had two blocks and was credited with an assist.
Before that game, Collins said that Law is healthy and looking good in practice, but said nobody on the coaching staff knows how long "that rust [is] going to take to shake off." After months of just playing one-on-one and training with the team, Law will have to adjust to game rules and new officiating guidelines. In the match against Illinois-Springfield, he was benched after two minutes of playing because he drew two fouls that early in the game. Law will need some time to get re-acquainted with game play, but his numbers are already looking comparable to those of his successful freshman year season.
The true versatility of this team will quickly be tested in matches against non-conference teams, and then Collins and his staff will have time to review what worked on the court and adjust positions prior to Big Ten play. There will likely be a spot for Law on all of those lineups, as Collins did call him a big part of the team's gameplan. Though his position may change from game to game, or even multiple times within one game, Law said he is ready to move around the court and help lead the Wildcats to a successful season.