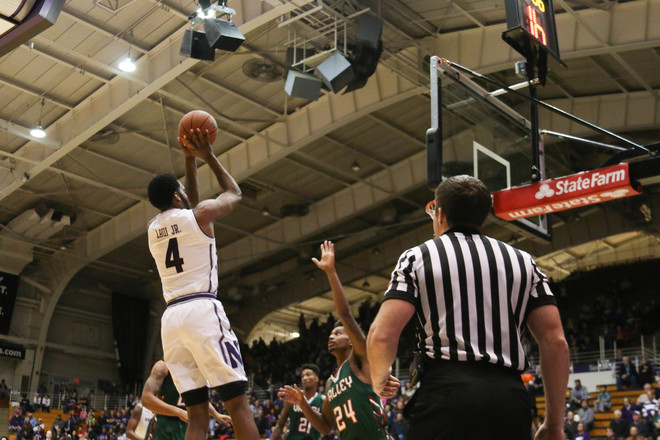 Northwestern won its second game of the season Monday, defeating Eastern Washington 86-72.
The 'Cats were firing on all cylinders early, hitting nine of their first 13 shots. Vic Law led the Wildcats with 14 first half points en route to a career-high 26 (7-13 FG, 3-4 3PFG, 9-10 FT). Law also finished the game with four rebounds.
NU cooled off as the first half went on and held only a 46-38 margin at halftime. Eastern Washington's Ukrainian three-point assassin Bogdan Bliznyuk helped keep the game close in the first half, scoring 20 of the team's first 25 points. He would finish with 25 points.
Eastern Washington kept the game within arm's reach throughout the second half. NU's lead oscillated between seven and 15 en route to victory. Law and Bryant McIntosh were a steady force for Northwestern in the second half, controlling the tempo and providing consistent looks on offense.
Dererk Pardon presented real problems inside for Eastern Washington. His presence inside was a big reason why the Wildcats were in the bonus for most of the game. NU shot 26 free throws compared to Eastern Washington's 13, huge in a game where the margin of victory was only 14. Pardon also recorded a career-high five blocks, and added 12 points and five rebounds. After attempting 26 three-pointers in its win against Mississippi Valley State, NU only took 13 threes in this victory. The 'Cats were doing well to create for each other, finishing with 17 assists on 29 made baskets. Scottie Lindsey and McIntosh combined for 13 assists.
NU did well to force turnovers (14), but interior defense was an issue. While able to block shots, Pardon bit on just about every ball fake. Bliznyuk, a 6-foot-6, 215-pound forward, gave Law and Sanjay Lumpkin trouble all game in the mid-post. The wings, however, did do a fantastic job navigating screens and limiting transition buckets. These are all things head coach Chris Collins will surely discuss in film sessions prior to Wednesday's game against Butler.
Aaron Falzon again saw limited minutes, presumably due to a lingering knee injury, and freshman Barret Benson did not see the floor at all. Benson's fellow freshman Isiah Brown did see extended minutes, playing both with and without McIntosh. How Collins chooses to use these three players will be a big storyline going forward.
With the win, NU moves to 2-0 on the year with perhaps its most difficult non-conference foe ahead. The 'Cats will take on Kelan Martin and Butler in Indianapolis on Wednesday at 6 p.m. Central.