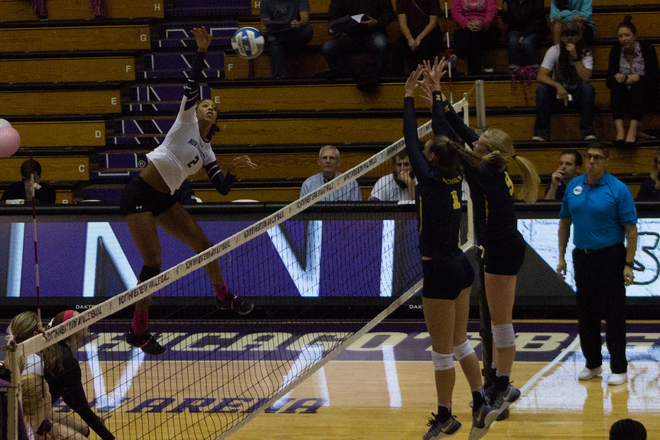 Northwestern volleyball kicked off its 2016 season in August with a sweep over a mediocre George Washington team that featured some high hitting percentages, an even 40 assists from Taylor Tashima, a handful of service aces from Sofia Lavin and seven kills from Kayla Morin.
Similarly, NU ended its season in November with a sweep over a bad Rutgers team that featured some high hitting percentages, an even 30 assists from Taylor Tashima, a pair of service aces from Sofia Lavin and seven kills from Kayla Morin.
But between those two convincing victories, the Wildcats had a nine-game losing streak, a separate eight-game losing streak and no conference wins until Oct. 21. In head coach Shane Davis' first year at the helm, NU finished with a 10-22 record and was 3-17 in the Big Ten. Both win totals were the lowest since an 8-23 finish in 2008. But with a first-year head coach making his first foray into the women's game in the best volleyball conference in the country, perhaps it was unreasonable to expect much more.
The offense was clinical for the 'Cats in their first four matches of the year, all wins. Things fell apart a bit from there, however, as NU finished the non-conference slate with a record of 7-5. In its first conference match on Sept. 21, NU suffered a 3-1 loss to Indiana. It would take a full month for the 'Cats to capture another set.
But on Oct. 21, the Wildcats did more than win a set – they won a match, defeating then-No. 24 Purdue in four sets. Symone Abbott poured in 18 kills and two solo blocks and Tashima dished out 41 assists and five aces to help snap a nine-game skid.
It would take a while for the 'Cats to taste victory again. A truly grueling stretch that saw six top-25 opponents wasn't kind to the 'Cats – they dropped their next eight matches. But that stretch conceals how well they played, most notably against Wisconsin, the No. 3 team in the country.
In what was probably one of the best matches of the entire Big Ten season and surely the best of NU's season, the Wildcats fought the Badgers to the bitter end, winning the first two sets and pushing one of the nation's best teams to the brink. Eventually, the Badgers' superior talent and experience enabled them to pull out the final three sets and win the match 3-2.
NU was ultimately unable to replicate its legendary victory over Penn State from last season, who was then also ranked No. 3 nationally. The 'Cats balanced three top-20 losses to close the year with sweeps of Maryland and Rutgers.
OK, so it was a tough season. But with a new coach and a tough schedule, maybe that was to be expected. This year, NU faced 17 teams that made the 2015 NCAA Tournament (and 11 that made the 2016 NCAA Tournament), which goes to show the level of competition the Wildcats had to face night in and night out.
There's no secret that Symone Abbott is the star of this team, and her workload reflected it. The junior had the most attack attempts in the conference with 1339, and she finished off 459 of them – even with that ridiculously high number of attempts, her 4.10 kills/set mark ranked third in the conference. And though her hitting percentage of .196 was admittedly not very good, her massive volume of kills, despite the occasional struggles of her defense and setter, is a testament to how lethal of a finisher she is. For her efforts, Abbott was named an all-conference Honorable Mention.
A well-deserved honor! The #B1GCats Symone Abbott is awarded @bigten Honorable Mention after a great season.https://t.co/tsthW0SB3spic.twitter.com/hoO7IWHVC2

— NU Volleyball (@NUVball) November 29, 2016
The reliance on Abbott might not decrease next year – in fact, with so many key contributors leaving, it might increase. Gabby Hazen is back, which is good news for the 'Cats' middle blocker position, but gone will be the always-efficient fellow MB Maddie Slater, as well as the versatile Morin and the powerful Lavin. In addition, the defense will take a hit with the losses of Rafae Strobos, Katie Kniep and Caleigh Ryan.
But despite a more-than-subpar 2016, there is no reason to be overly dejected; this was a transition year, and the players knew that. As is the case with just about every new coach, the goal is to succeed eventually, not instantly. Last year, nine teams from the Big Ten made the Big Dance. This year, eight teams are going. It's not unreasonable at all to hope, and expect, that in a few years, Northwestern will challenge for those positions in the conference. But for now, the Wildcats must trust the process.