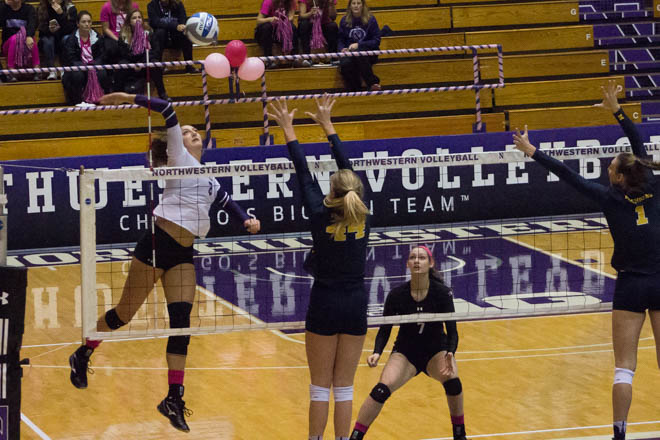 Northwestern volleyball had another rough match Wednesday, losing in three sets to No. 18 Michigan at home. The loss takes the 'Cats to 0-7 in the Big Ten and 7-12 overall, marking their eighth consecutive loss.
With a score of 3-0 it's easy to assume that NU got crushed by the Wolverines, but the first two sets were closer than the final indicated. The 'Cats were able to hold on 25-17 and 25-18 and did have some bright spots.
Junior outside hitter Symone Abbott had 15 kills and found herself in more one-on-one situations than normal, making attacks easier. Abbott is ranked third in the conference for kills per game, with an average of 4.06, and Michigan provided her with more opportunities to practice her in-game swing management.
Senior Maddie Slater was also able to contribute five kills and 12 total attack attempts, ending the game with an attack percent of .417.
Head coach Shane Davis was happy with the way the team passed, saying there was definite improvement from past games, but passing and kills were not enough to keep NU up to speed with the Wolverines.
"We were sticking to the defensive plan, we were holding Michigan to a lower hitting percentage," Davis said. "We were just fumbling around on some of the easier plays, and those created runs for Michigan when we could have gotten ourselves out of it. The third set we gave up - plain and simple, we gave up and didn't want to fight and that was disappointing to us."
Abbott summed up the team's performance by saying they had "good intentions but wrong execution."
While she was happy with the plays she and her teammates were able to make, Abbott agrees with Davis that basic plays got too sloppy. She hopes that the team will continue to refine those skills in practice in order to be more competitive for the rest of the season.
"We intended to come out and take care of a team that we had the ability to beat, but it really just was on our side," she said. "We have daps, which are plays that we should be executing on. In practice we re-do them and the whole game changes when we do those plays."
Sophomore libero Katie Kniep is out with a back injury, so senior outside hitter Rafae Strobos has been subbing in and out to replace Kniep. The Wildcats are making the best out of a bad situation, and Strobos had 10 digs against Michigan, but it is obvious that Kniep's injury is not helping NU's game play.
Looking forward to Big Ten games against Illinois, Purdue and Indiana, Davis is hoping to find ways for more players to contribute. During the next few days of practice, the coaching staff will be paying special attention to which girls are putting in the most effort and potentially changing up who gets playing time.
"We're getting some good looks with a lot of other players that weren't really contributing and getting kills, and we need that, we need to be able to get something out of the sides beside Symone [Abbott] and Slater," he said.