The Northwestern Wildcats (15-12, 7-8 Big Ten) came into Friday's match desperately needing a victory, and they came up big, prevailing in four sets over No. 18 Purdue (16-10, 7-8) at Welsh-Ryan Arena on Friday night.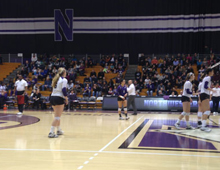 In a matchup of teams with multi-match losing streaks, the Boilermakers started off on fire, grabbing the first four points of the opening set. Trailing 15-5, the 'Cats went on a 10-1 run that helped them tie the game at 25 points apiece. Junior outside hitter Yewande Akanbi then followed with back-to-back kills, giving Northwestern a 27-25 victory in the first set. Akanbi, who returned Friday from an infection, made the most of her playing time, finishing with 11 kills.
"It was nice to get back on the court," she said.
After the thrilling start, the Wildcats failed to match their early success, falling 25-14 in the second set. They came back from the break revitalized, however, jumping out to a 9-4 lead that helped them grab the third set 25-22. They carried that momentum into the fourth set, grabbing a 6-1 advantage, and they held the lead, taking the set 25-18.
The Wildcats featured a revamped lineup on Friday, with coach Keylor Chan moving junior Monica McGreal into the front row and putting redshirt junior Katie Dutchman into the middle.
"Everyone played great today," McGreal said. "It gives us confidence. We have to stay focused and keep working hard."
Chan was pleased with the success of his lineup change, and he said he plans to stick with it moving forward.
"This time of year you need a spark," he said.
The Boilermakers hung with the Wildcats for most of the game, helped by KiKi Jones and Faye Adelaja, who rank sixth and seventh, respectively, in the Big Ten in blocks. They helped the Boilermakers record 12 team blocks, but that wasn't enough to overcome the efforts of NU senior outside hitter Stephanie Holthus.
Holthus, who became Northwestern's all-time kills leader earlier this season, continued her run of dominance, recording a game-high 21 kills to go along with 15 digs.
Freshman setter Caleigh Ryan was also key to the Wildcats' victory. Ryan, who leads the Big Ten and all NCAA freshmen in assists per set, recorded a game-high 41 assists to go along with her 9 digs.
As a team, Northwestern has struggled with blocks this year, ranking 11th in the Big Ten at just 1.95 per set. However, their five blocks in the first set helped set the tone for the rest of the game, and they finished the game with an impressive 12 blocks overall.
The win improved Northwestern's home record to 10-4 overall. They will face Indiana on Sunday at noon.