Julia Watson and Erik Zorn were elected the next president and vice president of ASG, respectively, Wednesday night. The pair received the results from Fisk Hall, where they and their supporters gathered as the polls closed at 7 p.m.
Watson and Zorn defeated Alex Deitchman and Ronak Patel. They will be sworn in during the April 16 Senate meeting.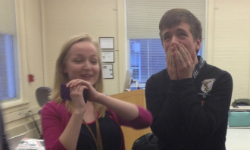 "I think we're both a little bit relieved that it's over," Deitchman said. "It was definitely a great experience and I'm hoping for a lot more great experiences in the coming year."
"We accomplished our mission, and I hope we can continue to serve as students," he said.
A number of current ASG executive board members were in Fisk with Watson and Zorn. As soon as they heard the election results, board members left for Wednesday's Senate meeting.
"[I'm] extremely proud that Julia and Erik won," said Ani Ajith, outgoing ASG president. This is another example of a successful campus-wide election."