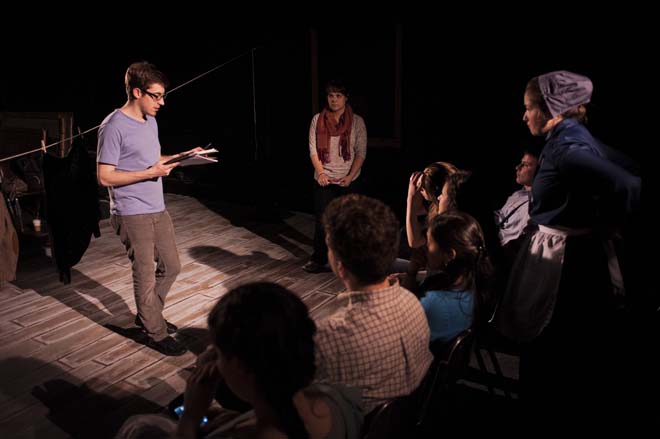 Sam Freedman, co-producer of the student production columbinus, could hardly contain his excitement Saturday evening as he welcomed audience members to Struble Theater. He had not expected the full house the show had enjoyed opening night on Friday, and half an hour before the final performance show a small crowd of students and community members had already lined up outside the theater doors, surprisingly eager to see a small play in a small theater by one of Northwestern's smaller theater groups.
Meanwhile, further north at Shanley Hall, another student theater group would be welcoming the community to its final showing of The Amish Project.
Perhaps the reason for the success of columbinus, as well as The Amish Project, is timing. Both shows are based on real school shootings, and just months after the massacre at Sandy Hook Elementary School, the topic is still fresh on a lot of minds.
The two plays also reminded Northwestern of one of its most serious and widespread concerns of this academic year: improving its mental health services.
For many across the nation, the mental health discussion didn't gain attention until after the Sandy Hook shooting in December. Many speculated that Adam Lanza, who killed 26 children and school staff in addition to his mother, had a personality disorder. After the shooting, the nation turned its focus not only to guns but also to mental health.
The first act of columbinusis a story about a high school, with students whose names include "Jock," "Perfect" and "AP." "Freak" and "Loner" are clearly the outcasts, without any identity in the school. The two's anger and humiliation escalates into the second act, when they don black trench coats and turn into bomb-building and gun-toting Eric Harris and Dylan Klebold. The high school transforms into Columbine High School, the location of the deadliest high school shooting in U.S. history.
In preparation for his role of "Loner," or Dylan Klebold, freshman Jared Sprowls read Klebold's journals and school essays and watched documentaries on the shooting.
"Dylan suffered from depression, which went untreated," Sprowls recalled. "It's just a feeling of being lonely and isolated, and no one understands you, and adding an element of the depression that he had and the anger that he felt – that sort of builds."
But the cast and production team did not aim to take a stance on the U.S. mental health system, nor did they imply that it was the sole cause of the massacre. Rather, the play showed how complicated the issue of mental health is.
"I think what one of the show's messages is, is that from an outside perspective it's impossible to know what's going on inside of someone unless you take the right steps," co-producer Alana Basil said.
These steps include providing consistent support for someone who is suspected to be mentally ill while encouraging him or her to seek assistance from a mental health professional. The show makes it clear that taking "the right steps" is easier said than done. In columbinus, Klebold and Harris knew how to act healthy when they wanted something, and though their parents tried to help, they fell short of adequately handilng their sons' behaviors and anger.
In the play, themes of alienation and bullying, about which Harris wrote bitterly in his real diary, were also brought to light. When a shooting occurs, then, it becomes more difficult to pinpoint the cause or place the blame.
"Can you blame the high school [for the massacre] in a sense for creating [a hostile atmosphere]? Maybe. But that's how high school works sometimes," Sprowls said. "Not everyone who's bullied in high school was a serial killer."
Still, Sprowls said in a way he sympathized with Klebold and Harris, and that that was why he wanted to play Klebold and "Loner" in the show.
"That doesn't mean in any way, shape or form that what they did was right," Sprowls said. "There's no way they could convince me what they did was right."
"But at the same time, they're people too. To be able to kill one person, let alone to kill multiple people and then kill yourself – you must be in such a scary, terrifying place and mind frame . . . That depression and darkness and that they felt they had nothing to live for, that just hurts me."
Columbinus was chosen this past fall to be performed and it was a coincidence that it would end up being so relevant.
And because it is so relevant, the play "is not a remembrance of what happened," Freedman explained. "This is us wondering why acts of violence occur, not just in schools but everywhere."
According to a presentation last week by NU Active Minds, a mental health advocacy and awareness group, about nine percent of adults suffer from mild or major depression in the United States; four percent suffer major depression. Of these majorly depressed, 50 percent receive no treatment for their care; 20 percent receive inadequate care (The National Institute of Mental Health has more detailed statistics).
Katie Sanford, president of NU Active Minds, said the most common time when people become depressed is during the college years, between the ages of 17 and 23. Northwestern has a higher rate of depression than many other colleges, and this year, Northwestern's Counseling and Psychological Services (CAPS) has seen a nine percent increase in students who use its services.
Ever since a Weinberg junior's suicide this past Thanksgiving, Northwestern students have been advocating for improved mental health services. CAPS is known to be understaffed, with long wait times after having made an appointment. As of March, the CAPS staff to student ratio was 1:1,211.
In December, ASG passed a resolution on mental health to create a mental health Essential NU, a mandatory freshman orientation program, this fall. NU Active Minds has been advocating for this Essential NU this since November, when they asked students to support their ASG 10K Initiative idea, which gives $10,000 to a student idea that improves campus community.
Their efforts were successful. This fall, mental health will be one of the Essential NUs incoming freshmen will attend, and this spring, 31 McCormick students are trying a pilot "emotional intelligence" class sponsored by McCormick School of Engineering and CAPS.
Though the mental health dialogue prompted by recent mass violence is crucial, a number of students and advocates are cautioning the public to not associate school shootings exclusively with mental illness.
Sanford said that recent mass shootings have created an inappropriate association between violence and the mentally ill.
"People like separating themselves from shooters. They want to find a way that they are nothing like them," she said. "So they like to blame it on a mental health disorder, something severe like autism or schizophrenia. And because of that, these sorts of disorders get terrible stigma from people."
This is touched upon in the student production The Amish Project, which went up the same weekend as columbinus.
NU Active Minds partnered up with the theater group behind The Amish Project to facilitate dialogue on mental illness stigmas. After the show, NU Active Minds hosted a talk-back with Sanford and the show's producer Kyle Largent. The Tuesday before the show, The Amish Project had a booth at Norris University Center where they asked students to write on a chalkboard a school shooting that affected them the most and one word they would use to describe that shooting.
The Amish Project is more about the aftermath of the school shooting at the Amish West Nickel Mines school than it is about the shooting itself. In a memorable scene, a woman approaches the widow of the gunman in a grocery store and says, "There's a fresh hell where you will join your sicko husband."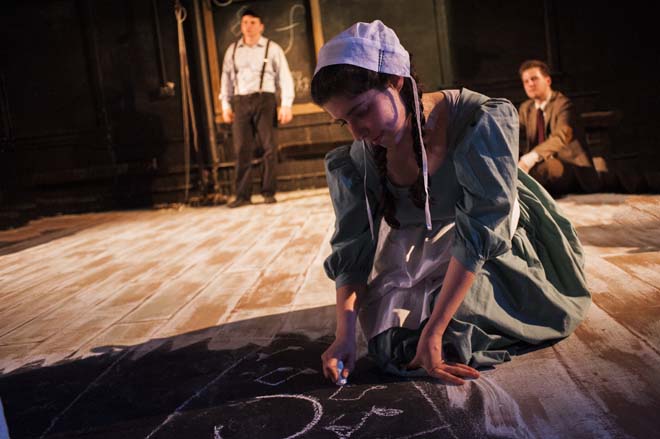 "The shooter's wife talked about how you wouldn't have been able to see [the shooting] coming," producer Kyle Largent said. "During the 'sicko transition,' one of the characters tells the shooter's wife if you were a better wife this wouldn't have happened, you could've prevented this."
But prevention is trickier than it seems. People with mental illness can hide their symptoms, or their symptoms may not be as dramatic as others. And of course, not all perpetrators of mass violence are mentally ill.
Sanford stresses that "violence is not limited to the mentally ill," and that the stigma that mentally ill people are ticking time bombs is untrue. The association only adds to the burden the mentally ill must shoulder, and that discourages some from seeking the mental health treatment they need.
Columbinus
is about what builds up to a shooting – anger, alienation, sadness and mental health. The Amish Project is about what happens after one – despair, anger and forgiveness.
Two weekends ago, those who saw columbinus were exposed to a controversial idea: that the gunmen too be considered victims of their circumstances.
At Columbine High School, 12 students and one teacher died from gunshot wounds. Seven years later, at West Nickel Mines School, five young Amish girls died execution style.
Seldom included in these particular death counts are two boys and one man, who led lives they saw as not worth living, and ended them with mass murder.