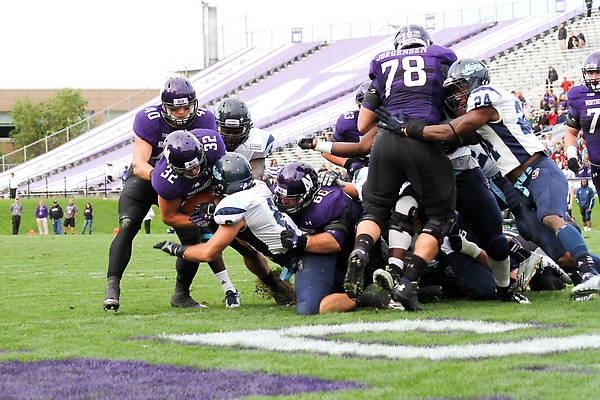 Having unreasonable expectations won't help the cause for Saturday night's game vs. Ohio State. Northwestern won't be able to just ride the hype surrounding this game and pull out a "W" with a below-average performance.
Let's get a few things straight: Ohio State probably won't turn the ball over five times, Northwestern quarterback Kain Colter most likely won't throw for 250 yards, and don't expect the NU secondary to shut down the Buckeyes' receivers.
That being said, there are plenty of reasons to believe the 'Cats can pull off this upset. They have a dynamic offense, a ball-hungry defense which has forced 11 turnovers thus far, and a coach who has the leadership ability and the football IQ to bring his team out on top.
So as you prepare for this primetime showdown, there are four things that must happen in Saturday's game for the 'Cats to pull off the upset.
1. Northwestern must slow down the OSU run game.
The Northwestern pass defense has been porous so far (117th out of 123 in the nation), and so if it allows Ohio State to run all over the place, this game is a lost cause. So far this season, the run defense has been well above average: In four games, it has only allowed 118 yards per game on the ground, which is good enough for 28th in the nation.
Ohio State's rushing numbers, 12th in the nation, are a bit misleading, considering the Buckeyes have only faced one formidable opponent in Wisconsin (where they rushed for 193 yards, well below their season average of 287). Holding them under 200 will be tough without starting defensive tackle Sean McEvilly, but that's exactly what the team needs to do.
2. Braxton Miller has to have a below average day throwing the football.
The quarterback led Ohio State to an undefeated season last year, and his status as preseason Big Ten Offensive Player of the Year has rarely been questioned. But will he be able to hit open targets in space?
While it sounds ridiculous to question a QB's ability to hit open receivers, he might have a hard time if Northwestern gets a good pass rush, which it's been able to do so far this year. Nevertheless, if Miller is able to take advantage of the Wildcat secondary, which is questionable at best, and connect on deep balls, then Northwestern fans will be in for a long night.
One more thing regarding Miller: Some might argue that he isn't that great of a passer and is just a "great athlete with a decent arm." Well you know who else fits that stereotype? Nebraska quarterback Taylor Martinez, who happened to torch the 'Cats secondary for 342 yards and three touchdowns last season.
3. Colter and his QB partner Trevor Siemian have to play like they did against Syracuse.
One thing that people might not realize about Ohio State is that its defense isn't as spectacular as its offense. The Buckeyes allowed 20 points to Buffalo and 34 to California, which should make any Wildcat fan feel good about Northwestern's chance to score in bunches.
The only way that will happen, though, is if Colter and Siemian play up to their capabilities.
In the game against Syracuse, it wasn't as if either one was doing anything out of the ordinary, but their totals would suggest they were playing the games of their lives: The two went a combined 30-37 with 375 yards passing, 91 yards rushing and five touchdowns.
Is that type of performance repeatable? It's doubtful, especially considering they achieved those stats against a below average team. And it certainly didn't happen against Maine. In that game against Syracuse, both quarterbacks made the right decisions and were comfortable in the pocket. If both those things remain true, don't be surprised if the 'Cats light up the scoreboard.
4. The 'Cats have to outplay the Buckeyes in special teams.
One or two long punt/kickoff returns could make the difference in this game. So far, the Wildcat special teams unit has paled in comparison to last year. A lot of it has to do with the absence of All-American return man Venric Mark, but now that he's back, the unit will likely receive a boost in production.
The kicking game could be a huge factor as well. For whatever reason, Jeff Budzien has had some problems so far. Last season, he made 19 out of 20 attempts, and his only miss came from 53 yards. This season, he's already missed twice, and since Saturday's game is likely to come down to the wire, every point matters.
In addition, the 'Cats can't afford to make careless mistakes, whether it's muffing a punt or missing tackles on the kickoff. A talented team like the Buckeyes will take advantage of these errors.
Is all of this too much to ask for? Maybe, but these four things have to happen in order for the 'Cats to pull off the upset. Much like the game against Nebraska last year, Ohio State will be sending over a lot of fans, possibly cutting down on the expected home-field advantage. Therefore, a lot has to go right in order for Northwestern to pull off what might be a monumental victory.