Going into this season, nothing can hold the Wildcats back—except construction.
The beloved Welsh-Ryan Arena—where students stormed the court after the historic victory over Michigan that sent the 'Cats to the Big Dance—is out of commission this winter as it undergoes a $110 million renovation. As such, Northwestern basketball facilities are currently in limbo, with the team practicing on campus at Blomquist Gym—yes, a top-20 college basketball team practices at Blom—and playing home games at Allstate Arena in Rosemont.
Allstate—a rough 45-minute bus ride from campus—boasts a capacity of 17,500 compared to the 7,500 people that the renovated Welsh-Ryan will be able to hold. Essentially located in a parking lot next to I-90, the arena is described as a "massive venue for concerts and basketball" on Google Maps. Clearly, Allstate is much bigger and more commercial than Welsh-Ryan, providing a professional feel that Northwestern players and fans won't have experienced until now. However, the stadium offers a surprisingly cozy atmosphere, and it has the potential to become a great home court if students are willing to make the trek (a big if, admittedly).
"We obviously built something special at Welsh-Ryan last year, but I think this is a good opportunity for us," Lindsey said. "If we can fill Allstate Arena, that would be really special."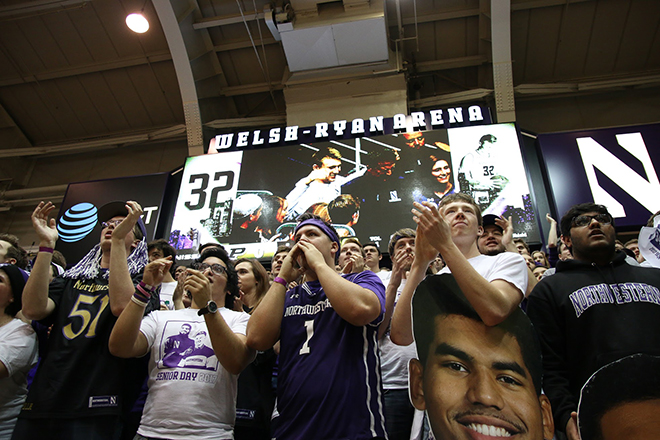 The Northwestern athletic department is doing everything in its power to get as many students to Rosemont as possible. Undergraduates recently received an email to sign-up for shuttles to the first three home games, and the school is offering incentives like free pizza for the Nov. 13 matchup against St. Peter's. There's also free parking for students looking to drive to the games instead.
Still, some players are less than excited to deal with the uncertainty surrounding this transition.
"It sucks," senior forward Gavin Skelly said candidly. "I think playing at Allstate is going to be really weird. I don't know how we're going to like that."
Despite Skelly's misgivings, though, some players view it as a chance to stay hungry for more success. As head coach Chris Collins constantly repeats, his ultimate goal is to build a Northwestern basketball program that is part of the discussion come March every year, and playing at Allstate happens to be part of that process.
"After everything we accomplished, it can be easy to get complacent," McIntosh said. "I'm hoping, with the fact that we don't really have a home game in Welsh-Ryan, that we play with a bit of a chip on our shoulder."
In the end, the new basketball complex should prove well worth the wait. By next fall, Welsh-Ryan will feature better seats, new and improved concession areas, enhanced lighting, and state-of-the-art locker rooms. On top of these changes, the renovation also includes an expansion of the practice facilities and the athlete nutrition hub at Trienens Performance Center.
"I think the way we look at it is as an investment," said redshirt freshman Rapolas Ivanauskas. "We just have to wait a couple years until we have something that we're so grateful to have—a new Welsh-Ryan."
There is at least one silver lining to playing at Allstate—many Wildcat fans in the Chicago area live closer to Rosemont than they do to Evanston.
"I'm excited for Allstate, to be honest," junior Dererk Pardon said. "A lot of our fans, besides the students, live out there, so I think more of them will come to the games."
Regardless of the arena, this season is the most highly anticipated in Northwestern history, so students and purple enthusiasts from Chicago alike should be pumped to see the Wildcats in action in a couple of short weeks.
"I think it's like 'Field of Dreams'," Collins said. "If you build it, they will come."