Praying for Paris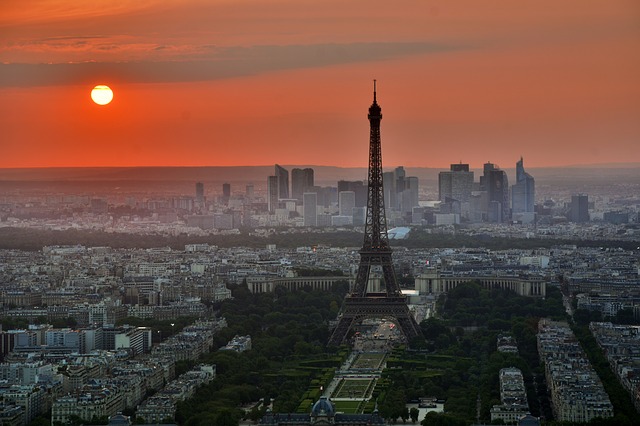 What's the news?
Last Friday, ISIS conducted a series of terrorist attacks across the city of Paris, all which transpired nearly simultaneously. About 100 people were killed at the Bataclan concert hall, from a combination of grenades being thrown and random open fire into the crowd. Survivors were held hostage for almost 2 hours. A second attack involved 2 bombs being set off during the friendly soccer match between France and Germany. The attackers also opened fire on two street cafes, taking hostages from them as well. The final death count in the attack stands at 129, with 352 others wounded and 99 of them critically wounded.
How are the French and Europeans reacting?
The French government has a steadfast determination to retaliate against ISIS. France already conducted an airstrike on the city of Raqqa on Sunday night, the first major attack France has conducted on ISIS in Syria. However, the attack has made European countries weary of accepting Syrian refugees because of the possibility, however slim, that ISIS personnel may slip through.
Has the US made any pledge to help?
The US military gave France intelligence assistance for the recent airstrike raid they conducted. President Obama has pledged to help France in their battle against ISIS, but will most likely not be radically changing US attack strategy. However, while the military has been cooperative thus far, it seems state governments have reacted similarly to the rest of the EU. Bruce Rauner, the governor of Illinois, announced our state will no longer be accepting Syrian refugees out of the fear that terrorist attackers could take advantage of the influx of refugees entering the nation. The actual legal authority of such declarations is questionable, however. Soon after, the House of Representatives voted against allowing Syrian refugees asylum in the US.
How has this tragedy affected NU?
Eli Panken, a junior in Medill who is studying abroad in London, happened to be in Paris on the night of the attack. Eli explained, "I was about seven or eight blocks from the shootings at Le Petit Cambodge and Le Carillon and a few more from Bataclan when the attacks happened … I'm definitely more nervous to be in Europe than I was at first." Wildcats on campus have shown support through social media, changing their profile pictures to show the French colors and sharing "#prayforparis".
Worker's rights on the national and campus level
What's the news?
SEIU officially endorsed Democratic candidate Hillary Clinton for president on Nov. 17.
SEI-Who?
SEIU, or the Service Employees International Union, is an organization dedicated to protecting the "dignity and worth of workers and the services they provide". According to their website, SEIU has around 2 million members, making it one of the largest labor unions in the country.
How big is this endorsement for the Clinton campaign?
Since SEIU is not only one of the largest, but also one of the most politically influential unions, this endorsement is huge. Including SEIU's support, Clinton is now, according to a Politico article, backed by "nearly two-thirds of the U.S.' 14.6 million union workers." This endorsement could also be a blow to Bernie Sanders, as SEIU is associated with the Fight for $15 movement. Sanders has publicly supported a $15 minimum wage whereas Clinton has proposed a $12 minimum wage combined with the Affordable Care Act.
What's the NU connection?
Speaking of protecting workers' rights, Northwestern students and faculty have recently been circulating a petition showing solidarity with campus dining staff after reports of problems with Sodexo supervisors and general working conditions. The petition includes support for "a guaranteed 40 hour work week, benefits for part-time workers, personal days, funding for job training and increased wages, including a greater increase for late night shifts," as well as respect from the Sodexo administration.
Blagojevich bouncing back?
What's the news?
Former Illinois governor Rod Blagojevich filed an appeal to the Supreme Court Tuesday in efforts to overturn his conviction. Blagojevich has been in prison since March 2012 serving a 14- year sentence.
Wait, why?
Most of Blagojevich's charges deal with corruption during his time as governor, perhaps most famously his alleged attempt to sell Barack Obama's senate seat after he was elected President. Corruption seems to be a trend in Illinois politics; according to a Washington Post article, "four out of the nine most recent governors have been convicted for crimes committed before, during and after their time in office," not to mention dozens of other elected officials now spending time behind bars. Taking the cake is Chicago; NU's neighboring city holds the title as the "most corrupt major city" in the United States. Blagojevich was impeached with a unanimous vote from the Illinois Senate in 2009.
Does he have a chance?
Due to the vast amount of petitions the Supreme Court receives each year, it seems unlikely that Blagojevich's legal team could get the Court to take its case. However, according to a Chicago Tribune article, the former governor doesn't have any other options; his request was shut down by the federal appeals court in Chicago in early 2015.
What do NU Illinoisans have to say?
"I don't blame him for trying," said Weinberg sophomore and Illinois native Brandon Ayersman, "but I think with Illinois's tradition of corruption, no one's really going to give him much benefit of the doubt."