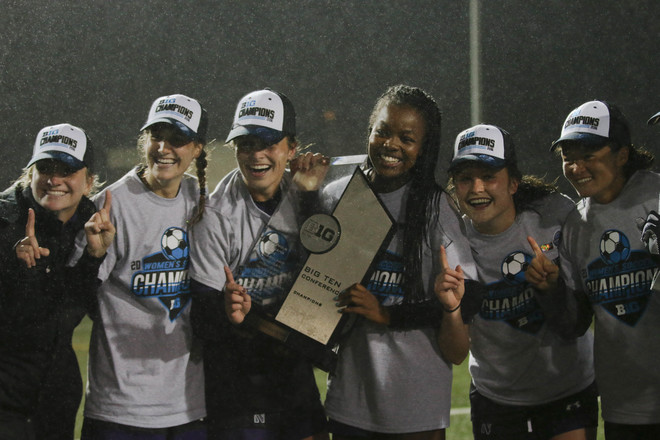 Thanks to the thing of evil that we call the quarter system, Northwestern fall sports teams have played almost half their regular season games by the time students actually arrive to campus. Now that just about everyone is back in Evanston and Wildcat Welcome is coming to a close, here's what you missed in women's soccer.
After last year's historic run in the NCAA Tournament, Northwestern women's soccer is off to a slow start. The 'Cats are currently 4-4-1 (1-1 B1G) and have seen more losses since August than they did all of last season. NU is ranked eighth out of the 14 Big Ten programs, but the team still has almost an entire conference season remaining.
While a handful of players have graduated, including midfielder Nandi Mehta and four-year starter Kaitlin Moore, it's surprising that Northwestern has struggled so much early in the season. No. 18 Notre Dame is the only ranked team the 'Cats played, and that was only an exhibition game that didn't count toward Northwestern's record. With Kassidy Gorman back on defense, Kayla Sharples returning to the midfield and backline and All-American Lauren Clem in the net for her fourth season, Northwestern's struggles in the backfield are hard to explain.
Last year the Wildcats forced a record 17 shutouts, and while three of their four wins so far have kept the other team scoreless, the number of early season losses is evidence that something has changed. Senior keeper Lauren Clem led not only the Big Ten but also the country in goalkeeping stats for a majority of the 2016 season, but she's falling behind in the conference this year. She's averaging 4.30 saves a game, which puts her save percentage at 0.780, compared to 0.927 at the end of last season. Last year Clem had the lowest goals against average in the Big Ten, but now she's not even listed in the top 10. The goalkeeper anchored Northwestern's success last year, but something isn't clicking this year.
Following suit from last season, the 'Cats continue to be a predominantly defensive team. While offensive aggression may not be Northwestern's game plan, Sharples has already scored three goals, junior Marisa Viggiano has scored two and freshman Mikayla Hampton had a game winner against Missouri.
Head Coach Michael Moynihan is in his sixth season with the 'Cats but has some readjustments to make looking forward. With programs like No. 8 Penn State, No. 9 Wisconsin and No. 13 Rutgers all in the Big Ten, Northwestern does not face a particularly easy schedule ahead. The 'Cats will be tested against the Scarlet Knights this Friday, but have home field advantage, then take on Maryland two days later. Women's soccer hopes to get back to the place they ended last year, but the road ahead is bumpy.
Editor's note: A previous version of this story mispelled junior Marisa Viggiano's first name. NBN regrets the error.