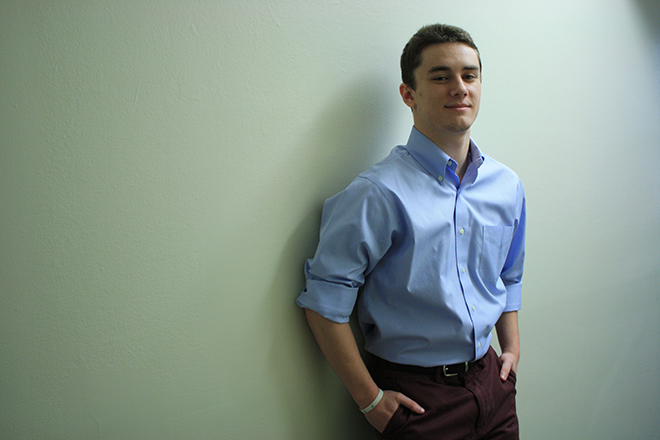 Though guys might not antagonize over their outfits the same way most girls do, that doesn't mean they aren't subject to the same scrutiny. Whether you're a jeans and a T-shirt kind of guy or you go for something a little trendier, what a guy wears to a party says a lot about him.
The Over Dresser
The over dresser means business. Regardless of the occasion, he is never spotted sans button down. He clearly takes pride in looking put-together. If he cares about his friends as much as he cares about keeping his shirts wrinkle-free, he's a good guy to have around. You know you've walked into a good party when the over dresser's shirt is untucked.
Some advice: There are plenty of ways to look neat without reminding everyone of their dad fresh out of the office. Nicer T-shirts with a slimmer fit do exist. Throw one on with a pair of nice pants and you'll still look very put together. You might even save yourself from questions about how the interview before the party went.
The Vineyard Vines Enthusiast
Coming to you straight from the suburbs of Connecticut, the whale printed pants are hard to miss. Preppy guys may not be plentiful here, but they're certainly present. They have an aura similar to that of the over dresser. The Vineyard Vines enthusiast values a perfectly matched outfit—his shirt the exact same color as the tiny sails on his sailboat printed belt and complete with a fresh pair of boat shoes.
Some advice: Too much pattern is hard on the eyes. If you feel your outfit must include small animals or inanimate objects, keep it to a minimum. Maybe try the patterned belt or bowtie instead of the full pair of pants. When it comes to Vineyard Vines, less is more.
The Too-skinny Skinny Jean Wearer
It's never good when you mistake your girlfriend's jeans for your own in the morning. The too-skinny skinny jean wearer is pretty casual, though his jeans may be a little too tight for comfort. Overall, the guy in skinny jeans is feeling pretty good about himself (specifically, his slender legs), even if he's wearing tighter jeans than most of the girls he'll talk to.
Some advice: Don't subject your entire body to the lack of blood flow your legs are experiencing. Keep it loose on top; your ensemble needs some balancing. Avoid wearing any tight fitting T-shirts or sweaters. Your circulation will thank you.
The Chest Hair Displayer
Whether he went into the night like this, or the buttons came loose as the drinks went down, the chest hair displayer is proud of his permanent sweater vest and wants you to know it. He is most likely one of the louder, more outgoing guys at a party. But people can only only stare at the chest hair for so long, so practice some modesty and button up.
Some advice: If you're questioning the amount of self-control you'll have after a few drinks, try an undershirt. Better yet, don't reach for the button down when you're getting dressed for a party if you know it won't end well. A V-neck T-shirt will allow you to show a controlled quantity of hair, so nothing will get out of hand. There's always the option to wax, but that's not really our area of expertise.
The Purposeful Mismatcher
The purposeful mismatcher is looking to express his individuality. He doesn't want to throw on whatever JCrew v-neck his mom bought for him and look like every other guy at the party. He has a funky, quirky style that most likely reflects his personality. If done properly, the purposeful mismatcher gives off the relaxed- but-ready-to-have-fun kind of vibe. If done improperly, he'll most likely look like a tool.
Some advice: Avoid the temptation to go overboard and keep it simple with at least one piece. Pairing a weird item with a solid piece will keep your outfit grounded and inform people that you did, in fact, get dressed with the lights on.
The Frat Tank Lover
He's a little more relaxed than the more formal dressers. With his lack of sleeves, he's looking to let you know that winter quarter was just a slump and he's back on his SPAC game, for real this time. The frat tank lover really enjoys being in a frat and he really wants you to know.
Some advice: Grab a zip-up every once in a while. This way, you can still wear your beloved tank top while toning down the fratiness just a little bit. We promise, you'll still find an opportunity to talk to someone at the party about your frat.