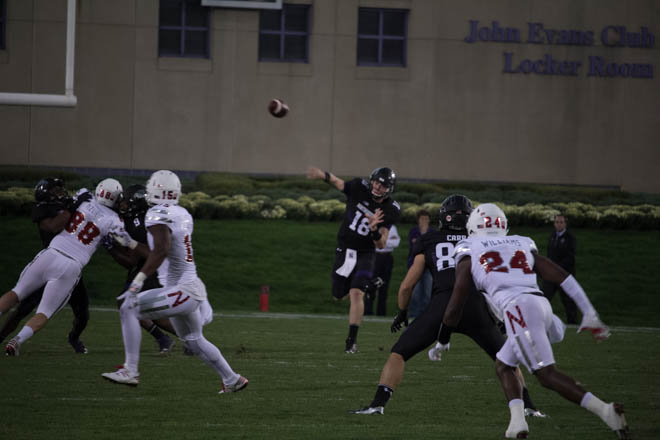 Northwestern stormed into Iowa and took down the Hawkeyes on Saturday, and suddenly, a team in shambles has some hope. Have the Wildcats put an embarrassing 1-3 start behind them, stepping up to the challenge of Big Ten play? Or is the Iowa win an anomaly, and will the gunslinging offense soon be put to bed? Here's what our writers think.
Final Record: 6-6 - Tim Hackett
Honestly, I don't even know what to expect from this team anymore. After a very impressive and wholly unexpected win over Iowa this week, a spirit of optimism that was nowhere to be found in Evanston last week has returned for the first time since the preseason. What can this team do?
A repeat of last year's 10-win regular season is now borderline impossible, and my prediction of an 8-4 year seems to be nearly the same degree of probability. We didn't think NU could go on the road and beat powerhouses like Michigan State and Ohio State. That hasn't changed. Wisconsin is much better than anyone expected and that will almost certainly be a loss, as well.
NU does get to face Purdue, albeit on the road, but that should be a win. That leaves Indiana and Illinois at home, and Minnesota on the road. I still think this team should beat Illinois in the final game of the season and should beat a Minnesota team that I don't believe in on the road. I really don't think they will be able to handle Indiana on Homecoming, but hey, there's always room for blissful hometown optimism! After getting ground down by Wisconsin at home, NU wins its final three games of the year to eke out a bowl appearance with a one-score win over Illinois.
Final Record: 6-6 - Evan Denton
As Clayton Thorson goes, so do the 'Cats. If Thorson can remain cool, calm and collected inside the pocket, NU has a real chance of squeaking a possible bowl bid at the end of the season.
The schedule ahead does not do them any favors, though. Even with an improved offense, the 'Cats will struggle in road games at Michigan State and Ohio State, and I don't see them winning either game. Indiana is a must-win home game, or else the postseason becomes seriously unlikely.
Wisconsin's ground-and-pound, smash-mouth offensive attack is the most physical offense the 'Cats will see all year, and I don't think they can stop the Badgers for four quarters. Back-to-back away games at Purdue and Minnesota in mid-November could provide a scare, but I believe Coach Fitz and Co. will find a way to grab two victories.
Lastly, Illinois. The 'Cats will be 5-6 by the time this game starts, but all stats can be thrown out the window when it comes to rivalry games. On Senior Day, the 'Cats will thrash the Fighting Illini and finish the regular season on a high note.
On Nov. 26, we'll battle to keep The Hat for another year. #B1GCatshttps://t.co/LYG1ds3p9T

— #B1GCats Football (@NUFBFamily) June 21, 2016
Final Record: 5-7 - Will Fischer
Oh Northwestern, what are we going to do with you? Seriously, we're trying to predict the next seven games of a team that scored seven points in a home loss to Illinois State, but racked up 38 points to beat Iowa on the road. Excuse me, what?
I think a lot of NU's glaring issues have been sorted out since Illinois State, but this is still a very inconsistent team. After the bye week, the 'Cats will keep it close at Michigan State, but two road upsets might be a little too much to expect from this team. NU will get up for homecoming and take down Indiana, but then will fall to Ohio State and Wisconsin.
The 'Cats then have a much more manageable November, and I think they will beat a very bad Purdue on the road. However, another road contest against Minnesota could spell trouble for the 'Cats, and I think they drop that game. NU will finish its season with a win against Illinois, but miss out on a bowl game with a below-average 5-7 record.
Final Record: 6-6 - Trevor Lystad
After an unpredictable start to the season, I suspect the Wildcats will settle down for the final seven games: They'll beat the teams who they should beat and lose to the teams they should lose to and finish the season 6-6.
Realistically, they don't really stand a chance against No. 2 Ohio State or No. 11 Wisconsin. On the flip side, Purdue and Illinois should be easy wins, and I think they should be able to beat Indiana and a mediocre Minnesota team that has a deceptively good record (3-1).
If you're looking for the next Wildcat upset, set your sights on the Michigan State game. The Cats head to East Lansing in two weeks to take on a Michigan State team that was just upset by Indiana. We don't know too much about Sparty this early in the season, but a loss to Indiana suggests NU has a shot at a second straight victory.
Of course, this is still a team that up seven points and lost to an FCS team in Week 2, so don't blame me if NU finishes the year on a seven-game losing streak.
Final Record: 6-6 - Max Goodman
After Northwestern's demoralizing home loss to Nebraska, and with an incredibly difficult schedule looming, a part of me expected Coach Fitz and the 'Cats to lay down for the rest of the year and concede the remainder of 2016 as a lost cause. But after a commanding victory in Iowa City (where the 'Cats haven't won since 2009), my optimism regarding the rest of this season and the prospect of possibly returning to a bowl game for a second straight year has returned at full force.
With a bye this week, the Wildcats have a golden opportunity to build upon the progress they have made since starting the season 0-2. If NU can continue to solidify its offensive line, kicking game and defensive unit, the big three of Clayton Thorson, Justin Jackson and Austin Carr will continue to be to carry this Wildcat squad to victory. I have the 'Cats winning only one more game in October (falling to MSU, OSU and Wisconsin) before winning out in November.
Final Record: 3-9 - Andy Brown
After a close loss to Michigan State and a disappointing trap game loss to Indiana, Northwestern will travel to Columbus and accidentally beat Ohio State by three (or four, depending on Jack Mitchell's fiber intake during that week) scores. However, the adrenaline required to beat the Buckeyes will ultimately be the 'Cats' peril, as the last four games of the season will be letdowns.
Wisconsin will shut out the 'Cats in a virtual home game at red-clad Ryan Field. Then NU will lose to Purdue on some fluky lateral play in pouring, icy rain. Then Minnesota will beat the 'Cats by 17. To top it off, when Illinois rolls in, the two "rivals" will commit heinous crimes against the sport together for 60 minutes of "action" and the Illini will escape with a 4-2 win. (Oh, and after the season, Mick McCall will be extended through 2025).
That all seems absurd, right? Yes, but the path this team took to 2-3 is just as ridiculous. We're talking about NU football here. This is a program that makes the absurd ordinary, and the ordinary absurd. The possibilities for the 'Cats' final seven games are endless, but I invite you to consider literally all of them. Because the select few that you've deemed "most likely to occur"? Yeah, you can probably just toss those out the window.