A lot of things need to go right for Northwestern if they are to make national headlines by topping Ohio State in the Big Ten Championship on Saturday. The Buckeyes are bigger, more athletic and more experienced than the Wildcats (we'll take Fitz over Urban Meyer any day, though). However, Ohio State is not without its defensive flaws, made most blatantly apparent in their 49-20 primetime loss to Purdue but prevalent throughout the season. NBN Sports debates who Northwestern's X Factor is if they hope to take home a conference championship to Evanston.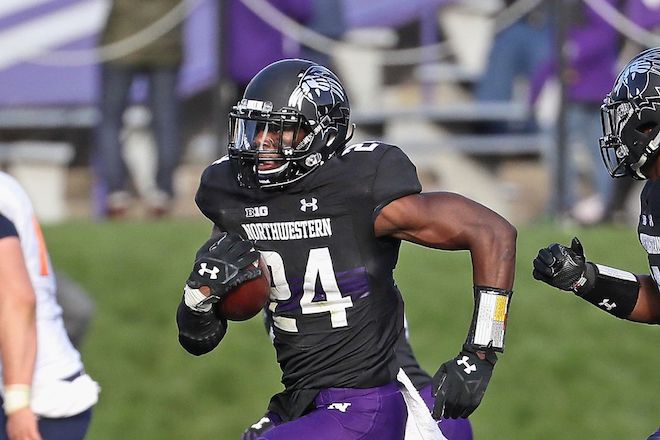 Montre Hartage
Jono Zarrilli
All things considered, Montre Hartage is probably the best cornerback in the Big Ten, and on the short list for the best in the nation. The senior has come a long way since being a two-star recruit out of Georgia. Across his sophomore and junior seasons, Hartage had the nation's third lowest passer rating against when his receiver was targeted, according to Pro Football Focus. This season, he has been rated among the Big Ten's best for his coverage and has 42 tackles, 13 passes defended and one interception. Draftscout.com lists Hartage as the 18th-best corner prospect, which would put him on the fringe of being drafted in April.
This week, Hartage will presumably play after sitting out the past two games with an undisclosed injury. Northwestern needs Hartage to be on his A-game to prevent Ohio State's athletic receivers from putting the game out of hand. Against Michigan, the Buckeyes had four touchdown reception of 20+ yards; the Wildcats will need that number to be zero or one in the Big Ten Championship to have a fighting chance. Hartage will likely be matched up with Parris Campbell, a senior with 903 yards and 11 TDs on the year and who made an NFL.com list of "most freakish athletes." Containing Campbell is a tall order, but if Hartage can do so, Northwestern may be able to pull off the upset.
Flynn Nagel
Jacob Munoz
When you go up against a high-powered offense like Ohio State, you need to match their intensity. Despite the fact that Northwestern's defense has held up strong in its last three games in the face of secondary concerns (notably in its headlining win over Iowa), the Buckeyes are nothing like the Hawkeyes, Gophers or Illini. While running back Isaiah Bowser has been the team's best surprise this season, the receiving corps' faltering production is a real concern. Ben Skowronek, who has had an okay season, is expected to perform on Saturday but has not been the #1 wide receiver for the 'Cats so far this season.
That distinction would belong to Flynn Nagel. Nagel, who had three double-digit-reception games midway through the season, has since been hampered by both the passing game's decline and an early injury during the game against Minnesota. His presence will be badly needed in Indy. Ohio State's defense can be taken advantage of, as seen in their close wins over Maryland and Nebraska (and their bad loss to Purdue). If Nagel is healthy and can return to midseason form, then the Wildcats have a shot at knocking down the Big Ten's Goliath and surprising the college football world with a conference title.
PSA: the video below is well worth watching.
Flynn Nagel (@All_I_DoIsFLYNN) has come a long way in his @NUFBFamily career.

And now his @BTNJourney is taking him to Indy: pic.twitter.com/wVtSj8yfQG

— Northwestern On BTN (@NUOnBTN) November 11, 2018
Paddy Fisher
Shreyas Iyer
Ohio State is one of the rare teams who returns two former 1,000 yard rushers in J.K. Dobbins and Mike Weber. Combined with fleet-footed QB Dwayne Haskins and the aforementioned Campbell, it becomes apparent that if Northwestern can't contain the run, it may be ugly. The Wildcats' D enters the game 32nd in the country against the run, but it will have to play above and beyond their results so far.
The unit will need somebody to step up. Enter Paddy Fisher: the sophomore from Katy, Texas who paced the team with 111 total tackles last year. Fisher will lead the linebacking corps along with fellow downhill bruisers Blake Gallagher and Nate Hall. As his stature on the field has grown as both a player and a leader, Fitz named him a captain this season, the first time he has ever done so for a sophomore. Fisher came up with the biggest play of the game last week with a late interception against Illinois; further heroics in the championship game will firmly cement his name on the national map and in the hearts of Northwestern fans for decades.
Illinois was threatening, then Paddy Fisher shut it down.@NUFBFamily's defense stepped up when it mattered, and the 🎩 stays home! pic.twitter.com/ewNV6Y9tTk

— Northwestern On BTN (@NUOnBTN) November 24, 2018
Bennett Skowronek
Navpreet Dhillon
Skowronek's performance in the game against Iowa confirmed his ability to perform in the biggest moments against the most competitive teams. He scored the Big Ten West-clinching touchdown by diving fully extended into the endzone, then catching and protecting the ball—a reception that Fitz called the best he has seen in the program's history. Though Skowronek has not been the first option for Thorson as many expected coming into the year, his big-play ability could be key against OSU.
This catch by Northwestern's Bennett Skowronek is bananas pic.twitter.com/McqGnz3DuG

— Darren Rovell (@darrenrovell) November 10, 2018
Skowronek provides size that Northwestern will certainly need on Saturday. Standing at 6'4 and weighing 211 pounds, he's the second largest receiver on the team (behind Charlie Fessler). Against an OSU defensive squad that's significantly bigger than the Northwestern offense, Skowronek is perhaps the Wildcats' best red-zone threat. OSU is a powerhouse and after seeing them destroy Michigan, the 'Cats need someone to draw the Buckeyes' athletic linebackers away from midfield. Skowronek will serve that role, and if he can find some of the magic he found in Iowa City, Northwestern has a chance to go to Pasadena.
Rashawn Slater
Charlie Sidles
If the 'Cats are going to win on Saturday they will need to score a lot of points. That will not be possible unless their offensive line plays at a very high level both to give Clayton Thorson time and open up the run game. Slater is the team's best lineman and at right tackle he will have his hands full trying to slow down Chase Young, Ohio State's monster defensive end who has 10.5 tackles for loss this season. Slater is Northwestern's most productive lineman according to Pro Football Focus, which also rated him the nations top freshman offensive lineman last season. If Thorson and play caller Mick McCall are able to maintain confidence in Slater throughout the contest, it allow Northwestern to be more creative and make more big plays in the passing game. If Thorson does not have time to throw, it will be a long evening for the 'Cats.